The Case For Incorporating Liquid Blush Into Your Beauty Routine
The first documented use of a cosmetic that we would now call blush was during the time of the ancient Egyptians (via Business Insider). At the time, people ground red ochre and mixed the powder with fat to create a skin stain that both men and women used on their lips and their cheeks to give themselves a healthy-looking flush of color. Throughout the centuries and across cultures, however, the use of blush has come in and out of fashion and changed dramatically. 
For instance, during the time of the Roman Empire, blush was used primarily by women, who mixed the pigment from red clay or berries with a chalky powder made from gypsum in order to create the cosmetic (via Town & Country). And in China, during the Tang Dynasty, women made blush out of safflower, pomegranate, and a mineral called cinnabar. Unfortunately, as with many cosmetic products of old, cinnabar contained toxic levels of mercury.
And while these days one no longer needs to forage for ingredients to make their own blush, there are so many pre-made options on the market that it can be difficult to choose which is best. There are countless powder, cream, and liquid blushes on the market. And while the powder versions might feel the most classic and like the safest bet, there are several benefits to choosing liquid blush instead.  
Benefits of liquid blush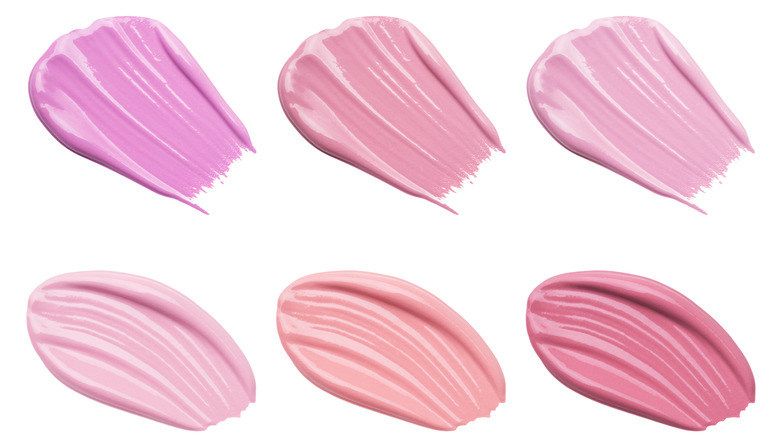 Ninell_art/Getty Images
Of course, depending on your skin type, any skin concerns, and personal preferences, different types of products are likely to be your go-to. But if you have never tried liquid blush, there are some great reasons to give it a go. First of all, it blends more easily into your skin than a powder, and it also can be hydrating (via Southern Living). It's also easy to build; whether you want just a hint of color or a full flush, liquid is easier to control and build upon. You can even apply it with your fingers, a brush, or a makeup sponge for different intensities. 
Further, unlike powder blushes, you can choose between different finishes depending on whether you want a more matte look or a more shimmering, lit-from-within glow. Major beauty brands have picked up on the increasing popularity of this newly-popular staple, and companies from Charlotte Tilbury to Tarte to Drunk Elephant have all thrown their hats into the ring with liquid blush products. So how do you pick the right one for you? We just happen to have a roundup of some of the best liquid blushes on the market.    
The best liquid blushes to try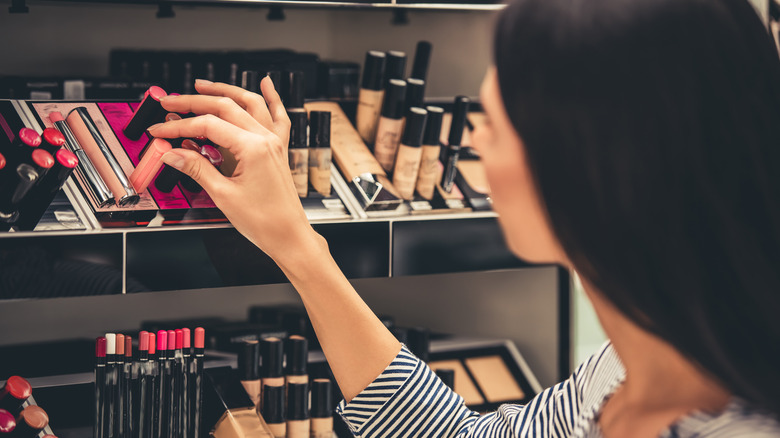 Vadimguzhva/Getty Images
If you have sensitive skin, trying something new can be a little scary. Luckily, there are some liquid blushes made with sensitive skin in mind. Sephora suggests Ilia Color Haze and Rare Beauty Soft Pinch Liquid Blush for sensitive complexions, and we would recommend Drunk Elephant O-Bloos Glossy Glow Drops, as the brand prides itself on never using the most common allergens and irritants in their products. Plus, Cosmopolitan lists it as one of their overall favorite liquid blushes.
Other liquid blushes that top Cosmo's list of favorites include Benefit Cosmetics Benetint and the Charlotte Tilbury Beauty Highlighter Wand. Southern Living agrees on both Drunk Elephant and Charlote Tilbury, and they also suggest Glossier Cloud Paint and Nars Cosmetics Liquid Blush. They also point out that if you aren't quite willing to pay Charlotte Tilbury prices, a close runner up and dupe would be Rare Beauty Liquid Blush.
So what's stopping you from stepping a toe or two into the world of liquid blush? Choose one to try, grab a brush, a makeup sponge, or just your fingers and give it a glow.