How To Apply Blush According To Your Face Shape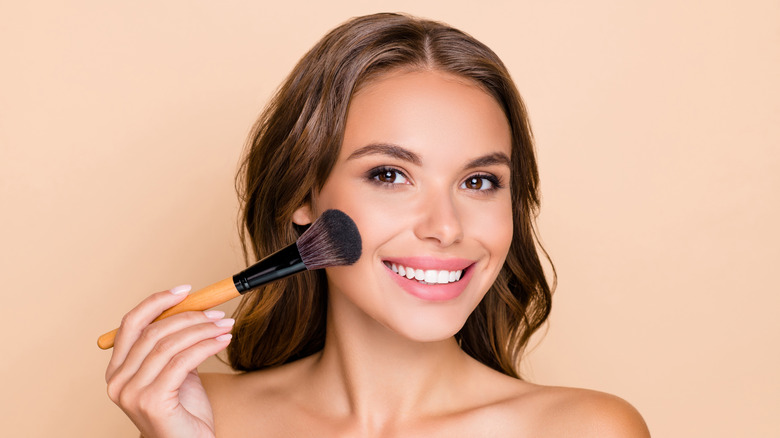 Roman Samborskyi/Shutterstock
We may receive a commission on purchases made from links.
A blush can do miracles for your face! It can make you look more awake while adding dimension and a sun-kissed flush to your already beautiful face. Depending on where you wear blush, you can either look cute like a K-pop singer or get an envious bone structure like the Kardashians (via Glamour). You may think all you have to do is put a little color on the apple of your cheeks but finding the right blush, blending technique, and placement is key to achieving a highly flattering look (via Good Housekeeping).
Blush comes in various textures and what you choose is totally up to your preference. Cream blush is great for dry and dull complexions, especially for winter. Powder blush, on the other hand, gives you a more subtle color for oilier skin and hotter days (via Makeup.com). 
Let's quickly pick the right blush for your skin tone. A pal pink blush will look best on fair skin. For medium tone, opt for a shade of apricot. The most flattering color will be dark berry or coral if you have dark skin. To make it easier, you can also try Orgasm by NARS, which is universally flattering on all skin tones. Of course, there are no set rules on how and where you should wear blush but working with the God-given face of yours can actually give you an illusion of sculpted cheekbones while completely changing the appearance of the shape of your face (via Allure).
The proper placement of blush can lift, sculpt, and soften your face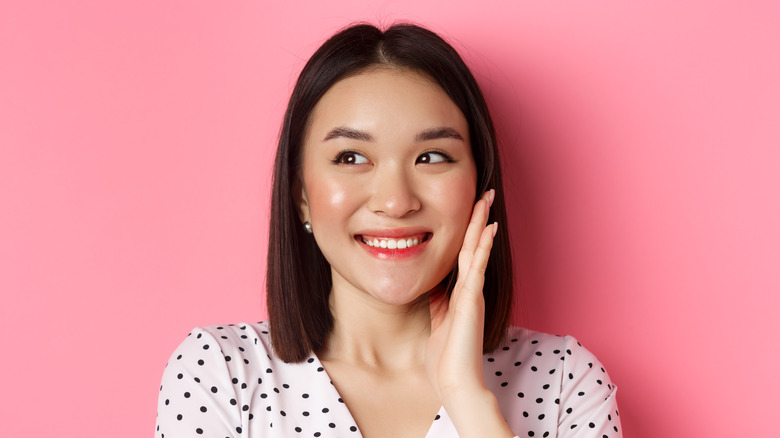 Mix and Match Studio/Shutterstock
If your face is oval like Jessica Alba, you have prominent cheeks and an oval chin. One trick is to apply blush to the most prominent part of your cheekbone and blend it down towards your earlobe (via Nykaa). Then, add a tiny bit of blush to your temples for an airbrushed finish. For those beauties with a square face like Olivia Wilde, you have a naturally strong jawline. Makeup artist Camara Aunique shared this trick with Allure, "By concentrating on the apples of the cheeks, but keeping it close to your nose and then lightly extending the pigment out to the hairline, your cheeks will appear round and sculpted."
If you have prominent cheekbones and a narrow chin, you may be blessed with a heart-shaped face like Reese Witherspoon. Sephora makeup artist Hellen Phillips told Byrdie, "Most people with this face shape have prominent cheekbones, which is a lovely feature." You can try to apply blush in a "C" shape from the top of the temple to cheekbone and blend well without going overboard (via Good Housekeeping). It is pretty easy to apply blush when you have a round face like Gabrielle Union. Makeup artist Sarah Biggers told Allure, "You want to put your blush a little bit lower than the apples of the cheeks, extending it back to the hairline." Biggers added that this trick gives the face a "lifted" effect. 
Makeup is fun, and there are no set rules, so experiment with looks and see what you love.