General Hospital Plans Special Episode To Honor The Late Sonya Eddy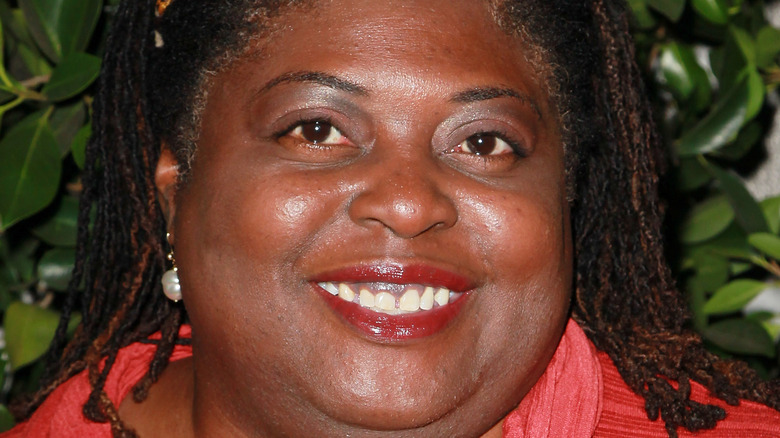 David Livingston/Getty Images
On Dec. 19, 2022, beloved "General Hospital" star Sonya Eddy died. Her close friend Tyler Ford explained that she went in for a non-emergency surgery on Dec. 9 and was sent home on the 11th. However, she started to feel sick on the 15th and went back to the hospital, where it was discovered that she had an advanced infection that the doctors couldn't control. She ultimately passed away at age 55, per TMZ.
ABC released a statement to Page Six confirming her death, saying that Eddy "embodied her character ... the tough but compassionate head nurse, Epiphany Johnson ... and immediately became a fan favorite and beloved member of our 'GH' family when she joined the show in 2006." 
According to Today, Eddy grew up in Concord, California, and went to the University of California, Davis, not only getting her bachelor's degree in theater and dance but also becoming a licensed vocational nurse. In 2021, the versatile Eddy was nominated for Favorite "General Hospital" Actress in the Soap Hub Awards. Aside from "GH," she has had numerous roles in TV and Film, including a long run on the series "Those Who Can't" and a hilarious cameo as the manager of a homeless shelter on "Seinfeld," via YouTube.
Several of Eddy's co-stars paid a heartfelt tribute to the actress on social media, and now "GH" has plans to do the same.
General Hospital will air an episode devoted to the late star
A brief tribute to esteemed soap star Sonya Eddy appeared at the end of the Jan. 11, 2023, episode of "General Hospital," and the show is planning an even bigger one. ABC announced at the recent TV Critics winter press tour that "GH" will air an entire episode in honor of the late Eddy and her character, Epiphany Johnson, late in March (per Soap Hub). 
Eddy's former "GH" co-stars Bradford Anderson (Damian Spinnelli) and Steve Burton (Jason Morgan) dedicated their most recent "That's Awesome" podcast episode to her. After tearfully reflecting on moments when their "GH" characters interacted with Eddy's no-nonsense head nurse, they replayed a prior interview with her. In it, Eddy explained that acting was not her first career choice. She pondered becoming a veterinarian or a lawyer and fell into acting after a professor teaching the course "A History of Black Theatre" challenged her to audition for a college play. Eddy was stunned when she got the role and ended up embarking on an amazing career path.
Former co-star Kimberly McCullough (Robin Scorpio) paid her own heartfelt tribute on Instagram, writing, "A break in the rain and a gorgeous sunset for our beloved Sonya Eddy. Grateful we had some time to celebrate her and the friendship we shared." Previous castmates Kent Masters King and Minae Noji were pictured with McCullough in the post, and we hope to see them and others return for the tribute episode.