The Eye-Catching Glass Lip Trend Is Easy To Recreate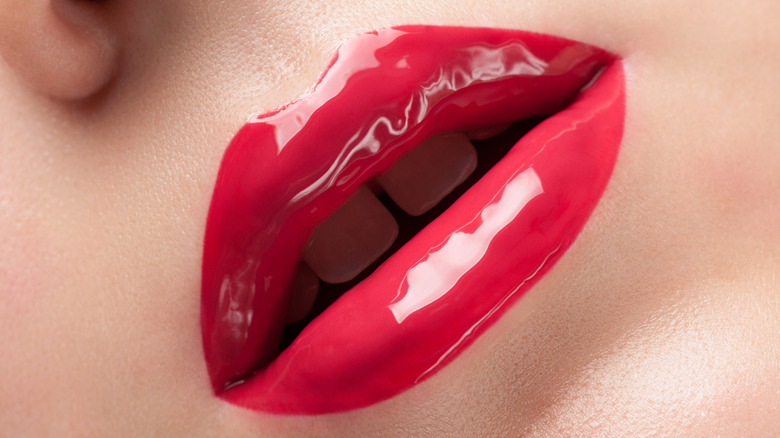 Sergeytay/Getty Images
Shiny. Glossy. Sometimes sparkly. Always smooth. That's what glass lips are, the makeup trend that takes after its name by making your pucker resemble a freshly Windex'd window.
You've seen it in various forms all over Instagram, sometimes in a more subtle form like Jennifer Lopez wears on the regular, and other times in a bold, extra-shiny way like Kylie Jenner has been known to display. The look is a spin-off of the glass skin trend, which involves a multi-product skin routine and makeup application to achieve the dewy-skin look. Glass lips, though, are easier to achieve and have fewer steps. Plus, your finished options are more varied, too: natural and shiny, red and shiny, glittery and shiny, and so on.
And, in addition to looking oh-so-pretty, glass lips have one more benefit, says professional makeup artist and entrepreneur Sonia Kashuk to StyleCaster. She says a super-shiny finish can make your lips look larger and plumper. And all it takes is a couple of easy steps!
First, you must prep your lips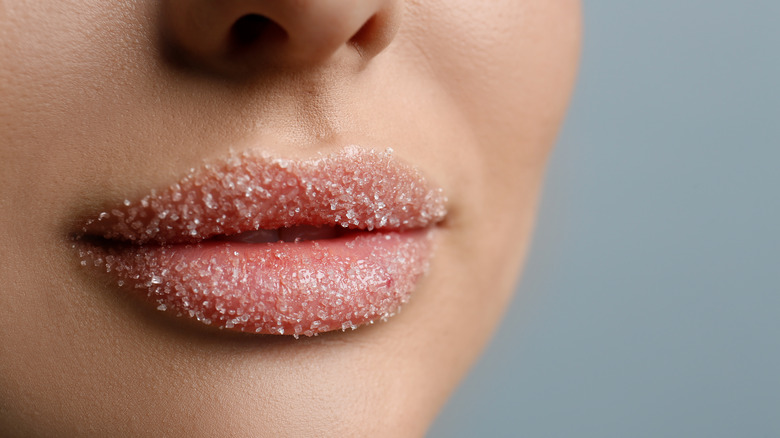 Liudmila Chernetska/Getty Images
Before you get your gloss on, there are a few steps to take to help make sure the finished look is as smooth as possible.
Exfoliation is a must, to help get rid of any chapped or flaky layers. As a bonus, it may also help even the natural color of your lips, says Nivea, which is ideal if you're going for a natural look under all that shine. Once or twice a week (but no more!) should keep your lips in prime condition, but at the very least, you should do an exfoliation before applying the makeup items to achieve your glass-lip look.
To exfoliate, Nivea recommends first making sure your lips are clean of any previous makeup, leaving them a bit damp after washing. With a gentle hand, use a soft toothbrush, cotton swab, or washcloth to work a bit of lip scrub in tiny circles over the surface of your lips. Rinse with a damp cloth, then apply a moisturizing lip balm or cream. Let it soak in for a few minutes before moving on to the makeup part of your glassy lips.
Next, it's all about the layers
Starting with the smooth surface of your exfoliated lips, there are two basic ways you can personalize the glass lip trend to suit your style. Both end in a shiny finish, you can go natural or bold with the trend.
For the natural look, start by applying a neutral shade of sheer lipstick, preferably one with moisturizing qualities. L'Oréal Paris recommends their Glow Paradise Balm-in-Lipstick for a glass lip, citing its luminous finish. Be Beautiful suggests using a soft brush to gently buff the color around the edges of your lips for a blurred, natural look. Apply a high-shine lip gloss, then dab a touch more lipstick over the gloss.
For a bolder finish, start with a lip liner before applying opaque lipstick. InStyle recommends Tarte Maracuja Juicy Lipstick for its moisture and shine factors — and it comes in a delicious cherry red shade! You can also go multi-colored if you're feeling inspired. Skip buffing the edges, but do use a lip lacquer, which will give you more shine than a traditional lip gloss. You can choose a clear lacquer or one with a tint of color, or even a hint of glitter. Once you have glassy lips, tuck your lip gloss or lip lacquer in your pocket; you'll want to reapply here and there to keep your lips shiny.