Is There Any Truth To The 'Red Lip Effect' Buzz?
Lightfieldstudios/Getty Images
You have probably heard theories floating online that red lips, nails, and clothes can immediately make you more attractive, but is there any truth to the "red lip effect"?
Wearers of the color certainly seem to think so, and it's clear that the bold color can draw all eyes to your lips and make you stand out from the crowd. Even if you are unsure whether red is the color for you, there are shades for everyone. Women from all backgrounds can be seen sporting the look, from actresses like the late icon Marilyn Monroe to politicians like Alexandria Ocasio-Cortez. In an interview with Vogue, the New York congresswoman opened up about her beauty routine and her staple red lip. "One of the things I had realized is that when you're always running around, sometimes the best way to look put together is a bold lip," Ocasio-Cortez said. "I will wear a red lip when I want confidence."
But what does science have to say about the "red lip effect"? 
Science has proven that red is attractive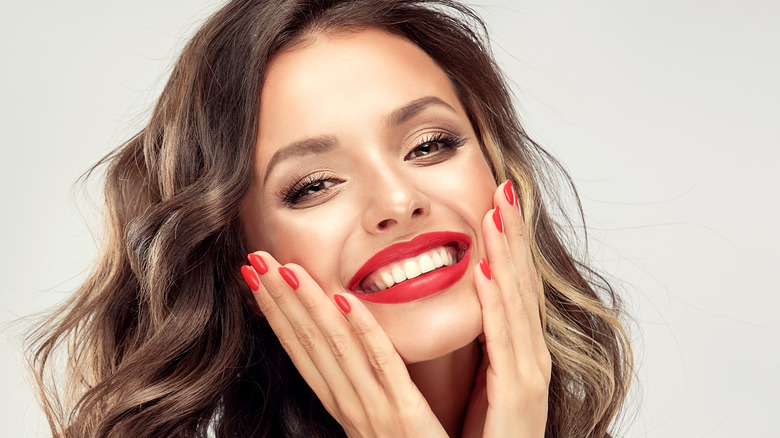 Sofia Zhuravetc/Shutterstock
Many physical characteristics that humans find attractive have some sort of biological and psychological reasoning behind them. For example, full long lashes can signal health while a beautiful smile can help us create an emotional connection. 
There is also a possible biological reason why we are attracted to red lips. "Red lips are universally appealing possibly due to the perceived association with sexual arousal," licensed clinical psychologist Dr. Holly Schiff told Bustle. "This can be because it mimics vasodilation." 
Vasodilation is the widening of blood vessels to allow for increased blood flow and lowered blood pressure, per Healthline. This body function can be triggered by many factors including exercise and high temperatures. Overall, red is perceived as the color of vitality and sexuality and therefore considered an attractive element. Because of the strong association between red and sexuality, men see women in red as more desirable. So yes, it makes sense that you are getting more attention when wearing the color of passion.
Red lipstick is a symbol of empowerment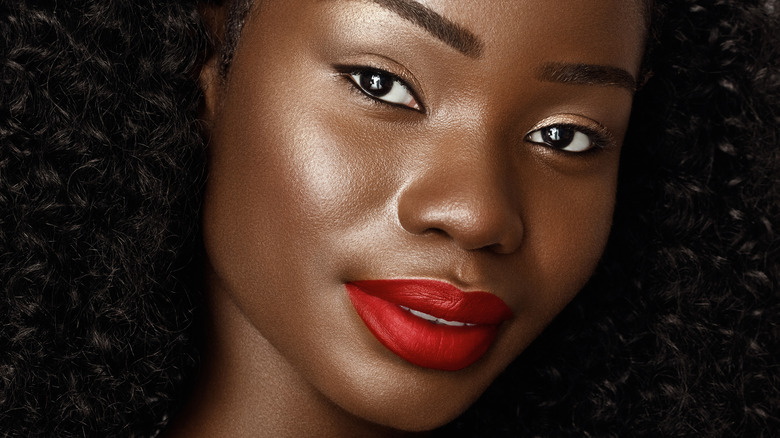 Beauty Agent Studio/Getty Images
The "red lip effect" isn't just about beauty, though. Red lipstick is also a symbol of resistance with a long and powerful history. Back in the early 20th century, when women weren't allowed to vote, the Suffragettes wore red lipstick during their public events for gender equality. "There could not be a more perfect symbol of suffragettes than red lipstick, because it's not just powerful, it's female," the author of "Red Lipstick: An Ode to a Beauty Icon," Rachel Felder told CNN. 
Back then, wearing such bold makeup was seen as a rebellious act. "This was seen as the mark of the independent, emancipated woman, which at the time was thought to be quite scandalous. This subversive action would have brought censure from men, and some women who regarded these women as morally lacking," the founder of Bésame Cosmetics Gabriela Hernandez told Teen Vogue. 
Therefore, red lipstick is associated with power and in turn, it can boost our self-confidence. Confidence is an attractive characteristic so the more we feel and irradiate this feeling, the more attention we will get, according to The Society for Personality and Social Psychology.