The Pinpoint Concealing Technique Is Perfect For A No-Makeup Makeup Look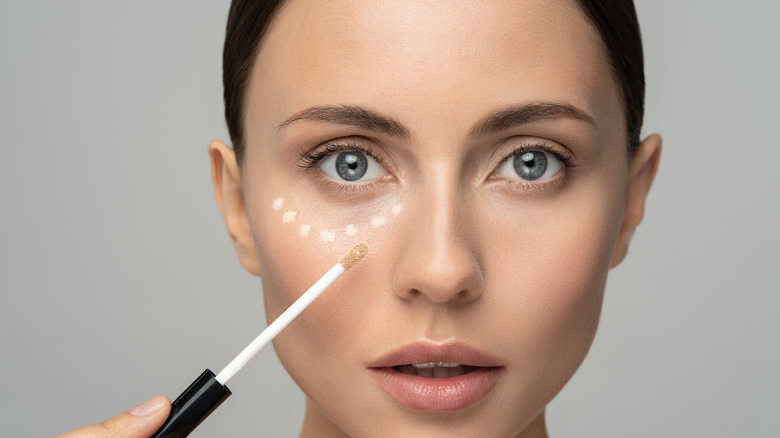 DimaBerlin/Shutterstock
Often, when looking up videos and tutorials about applying concealer, there has, at least of late, been something of a more-is-more trend. Some experts recommend painting on a triangle under the eyes, while others say one stroke under the inner part of the eye and another at an upward angle at the outer corner will help lift the eye. Further, many makeup mavens go so far as to draw long strokes in strategic places all over the face to help give a lightened, lifted look while contouring. Some even recommend using nearly a full face of concealer in place of foundation. 
Now, a less-is-more concealer trend is picking up steam, which turns long stroke application and full coverage looks on their heads. The pinpoint concealing method is meant to cover blemishes, redness, and any other discoloration with a slowly-buildable but never-heavy application of small amounts of concealer. Celebrity makeup artist Katie Jane Hughes is one of the proponents of this method, and has helped bring the technique into the spotlight via a recent Instagram post, in which she details how to achieve it.
"I call this pinpoint concealing," Hughes says (via Mind Body Green). "It's not my technique; it's been around for a very, very long time. I'm just the messenger," she explains.    
How to apply concealer with the pinpoint technique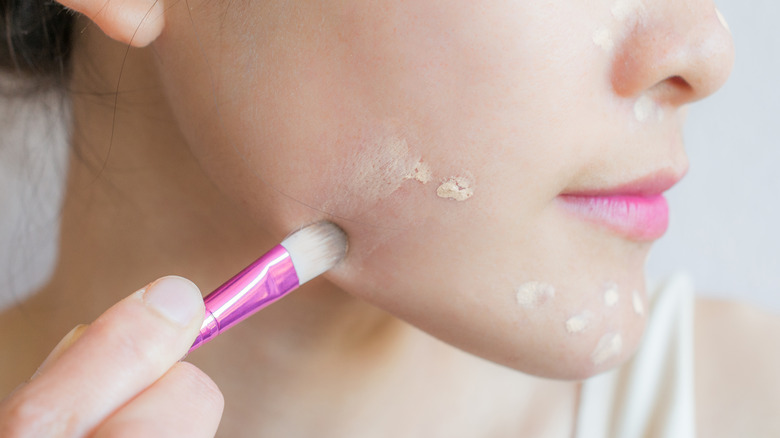 Boyloso/Shutterstock
According to Mario Dedivanovic, founder of Makeup by Mario, the definition of pinpoint concealing is simple, and the principle is to "apply as little product as possible and only where you really need it" (via Pure Wow). He explains that this method is "ideal for covering a pimple or redness without having to put on a full face of foundation." In order to do it, you simply apply a small dot over the blemish or multiple tiny dots over a discolored area like an under eye or red splotch. Then, using either a brush or your finger, you just buff out that concealer until it is fully blended. If you need slightly more coverage, you can build upon it by repeating the same technique again.
In Katie Jane Hughes' Instagram tutorial video, she suggests using an eyeshadow brush to buff out and blend the concealer into the skin, and watching her do it is quite remarkable, as by the time she finishes, it doesn't look like she is wearing a stitch of makeup; rather, it appears she simply has flawless skin.  
Products to try to get the look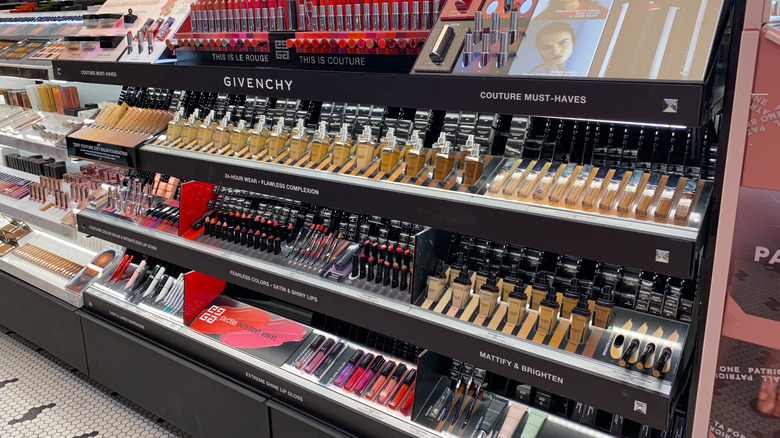 Joni Hanebutt/Shutterstock
Makeup artist Lisa Eldridge is another pro who recommends the pinpoint concealing method, and she has favorite products she uses for it (via Refinery29). Specifically, she recommends Laura Mercier's Secret Camouflage, especially for acne-prone skin. In order to successfully blend the product into the skin flawlessly, Eldridge recommends using a very small brush or even an eyeliner brush to get precise application. She also points out that the trick to blending with a brush like this is to use a "stippling" motion, rather than brushing or dragging the brush across the skin. 
Other highly-rated concealers you might consider for the job include some from Cosmopolitan's list of their favorite concealer products, like NARS Soft Matte Complete Concealer, Charlotte Tilbury Beautiful Skin Radiant Concealer (which the magazine suggests for wearing without foundation), and Elf 16 Hour Camo Concealer (which Cosmo says will get you great coverage on a budget).