How To Pick The Perfect Concealer For Your Skin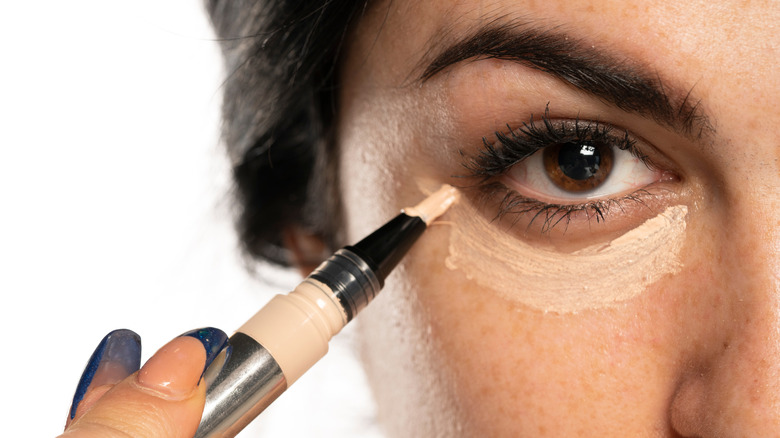 Vladimir Gjorgiev/Shutterstock
Concealer can be a game-changer in the quest for flawless-looking skin. Whether you're looking to hide an acne blemish or make dark circles disappear, concealer will get the job done. Besides hiding imperfections, concealer is a marvelous multitasker. You can use it to accentuate your cheekbones or as a primer for eyeshadow or lipstick (per Neutrogena).
Concealer and foundation form a powerful duo. Depending on your goal, proper application is essential. Use concealer first for under-eye circles. For erasing blemishes and acne, reverse the order and use concealer second to make sure a pimple stays covered (per Byrdie).
Even with its versatility, you'll likely need more than 1 concealer to solve your beauty needs. Glamour suggests choosing 1 concealer for blemishes and 1 for under-eye circles. A thicker product will work better to minimize acne, while a thinner formula is better suited under your eyes. With so many concealer choices available, how do you find the right product for you?
Color match for optimum concealing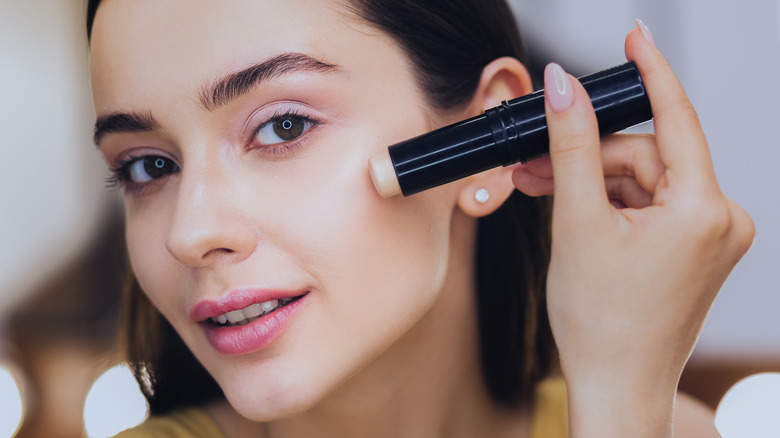 Dmytro Zinkevych/Shutterstock
When choosing a concealer, look to your favorite foundation as a starting point. Many makeup lines have coordinating products. If you're using a foundation and concealer that match your skin tone, you'll ace blemish coverage (per L'Oréal Paris).
Maybelline recommends buying 2 different shades of concealer to solve different concerns. In addition, your skin tone may vary depending on the season and amount of sun exposure. To hide dark circles, go for a concealer that's 1 shade lighter than your foundation. For highlighting and contouring, select a concealer 1 or 2 shades darker than your foundation.
When shopping for concealer, consider your skin's undertones. Some lines offer online matching tools, like Virtual Try-On from L'Oréal Paris. If you prefer a more old-school method, stretch out your arm and use your index finger to press down above your wrist. If the first color you see is pink, red, or blue, it's a cool undertone. Warm undertones are yellow, peach, or golden (per Harper's Bazaar).
Skin type also plays a role in choosing a concealer. Liquid concealer works for normal, combination, or oily skin and is less likely to cause breakouts. Cream concealers work well for dry or combination skin, while stick concealers are a good choice for dry and sensitive skin (per Stylecraze).