Jillian Bell And Joshua Leonard Discuss Their Cringey Relationship In The Drop - Exclusive Interview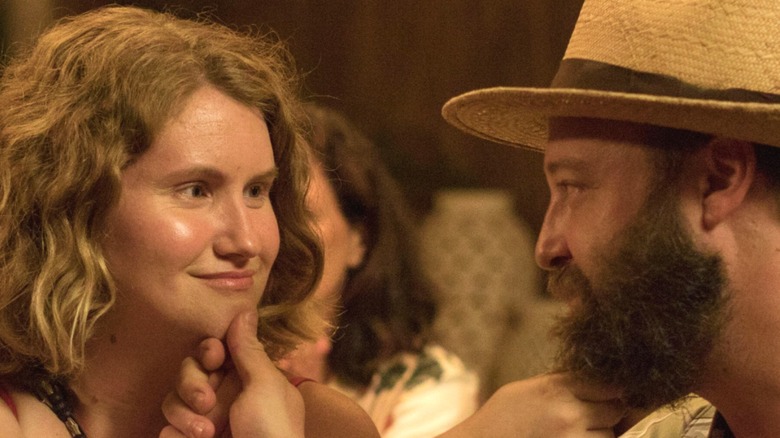 Hulu
Picture this: a scenic, beautiful, paradise-like trip to a friend's wedding, where friends are gathered together for the purpose of love and unity. Things are going well, wonderfully even, until one of the friends drops another friend's baby on their head while the rest of the group has to wrestle with the awkwardness of it all.
This is the plot of Hulu's new film "The Drop," and with an ensemble cast including Anna Konkle from "Pen15," Jermaine Fowler from "Coming 2 America," Robin Thede from "A Black Lady Sketch Show," Utkarsh Ambudkar from "Ghosts," and Aparna Nancherla from "The Great North," Jillian Bell and Joshua Leonard also add to the talented group of actors who can hold their own in this dark comedy.
Bell's and Leonard's characters, Lindsey and Josh, are the hosts of the resort where the friend group is staying for the wedding, and let's just say they resemble people we've probably encountered in our own lives: eccentric, mindless, white-savior cultural appropriators who believe everyone should quit the American workforce and move to Mexico for a life of "peace" and "luxury" — as if it were that simple.
Bell and Leonard deliver as they satirize this character trope, and while we may cringe at them (more than once), it's nearly impossible not to laugh as they throw themselves into the embarrassment of it all.
The List spoke exclusively with Bell and Leonard about how they immersed themselves into these characters, portraying a partnership and taking on the challenge of improvising their lines for the totality of the film. 
Bell and Leonard took inspiration from friends for their weird characters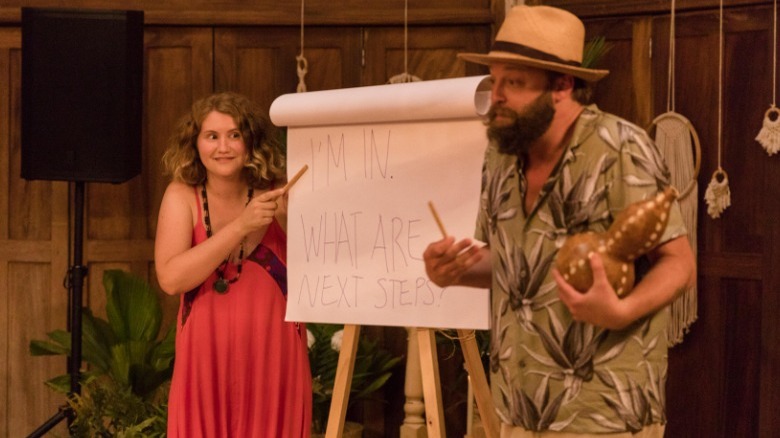 Hulu
As [on-screen] love interests, what was the process [of] going into filming and finding that chemistry between you two? Did you find things that didn't work? What did work?
Jillian Bell: Josh is one of the co-writers of the film, as well as Sarah Adina Smith, who directed, and they created these insane characters. When I read it, I desperately want[ed] to do this. I met with Josh and Sarah, and we talked through who we thought they were and what their backstory was and why they were wanting to leave this life behind that they so desperately [pursued]. That was really interesting. I loved exploring what makes a person go, "Maybe I don't want to be this person anymore." 
You sort of double down on who you are in your 30s and 40s. Sometimes you look at yourself and you're like, "What if I was a totally different person? Would that be okay as well? Who am I with my partner, if I become someone else?" All of that was super interesting, and it was really cool to get to work with Josh and Sarah and figure out who these people are.
Joshua Leonard: We drew a bunch of inspiration from stories that Jillian told about a friend of hers in Topanga [California]. And Jillian and I are both people who ... The level that Josh and Lindsey have taken the commitment to is something that's not so much us, but we both [have] a little bit of Josh and Lindsey in us and certainly have people in our lives who are even closer to who Josh and Lindsey are. I find those people in my own life fascinating because it's the same with any major identity commitment, as Jillian was talking about, when you double down. When you're in a partnership, you're not only, "I am this person," but "We are these people." It's really hard to get out if you want to change your mind.
That's what the premise of this movie was. What would happen if this ridiculous, over-the-top, kind-of-tragic, maybe darkly hilarious thing happened that allowed everybody the avenue to question their life choices, their identity, and their identity within their primary relationships?
The exciting, rare opportunity to have entirely improvised dialogue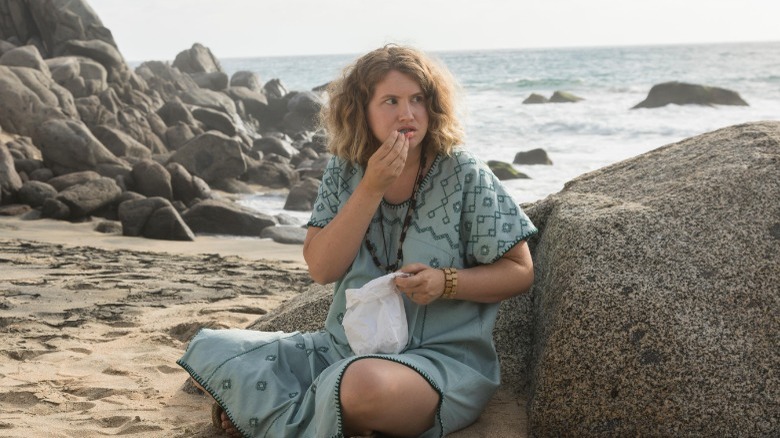 Hulu
Jillian, in an Instagram post, you posted about how this experience filming was improvised. 

Bell: It's funny because I grew up doing improv. I started doing improv when I was 8 in Las Vegas. My family was weirdly clued in to where to throw me for a few hours, and that was improv class. I loved doing improv in high school, and I created the Improv Society at my high school, so I've been doing it for quite a bit. 
Now, I actually really look forward to [when] these film opportunities, though they're rare, come my way, and I really like doing it. You really get to create the character, go a little deeper than you normally do, and then get to figure out what it is exactly they say every day. That's so exciting, so freeing, and I loved that. The funniest thing is now I'm terrified of doing an improv show. I have such deep anxiety about joining in. My friend, Ben Schwartz, asks me weekly, and I'm like, "Yes, still no." But doing a movie and getting to play a certain character doing it, I love it. Very weird.
Joshua, coming from the co-writing standpoint and having that outlined script, how was [it] having to trust [the] cast [while] going through an improvised film?
Leonard: Mark Duplass used to say, "Be careful about just sitting around talking about chocolate bananas all day if you're doing improv." That's the danger — if it's not actually based [on] something that people can relate to on an existential level, and if the story itself doesn't have stakes, then people can be funny and say funny things to one another, but it doesn't drive an hour and a half of narrative.
That's where [Sarah and I did] a ton of the work in the scriptment phase. What's the arc of our story? What are the mini-arcs of these characters and these coupledoms in the movie? Then, what are the archetypes that will play off each other well? Then [we got] to turn those over to this wildly talented group of actors, most of whom have their own writer brains. 
That's one of the things about this cast — I don't know that there's anybody in the cast who doesn't also write their own stuff. You've got really smart people who are also very funny, who can tell a joke, but also understand what's necessary for the structure of the movie. That [need for structure] is where you can totally fall on your face, but you can also catch lightning in a bottle.
"The Drop" is now officially streaming on Hulu.
This interview has been edited for clarity.