Prince William And Princess Catherine's Telling Reaction To Reporter's Question About Spare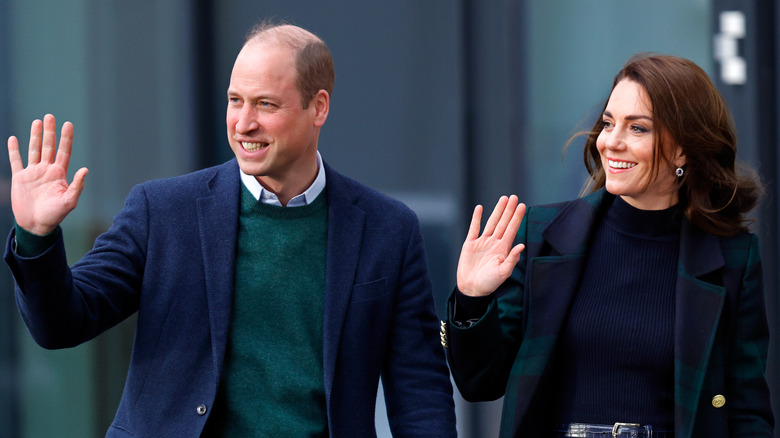 Max Mumby/indigo/Getty Images
On January 12, 2023 William and Catherine, Prince and Princess of Wales stepped out in their first royal appearance since Prince Harry's explosive memoir, "Spare" was released. For their first stop, the future king and queen visited the Royal Liverpool University Hospital and toured the new facility, per Town & Country. Afterwards, they visited Open Door Charity, an organization that works to support mental health — a cause William and Kate continue to champion.
While revelations in "Spare" have caused Harry's popularity to reach a record low in the U.K., William's popularity has fallen only slightly, and Kate's has stayed the same, according to a YouGov poll. As reported by The Telegraph, hospital staff and patients were excited to meet the Walses. During the visit, the couple took time to ask caring questions and pose for selfies. While royal selfies were previously frowned upon, it was more due to the late Queen Elizabeth II's preferences, rather than official policy, noted the Daily Mail. 
"They were so warm and friendly," Amber Otto, ophthalmic imaging technician, told People. "Even when they were being rushed out, they made sure they made time for everybody." Otto had the opportunity to take selfies with both William and Kate. While the prince and princess directed their energies towards talking to patients and staff, they took a different approach to people inquiring about Prince Harry, the Duke of Sussex's memoir.
Prince William and Kate are not commenting about Harry's book
As soon as William and Catherine, Prince and Princess of Wales, arrived at Royal Liverpool University Hospital, they were asked about their reaction to Prince Harry, the Duke of Sussex's memoir, "Spare." According to ABC News, a reporter inquired, "Are you hurt by the comments in Harry's book?" William and Kate didn't answer.
Later in the day, as they were leaving Open Door Charity, another reporter asked, "Have you had the chance to read your brother's book at all?" Chris Ship, a royal editor with ITV News, tweeted a video of the moment. Although the reporter repeated the question, William and Kate said their goodbyes and walked calmly away, ignoring the question.
Rather than commenting, the royal family's strategy has been to focus on their work. "The message is it's very much business as usual," a royal source told the Mirror. "There's lots to look forward to so the focus is on supporting communities and not being distracted, that's best for everyone."
In addition, refraining from public comment has been a longstanding royal policy, and part of the rules William and Kate have for their staff. "Sometimes the hardest thing in PR is to tell a client that the right course of action is to say nothing when your reputation is under attack," Tim Jotischky, director at public relations firm PHA Group, told Time. "The understandable reaction is to hit back, but it can often be the best advice."