Inside Priscilla Presley's History With The Church Of Scientology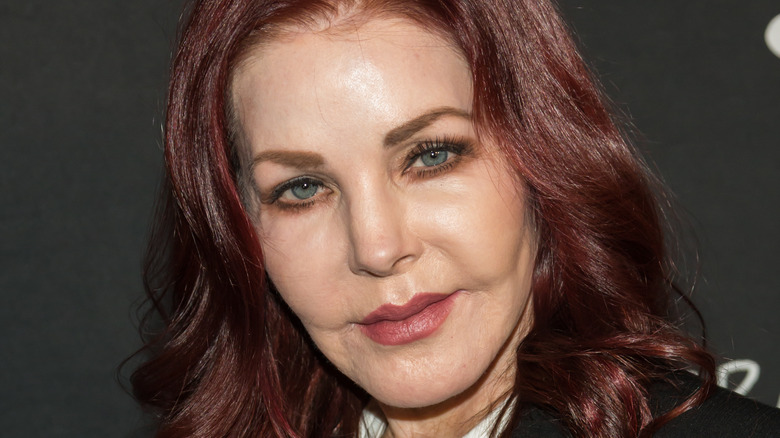 Vladimir Yazev/Shutterstock
Priscilla Presley first met singer and actor Elvis Presley in 1959 when she was 14 and he was 24, according to an essay she wrote for People about their relationship in 1985. She described how she fell for him, and how he would tell her she "perfectly fit" what he thought a woman should be and look like. By 1967, the couple got married in Las Vegas, and nine months later, their daughter Lisa Marie Presley was born, per Time. By 1973, the couple had formally gotten divorced, though they continued to co-parent Lisa Marie.
Much of their story was told in Baz Luhrman's 2022 film "Elvis," which was celebrated at the 2023 Golden Globes. The film was nominated for three awards: movie picture director, best drama, and best actor in a drama motion picture; Austin Butler won for best actor, and during his acceptance speech, the camera cut to Priscilla and Lisa Marie, who were both teary-eyed over Butler's speech (via the Daily Mail). In the speech, some people were startled to hear Butler still sounding like Elvis, according to Harper's Bazaar. Yet another cringe moment at the 2023 Golden Globes came when host Jerrod Carmichael made a joke about Tom Cruise and his notorious involvement with Scientology, via Independent UK. Perhaps less well-known is Priscilla and Lisa Marie's involvement with the organization.
Priscilla Presley joined the Church of Scientology after Elvis died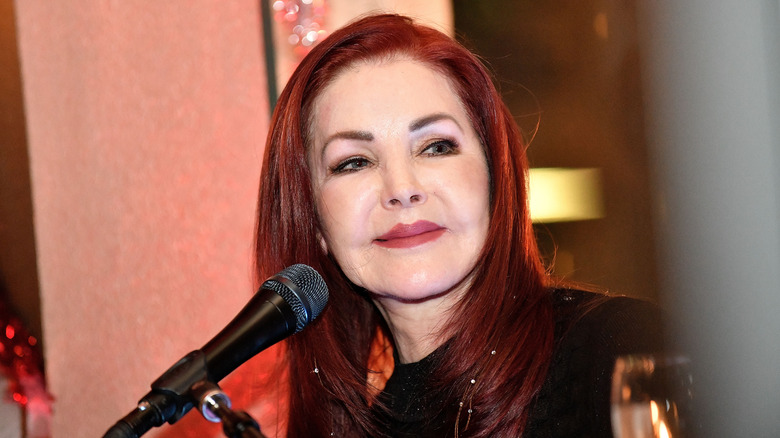 Gerardo Mora/Getty Images
It was after the death of her ex-husband Elvis in 1977 that Priscilla Presley joined the Church of Scientology, per Metro. Her joining the church, which has been known for its popular celebrity members, came after she spoke with one the church's more famous members: John Travolta, who had been a member for two years before Priscilla joined.
Priscilla brought up her daughter Lisa Marie Presley in the Church of Scientology. And when Lisa Marie gave birth to her second child in 1992, she did so following guidelines created by L. Ron Hubbard, founder of the Church of Scientology: in "complete silence in a calm and supportive environment," as reported by AP News. Priscilla's son Navarone Garibaldi, whom she had with Marco Garibaldi in 1987, was also said to have joined the church in 2005, via New York Post. Lisa Marie later left the church in 2014, per Rolling Stone.
Priscilla Presley hasn't left the church, despite rumors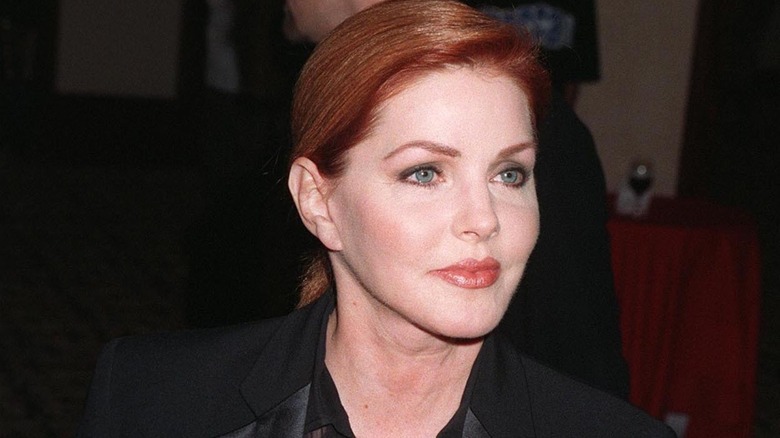 Featureflash Photo Agency/Shutterstock
For her part, Priscilla Presley was rumored to have left the church after her daughter did. But a representative for Priscilla denied any truth to those rumors to People in 2017. Biographer Suzanne Finstad, who wrote the book "Child Bride: The Untold Story of Priscilla Beaulieu Presley," told DAME that Scientology helped Priscilla feel more stable and allowed her to provide an environment of belonging to Lisa Marie in the tumultuous years after her father's passing.
Elvis apparently wouldn't have been too impressed with Priscilla and Lisa Marie's connection with Scientology. "He stayed away from Scientology like it was a cobra," his friend Lamar Fike, revealed to DAME. And after one visit to a Scientology center, Elvis left and reportedly said "F*** those people! There's no way I'll ever get involved with that son-of-a-b****in' group. All they want is my money," according to Rolling Stone.
Sadly, the 2023 Golden Globes was the last public appearance of Lisa Marie Presley, who died after a cardiac attack on January 12, 2023 at the age of 54. Priscilla released a statement, which read in part: "It is with a heavy heart that I must share the devastating news that my beautiful daughter Lisa Marie has left us," as reported by People.