Source Claims Anna Duggar Is Questioning The Future Of Her Marriage To Josh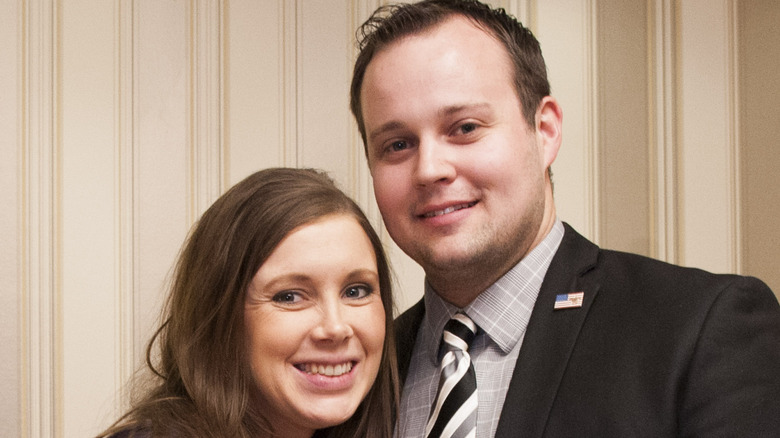 Kris Connor/Getty Images
Anna and Josh Duggar's wedding aired on television in 2009 (via IMBd) documenting the beginning of what would end up being a tumultuous marriage full of scandals. Former "19 Kids and Counting" star Josh Duggar began a new life in prison following his sentencing in which a federal court convicted him of possessing child pornography, according to NPR, sending him behind bars for 12 and a half years. This conviction came after Duggar pled guilty to molesting five young girls as a teenager. Throughout these disturbing findings, Anna Duggar has chosen not to divorce her husband, and the Duggar's view of Anna has definitely changed since Josh's sentencing.
Though the Duggars continue to include Anna in the family, her relationship with the family is not what it once was. Anna has kept her seven children her top priority, per Us Weekly, raising them on her own while her husband is in prison. Now, Anna is contemplating the future of her relationship with Josh.
Anna reportedly is 'constantly praying' about her marriage to Josh
Anna Duggar, like the rest of the Duggar family, have very strong views about their faith, especially when it comes to marriage. But after Josh Duggar was sentenced to more than ten years in prison, she has allegedly begun questioning the future of what once seemed to be a simple life-long commitment. "Anna is still very much questioning their future," an anonymous source told In Touch. "She took her wedding vows seriously and she wants to stand by her man and all that, but the reality of her situation is very difficult."
Followers of a conservative Christian organization called the Institute in Basic Life Principles, the Duggars do not support divorce (per Distractify). But the disturbing truth and painful situation surrounding Josh's prison sentence appears to be testing those strict beliefs. "Divorce is not something she wants, but she'd be lying if she said she hasn't questioned her future with Josh," the insider told In Touch. "Anna married Josh for better or worse and it can't get any worse than this."