Why It's Absolutely Essential To Let Your Primer Dry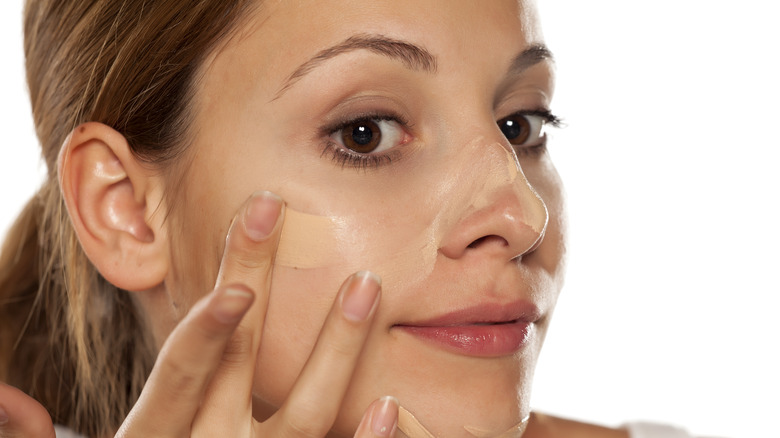 Vladimirfloyd/Getty Images
While watching makeup mavens post tutorials on YouTube or TikTok, you've likely noticed several use a facial primer. Some use eyelid primer before eyeshadow, and others use full face primer before applying foundation and other products. While you're likely familiar with applying a good moisturizer before your makeup to get the best results, if primer is new or confusing to you, don't worry!
Primer is simply a product that goes on the skin before makeup in order to get the best look, the best finish, and longer wear than you might otherwise get without it (via Byrdie). Just like when you use a primer before painting, the principle is to create a barrier between the surface being painted and the paint itself in order to create smoother application and better results. You may even be able to use less "paint" (foundation/concealer) to get the same level of coverage thanks to the primer.
There are several different primers you might choose depending on your needs. Readers Digest rounded up some of the best. According to RD, the best overall primer is Milk Makeup Hydro Grip Hydrating Makeup Primer, while the best for the purpose of blurring pores is Rare Beauty Pore Diffusing Primer. It Cosmetics Your Skin but Better Makeup Primer+ took the award for best primer for oily skin, and Dior Backstage Face and Body Primer rated best for keeping your makeup in place all day. And the best primer for dry skin is Laura Mercier Pure Canvas Primer Hydrating, according to RD. 
How to apply primer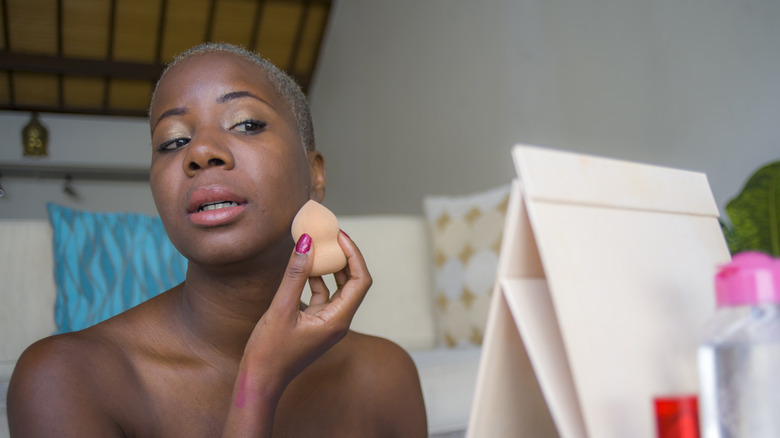 Marcos Calvo/Getty Images
Once you find a primer that works well with your skin and your needs, you'll want to make sure you apply it correctly in order to achieve the best results. As with any makeup, it is important that you apply your primer to a properly clean and prepped surface. As such, you'll want to make sure to cleanse your face and apply any skincare beforehand. The last step before your primer should be a good moisturizer, and it is important to let that lotion or cream absorb and dry for a few minutes before beginning your primer application (via Byrdie).
Next, Byrdie suggests applying a thin, light layer of primer all over your face, starting at the center and working out. In order to blend it into your skin, you can either dab it on with your fingers or use a makeup sponge of your choice. Worth noting is that you should be using a primer that will work in conjunction with your foundation. For instance, if you are using a silicone-based primer but a water-based foundation, the foundation might pill when it comes in contact with the primer. As such, make sure the ingredients match. Water based with water based, silicone based with silicone based. 
Once you have applied a light layer of primer all over your face, including your eyelids, it is absolutely essential that you let it dry before applying any other product. 
Why letting your primer dry is a must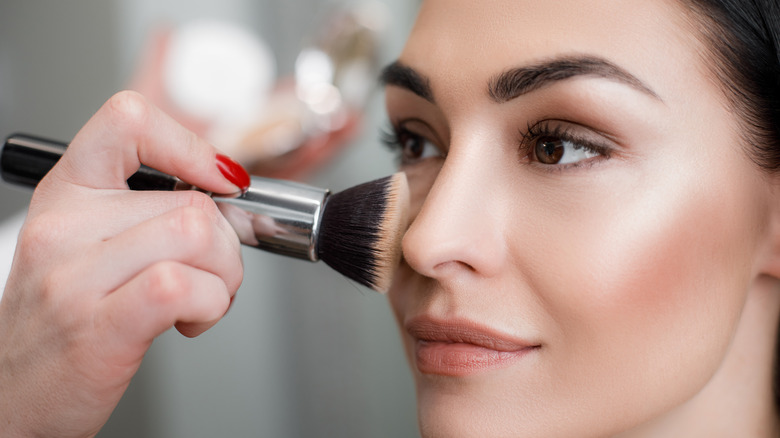 Olena Yakobchuk/Shutterstock
Letting your primer dry is non-optional. If you don't wait for your primer to fully dry, which should only take a minute or two, the application of your foundation is unlikely to happen smoothly (via Allure). When applying makeup on top of wet or tacky primer, you're likely to get pilling, patchiness, or end up with a cakey look, which is, of course, the opposite of the intention when using primer. In fact, if you have tried primer and were generally disappointed in how your foundation looked on top of it, failing to let the primer dry is one of the most common reasons that might have happened.  
Once the primer is dry, however, don't be afraid to apply your foundation however you normally would, whether that is with a makeup sponge, your fingers, or a soft brush. Ideally, if you've chosen the right primer for your skin, one that won't react poorly with the formulation of your foundation, and have let it dry before applying makeup, you should get a smoother, longer-lasting makeup look to enjoy all day!