Who Was Days Of Our Lives' Alex Marshall?
Vivien Killilea/Getty Images
"Days of Our Lives" viewers have watched the soap opera create memorable villains for decades. The show has been the home of some of daytime TV's most beloved characters over the years, including some ultimate bad guys that viewers just can't get enough of, per Fame 10. Characters like Sami Brady, Eve Donovan, Claire Brady, Xander Cook, Gabi Hernandez, Clyde Weston, Kristen DiMera, and others have all shown fans their evil ways as well as their softer sides. This makes the villains all the more likable, despite their devious deeds.
Of course, the two most prominent "Days" villains have been Victor Kiriakis and Stefano DiMera. Both men have created more than enough drama in Salem over the years. They've also been part of some of the most memorable storylines to ever appear on the sudser. However, many fans may not remember another villain, Alex Marshall, who worked closely with both Stefano and Victor in the past (via Soap Hub).
The character was a staple on the soap opera in the 1980s and quickly became one of Salem's most notorious bad guys. However, only longtime viewers will remember this shady character who had a history with the beloved Horton family.
Alex Marshall had strong ties to the Horton family
According to Soap Central, Alex Marshall first showed up in Salem in 1979, played by actor Quinn Redeker. Alex was an employee at a local manufacturing company and soon found himself falling for his boss' daughter, Mary Anderson (then Barbara Stranger). The couple got married a year later, and when mary's father died, Chris Kosnitchek (Josh Taylor) was given control over the business. Chris made Alex his partner, and the duo ran the company together. However, Alex conspired with Jarvis Maxwell to take over the business, and when Mary found out, she divorced him.
"Days of Our Lives" fans later found out that Alex had a history with Marie Horton. The two had been romantic in the past. Although Marie was now a nun, Alex wanted to rekindle their romance (via Soap Hub). However, Marie refused to break her vows. Eventually, Alex learned that he was the biological father of Marie's daughter, Jessica Blake (Jean Bruce Scott). Alex and Jessica began to bond, but Jessica was furious at Marie for not telling her the truth about her real father. When Marie eventually left the convent, she and Alex got back together and planned to get married.
When Alex was shot and paralyzed, Marie was there to take care of him. However, the pair never got their spark back and eventually called it quits. Alex then began to work with some of Salem's most notorious villains.
Alex Marshall was sent to jail and never seen again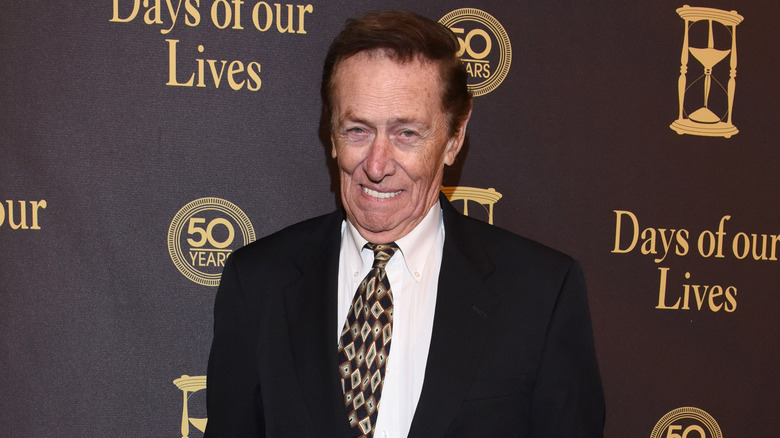 Vivien Killilea/Getty Images
"Days of Our Lives" viewers watched Alex Marshall team up with none other than Stefano DiMera (Joseph Mascolo). The two ran a drug ring together but found trouble with Roman Brady (then Wayne Northrop) looked to bust their illegal activities. Alex wanted revenge on Roman and tried to kill his sister, Kayla Brady, by poisoning her (via Soap Central). Kayla survived, and Alex tried to get his revenge again when he attempted to kill Roman at his wedding to Marlena Evans in 1983. Over the years, Alex also tried to kill Alice Horton and was also responsible for Evan Whyland's death.
Eventually, Alex was arrested for arson when he set fire to the Salem Inn. He was taken to jail, and fans never saw him again. However, it seems he may have passed his devious side on to his grandson, Nick Fallon (Blake Berris), per Soap Hub. Nick was Jessica Blake's son, who proved to be a bit of a villain himself before he was shot and killed by Gabi Hernandez.
Sadly, fans won't get to see Alex Marshall return to Salem as actor Quinn Redeker sadly passed away in early 2023 at the age of 86 (via NY Post). However, longtime fans will never forget the trouble he caused during his character's epic run in Salem.