What Happened Between Sheila And James On The Bold And The Beautiful?
Nefarious evildoer Sheila Carter (Kimberlin Brown) wrought havoc on the citizens of Genoa City on "The Young and the Restless" for several years. Sheila later brought her reign of terror to "The Bold and the Beautiful," where she married Eric Forrester (John McCook). Concerned that her misanthropic behavior was getting worse, Eric called in a psychiatrist named James Warwick (Ian Buchanan) to see if he could help her, according to Soap Central. 
James learned of her devious past in Genoa City after Stephanie Forrester (Susan Flannery) recommended he talk to Lauren Fenmore (Tracey E. Bregman). Previously, Sheila had gotten between Lauren and her husband, Dr. Scott Grainger (Peter Barton). Both Lauren and Sheila got pregnant by Scott, but when Sheila miscarried, she kept that a secret and swapped Lauren's baby with a black market child. Things between Lauren and Sheila heated up when Sheila tried to kill her on more than one occasion. Scott eventually died from a fatal illness, but before he did, he implored Lauren to make amends with Sheila. However, that notion was short-lived, per Soaps in Depth. Sheila would go on to commit several crimes in Genoa City and was even presumed dead when a cabin caught fire.
James knew that whatever Lauren was going to tell him would be dark, but he didn't get the opportunity to warn Eric and the Forresters, per Soaps.
Sheila kidnaps James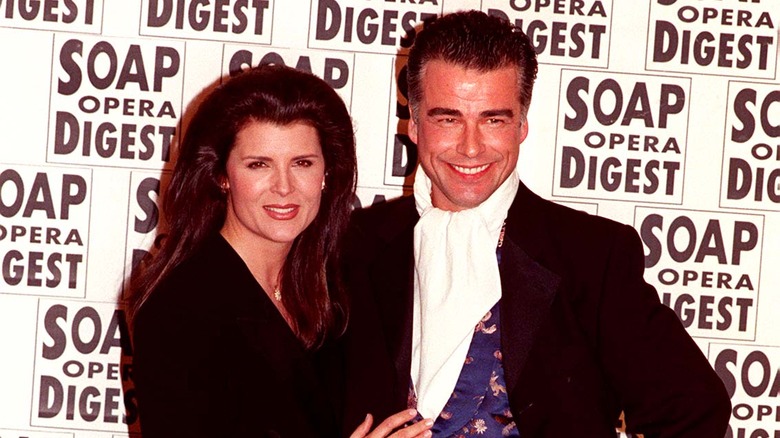 Denny Keeler/Getty Images
Before James Warwick could tell Eric Forrester about his wife's numerous crimes, Sheila Carter and her criminal colleague Mike Guthrie (Ken Hanes) kidnapped him, holding him in the basement of her house. Per Soaps, Sheila had feelings for James, and with no recourse left, he pretended to return her feelings. James eventually managed to escape and inform the Forresters of her misdeeds. Feeling that everyone had hurt her, Sheila held a gun on Lauren, James, and the family and ultimately swallowed poison. After surviving this, she was sent to a mental institution and was eventually set free.
The court ordered James to keep treating Sheila after her release. Maggie Forrester (Barbara Crampton) made the mistake of befriending Sheila. When it was revealed that Sheila had poisoned Stephanie Forrester, Maggie and Sheila became bitter enemies. The two would take turns kidnapping and attempting to kill each other over the years (via Soap Hub). James and Maggie were planning on getting married. When Maggie ran away just before their impending nuptials, James got drunk and awoke the next day to find himself in Sheila's bed. Maggie eventually returned, and the two tried tying the knot again. However, Sheila waltzed into the ceremony, informing them that she was now pregnant as a result of their tryst. James and Maggie still got married, and Sheila eventually had the baby, naming it Mary. She allowed the couple to adopt Mary and left Los Angeles, according to Soap Central.
James fell for Sheila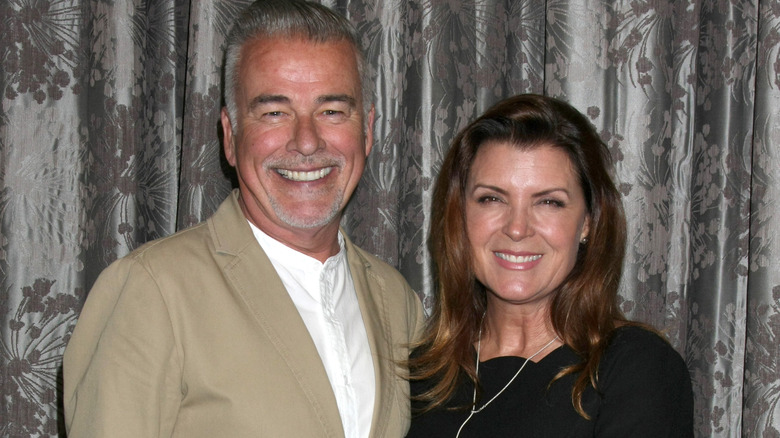 Kathy Hutchins/Shutterstock
As Soaps in Depth recounted, Sheila Carter eventually returned to Los Angeles and wanted her baby back. James Warwick feigned feelings for her again, conspiring with others to have her declared an unfit mother. By the time Sheila found out about his plan, James was actually developing genuine feelings for her, and they got married. However, James and Stephanie Forrester started to become friends, which sent Sheila's jealousy through the roof. Because she was falling back on her criminal ways, James divorced her, and Sheila went to prison after attempting to drown Stephanie. Of course, Sheila managed to escape from jail and then shot Stephanie. Then she kidnapped Mary and ran away, per Soap Hub.
Eventually, James also left town in an effort to find Sheila and his daughter. Sheila later returned and hit her head in a physical altercation with Quinn Fuller (Rena Sofer). Eric Forrester called James back to town. Eric and Quinn were married by then, and he wanted James to determine if Sheila was well enough to leave his house since the Forrester family didn't want the villainess there (via Showbiz Cheat Sheet). However, Sheila learned that James was illegally prescribing himself painkillers and used that info to blackmail him into claiming that she was still suffering from her concussion.
In order to get out from under Sheila's thumb, James finally left town in 2017 and has yet to return, according to Soap Central.