Blow Dry Vs. Natural Dry: Which Is Better Before Straightening?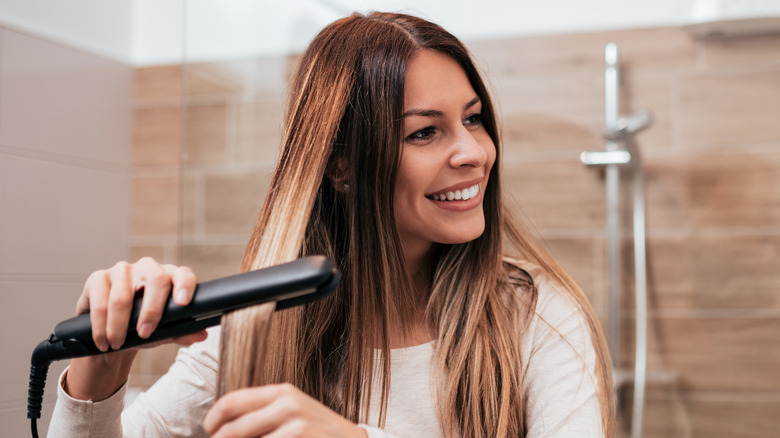 Nortonrsx/Getty Images
There is a good reason why some people spend a night at home simply because they have to wash their hair. It's not so much in the washing as it is in the drying and styling time required afterward. Depending on your hair texture, it can take longer than expected.
For those who want to straighten their hair, the time required is quite lengthy, simply because hair must be fully dried before doing so. In fact, it's not safe to straighten wet hair. "If you see steam or you hear a sizzle, stop and evaluate the situation," stylist Harry Josh told Teen Vogue. "Hair should be bone dry when you straighten." 
According to StyleCraze, when a hot iron or straightener is applied to wet hair, the water in the strands instantly turns to steam as it extracts all water from the hair. This causes immediate hair damage as the inner layers and cuticles of the hair basically fry. The end result is hair breakage, frizz, and dried-out split ends.
When to blow dry before straightening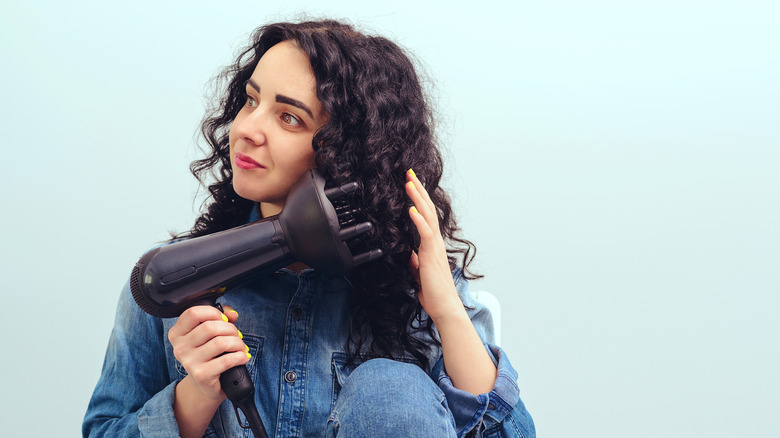 Volurol/Shutterstock
Natural hair expert Jessica Houston, vice president of operations at BeautyBeez, told Byrdie, "While air drying will work great for curly or kinky hair in its natural state, to flat iron curly or kinky hair, the outcome would not be a silky and shiny finish." She continued, "If you are intending to flat iron your naturally curly or kinky hair, it should be blown out as much as possible to avoid any tangling and frizz. Blow-drying on curly or kinky hair would also make the flat ironing process a lot easier."
Keep in mind that even when you fully intend to blow dry your hair, you'll still want to wait until it's not sopping wet. According to L'Oréal Paris, it's best to towel dry your hair or let the air dry it until it's damp before you turn on your blow dryer. Not only will this save you time that would be wasted blowing fully wet hair, but more importantly, it protects vulnerable locks from getting heat damage.
Sometimes naturally drying your hair is better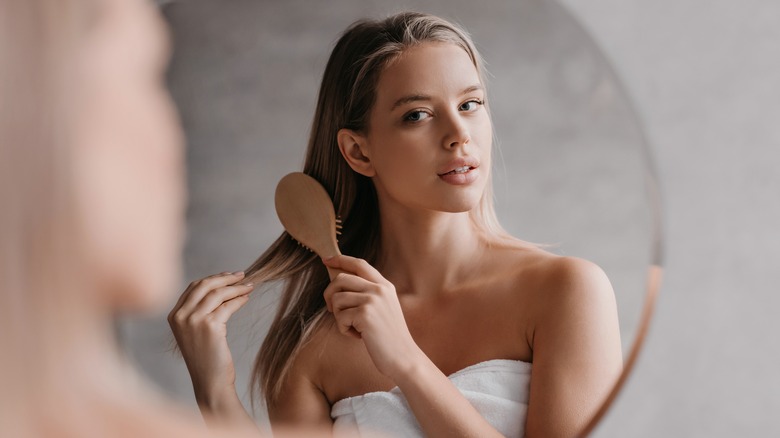 Prostock-studio/Shutterstock
Though air drying your hair takes a certain amount of patience, it's important to make sure that your hair is completely dry before even attempting to use a flat iron. Using heat on hair that is damp can result in hair damage (via Cosmopolitan). Make sure you feel each section of your hair and confirm that it is indeed fully dried, especially in the under-section areas.
If you have hair that's been relaxed or is a type 1, no natural curl, or 2, slightly wavy, air drying may be your best bet (via Healthline). "When using heat to restructure or straighten hair, natural hair textures that are loose waves or straight are, more likely than not, able to allow their hair to air dry 100 percent, and flat iron in sections," certified trichologist Bridgette Hill told Byrdie. "These hair textures would benefit from skipping the blow-drying step, reducing the hair fibers' exposure to unnecessary manipulation and heat."
Another consideration is the health of your hair. If it's already damaged due to heat, chemicals, or the environment, it's better to skip the blow dryer to avoid further heat damage.