The Easiest Way To Get Fuller Coverage When Blending Concealer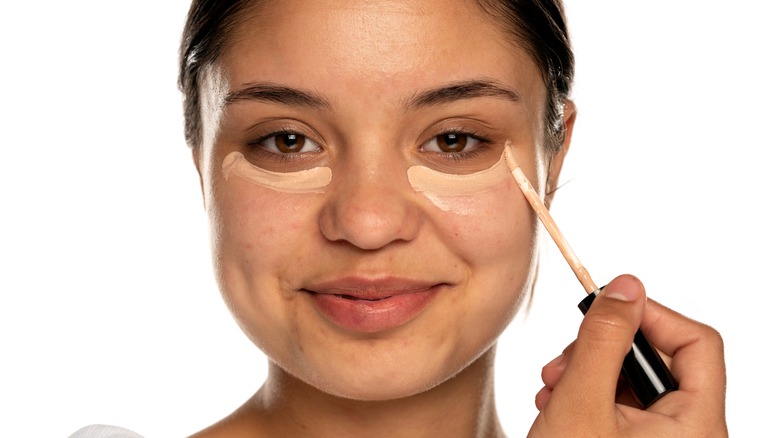 Vladimir Gjorgiev/Shutterstock
We may receive a commission on purchases made from links.
Social media is full of viral beauty hacks, some advisable, and some airing on the side of regrettable."The hyper-virility built into TikTok's platform has given rise to warp-speed trend cycles of skincare, beauty, and wellness fads—with different trends more dubious than others," Fashion Snoops' director of culture, Carrera Kurnik, explained to Vogue. In 2021, for instance, using sea salt spray to clear acne flare-ups blew up on TikTok. Though not necessarily harmful, it had little-to-no benefit. "Sea salt water at best may help with mild skin inflammation and redness; I certainly do not consider this a viable treatment for acne nor would I recommend it," New York board-certified dermatologist Shari Marchbein, M.D., later told Allure. "I worry that those who do use this as treatment may end up delaying proper care from a board-certified dermatologist and get additional hyperpigmentation and potentially scarring as a result."
Other so-called "hacks" like teeth filing and DIY freckle tattoos had more dangerous implications. "Big Brother Australia" contestant Tilly Whitfield even ended up with scarring from attempting the latter, per The Cut. Before you experiment with any more viral trends – how can we forget that pink sauce recipe – do your research. Some hacks, like this fuller coverage concealer tip, might just end up changing your routine for the better.
Let your concealer set before blending out
Whether you're using full-coverage concealer or your favorite lightweight solution, a small amount of product goes a long way – you just need to know how to get the most out of it. According to @titilola.m on TikTok, letting your concealer set before blending is the key. After applying concealer, the creator recommends letting it dry on your skin for approximately two to five minutes. Using a brush, gently dab the product into your under eyes, carrying it out toward your temple. For durability, set it with two layers of powder.
Though Vogue Arabia corroborates this method, they recommend waiting between 10 and 20 minutes before blending. Over time, your natural body heat will cause the pigment to melt directly into your dark circles. Bustle calls this the "cooking" method. As it dries, the product will grow thicker, resulting in more coverage. The bottom line? Jawaria Khalid (@jawarshere on TikTok) reassures followers that there's no "right" concealer placement. Rather, it's all about how you use the product. Specifically, whether you let it set or not. As she notes, going straight into blending will take away most of the pigment – you'll get a lot more bang for your buck with just a little patience. 
A brush is the way to go for fuller coverage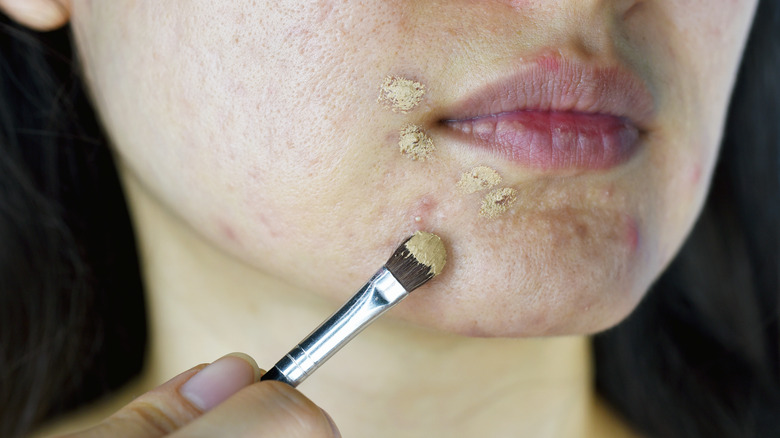 ARTFULLY PHOTOGRAPHER/Shutterstock
For a dewy, sheer finish, use our go-to beauty blender. However, as demonstrated by TikTok creator @ckimorae, a brush is the way to go for full coverage. "If I want a seamless wash or blend, I love a sponge, but for saturation or precision, I use a brush," makeup artist Abraham Sprinkle informs InStyle. For starters, check out this Beauty Junkies Under Eye Concealer Brush on Amazon.
Byrdie also recommends prepping your skin with a primer and moisturizing cream for creaseless coverage. "Hydrating sensitive skin around the eye would not only help with lines but it will make your concealer stay on better," advises makeup artist Azra Red. "Otherwise, your skin will absorb moisture from the concealer and leave not-so-attractive powdery residue under the eye."
Next, before going in with your full-coverage concealer, erase dark circles with a color corrector. "Color correcting in makeup is the use of a pigment to counter or balance a discoloration of the skin to conceal that discoloration and make the skin appear even in color," New York City-based makeup artist and brow specialist William Scott tells Byrdie. Choose what color corrector is right for you depending on your skin tone and area of concern. For instance, "Orange color corrector is intended to neutralize dark spots, scars, under-eye circles, areas that may turn gray under foundation, or other stubborn and relatively cool-toned blemishes," says Scott, adding, "It is best suited for medium to dark-skinned people."