The Affordable Full-Coverage Concealer That Went Viral On TikTok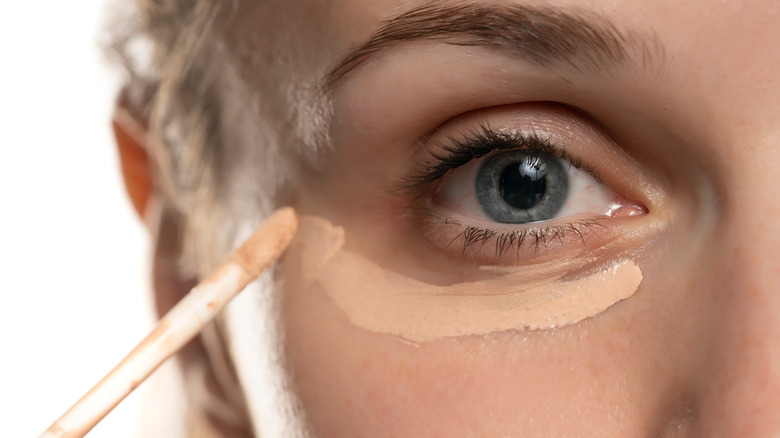 Vladimir Gjorgiev/Shutterstock
If you battle both dark circles and fine lines, then you know the struggle of trying to find the right concealer. Using a full-coverage option may cover your dark circles, but the thick formulas tend to settle into lines. On the other hand, applying a light-coverage concealer may smooth your undereye area, but your dark circles might still peek through.
Luckily, you may no longer have to settle on only correcting one issue. There's a new hydrating, full-coverage concealer that promises to do both, and the best part is it's only $11. TikTok seems to agree with the bold claims. TikTok beauty influencer Mikayla Nogueira said, "This is, hands down, one of the most beautiful concealers I've ever used, and I've used a lot of concealers." She added, "I was absolutely shocked. I have absolutely fallen in love with this, and it does deserve to go viral."
Rakhstar, another TikTok beauty guru, claimed the concealer is a dupe to MAC Pro Longwear Concealer. "I love that this doesn't look thick and creamy like a lot of full-coverage hydrating concealers can look," Rakhstar said. "It looks very natural, you don't need a lot, it blends in really easily, and I think it looks really nice." If you want to know what this magical concealer is, just keep reading. *Cue the drumroll*
The new Nyx Bare With Me Concealer Serum will cover even the most stubborn dark circles
Nyx Bare With Me Concealer Serum, the brand's latest concealer release, has quickly become a fan favorite. The hydrating, buildable-to-full-coverage concealer is crease-proof and can cover redness and dark circles with its smooth texture that is easy-to-spread (via InStyle). This is especially a great buy for people with mature skin and dark circles, and you no longer have to decide between coverage and crease-proof capabilities. The lightweight, fluid consistency melts right into the skin and provides a cake-free finish.
The concealer goes beyond covering imperfections. It also works to improve the condition of your skin. Per Ulta, the formula heals and treats stressed skin from issues like dark circles, acne, redness, and dry patches. The concealer is infused with a skincare serum that includes moisturizing glycerin, calming Centella asiatica (cica), antioxidant green tea, Vitamin E, and snow mushroom (via Allure). InStyle noted snow mushroom extract can reduce skin damage. The hydrating extract also brightens the skin and prevents wrinkles, according to Well+Good. 
Boasting a 4.5 star rating on Ulta, it's clear this concealer might just need to go in your online shopping cart. Now you can cover those dark circles and smooth fine lines while treating your skin to a little TLC ... all at the same time!