Prince Harry Says Queen Elizabeth Gave Sly Answer When He Asked For Permission To Propose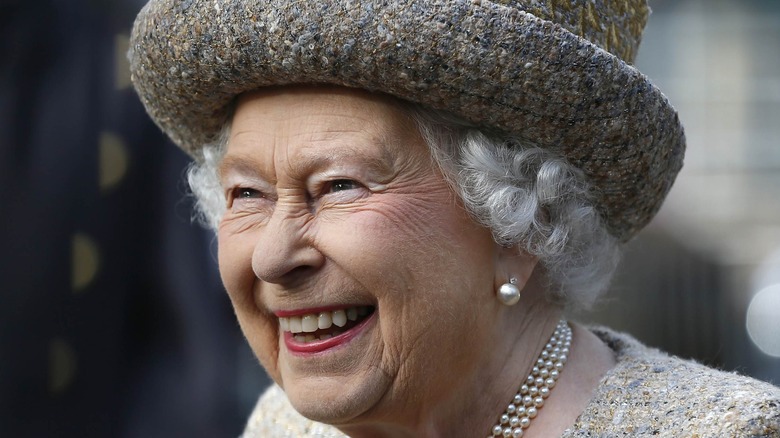 Wpa Pool/Getty Images
In their Netflix docuseries, "Harry & Meghan," Prince Harry and Meghan Markle, Duke and Duchess of Sussex, detailed how their romance grew. "I fell head over heels in love with her because my heart told me that she was the one I was going to spend the rest of my life with," Harry recalled during one of the series' more emotional moments, per Today.
Even though Harry was certain Meghan was the person he wanted to marry, he was surprised to learn he had to do one major task before proposing. As he details in his memoir, "Spare," Harry was required to get Queen Elizabeth's permission before he could move forward with this major life decision. As Hello! reports, two royal laws dictate that the monarch must approve marriages for the first six people in line for the crown. Per the royal family's website, this includes Harry, who is fifth in the line of succession.
In order to give himself the best chance of getting the green light from his grandmother, Harry planned to ask her during a family gathering at Sandringham, per the Mirror. When he finally got a private audience with the queen, though, Harry was surprised by her response.
Queen Elizabeth's answer may have involved a bit of wordplay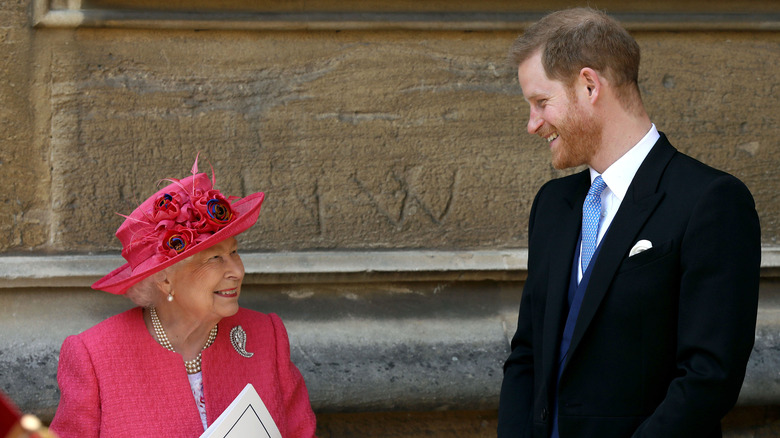 Wpa Pool/Getty Images
Among the startling revelations in "Spare," Prince Harry's memoir, is Harry's surprise and discomfort at having to obtain Queen Elizabeth's permission to marry Meghan Markle. "It didn't make any sense," he wrote, per The Telegraph. "A grown man asking his grandmother for permission to marry."
In the book Prince Harry, Duke of Sussex describes approaching the queen as she looked for dead birds after a hunt. Feeling nervous and holding two dead birds, he told his grandmother of his love for Meghan and his wish to marry her, ending with, "they've told me that ... well. ... I have to get your authorization before asking for her hand."
The queen answered, "You have to do that? Well then I suppose I have to say yes."
The queen's demeanor surprised Harry. He recalled (via the Mirror), "Was she being sarcastic? Ironic? Deliberately cryptic? Was she indulging in a bit of wordplay?" The prince also speculated that Elizabeth was riffing on his use of the word "have" by including it in her answer.
Permission secured, Harry proposed to Meghan on the lawn of Kensington Palace. "He's down on one knee and I was just like, 'Yes!' I was just so joyful and excited," Meghan shared in the Netflix docuseries, "Harry & Meghan," per Town & Country. Then In March 2018, the queen made her approval clear in writing, ahead of Harry and Meghan's May 2018 wedding (via Reuters).
Queen Elizabeth turned down her sister's marriage request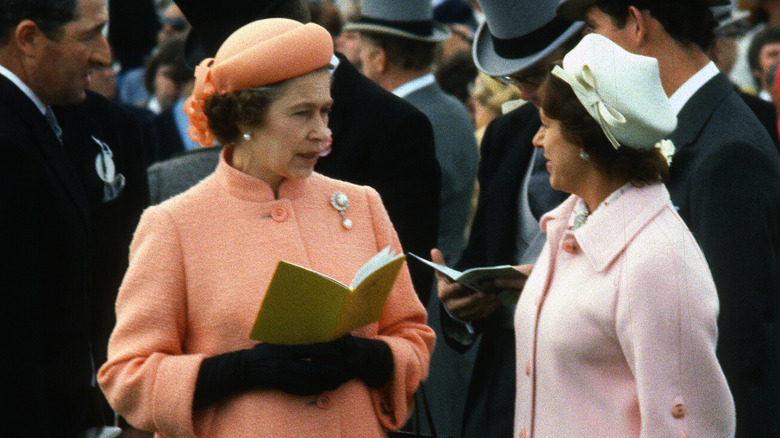 Anwar Hussein/Getty Images
During her long reign, Queen Elizabeth had to give permission for other royal couples to marry, including  William and Catherine Middleton, Prince and Princess of Wales, and King Charles and Queen Camilla. Some of these requests were easier for Elizabeth to approve than others.
When her sister, Princess Margaret requested to marry Peter Townsend, the queen did not give permission. As the BBC explains, in her role as monarch, Elizabeth was aware that the British government and Church of England disapproved, due to Townsend's divorced status. Two years later, as an alternative, Prime Minister Anthony Eden was agreeable to removing Margaret and her descendants from the line of succession. This plan would have allowed Margaret to marry without royal permission. However, a few days after the plan was put forth, the queen's sister decided she wouldn't marry Townsend, ending the scandalous romance. Years later, Margaret's biographer revealed the relationship was over when "the love was no longer strong enough for them to have married," per Express.
The queen also had to balance public approval with Charles and Camilla's relationship in the 1990s. As noted by the New York Post, it took until Christmas 2004 for her to grant permission for them to wed. Even so, the queen didn't attend the ceremony, because she felt attending the marriage of two divorced people conflicted with her role as head of the Church of England, per The Telegraph.