Kim Kardashian Buys Iconic Fashion Piece Once Rocked By Princess Diana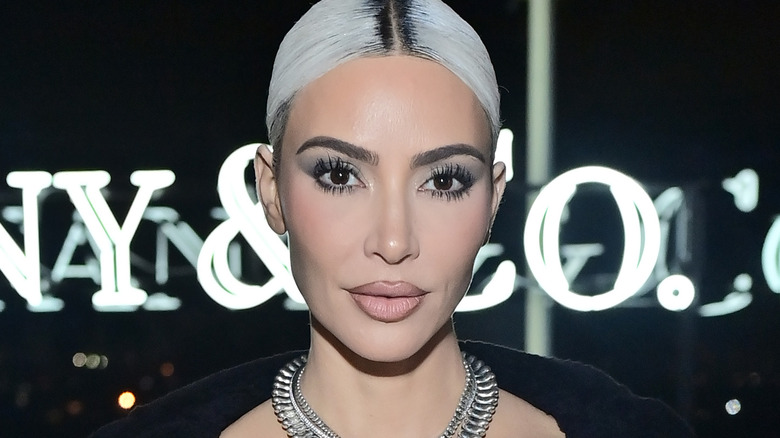 Stefanie Keenan/Getty Images
Kim Kardashian is the proud new owner of a piece of jewelry that was previously worn by Princess Diana. The reality television star has an affinity for some of the finer things in life, but has also shown a deep appreciation for iconic pieces that are well-recognized. For example, Kardashian wore a dress previously owned by Marilyn Monroe to the 2022 Met Gala. The dress, which is kept at Ripley's in Florida, is a part of history; Monroe wore the dress when she sang "Happy Birthday" to President John F. Kennedy in 1962. Kardashian went to great lengths to get the dress — and fit into it — but admits she only actually wore it for a few minutes.
"All of this — losing weight, dyeing the hair for 30 hours, leaving the hotel in a robe, getting there, changing on the red carpet, just walking to the red carpet, then changing again into a replica of the dress because we can't risk sitting in it and eating dinner — is all for maybe 10 minutes of my life," she said per W. 
Although Kardashian didn't get to keep the dress, she certainly has the bankroll to add some iconic pieces to her own personal collection. On January 18, the mother of four went big on purchasing a "rare diamond-encrusted necklace" that was once seen around Princess Diana's neck, according to TMZ. The item was a bit of a surprising buy for Kardashian, however, and it didn't come cheap.
The Attalah Cross cost Kim Kardashian nearly $200,000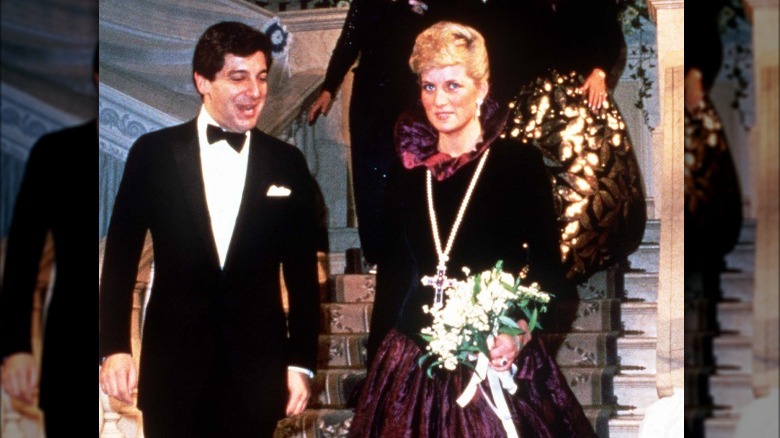 Anwar Hussein/Getty Images
Princess Diana wore the Attalah Cross during an appearance at a charity event in 1987, per TMZ. The long necklace consists of amethyst stones and features several diamonds on each point. It was loaned to Lady Di by Garrard jewelry company on a number of occasions, according to royal writer Omid Scobie, who tweeted the news shortly after the auction took place. Kardashian shelled out a whopping $197,453 to become its new owner.
The necklace is a "Garrard fleurée cross set with square-cut amethyst and accented by circular-cut diamonds, circa 1920, formerly in the Collection of the late Naim Attallah, CBE," the Royal Watcher blog reported. The cross was one of the priciest items that sold at Sotheby's auction in London on January 18. Other jewels, including earrings and broaches, were also auctioned off.
It is unknown if Kardashian plans on keeping the cross necklace as part of her collection or if she will wear it. At the time of this writing, the SKIMS founder had not spoken out about the new purchase.