Prince Andrew Could Get His Titles Back Thanks To King Charles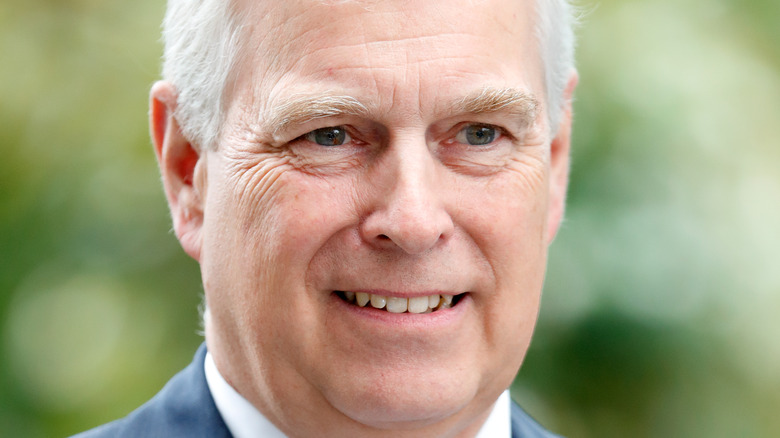 Max Mumby/indigo/Getty Images
Disgraced royal Prince Andrew found himself unwittingly thrust back into the spotlight once again following the release of Prince Harry's memoir, "Spare." In the book, the Duke of Sussex recounted how he'd reassured his wife, Meghan Markle, that there was no risk of the couple losing their security detail since his uncle's protection was still in place (via the Daily Mail). As Harry recalled, he reminded Meghan that Andrew "was embroiled in a shameful scandal, accused of the sexual assault of a young woman, and no one had so much as suggested that he lose his security."
As a result, the royal defector reasoned, "Whatever grievances people had against us, sex crimes weren't on the list." Of course, Andrew ended up keeping his security while the Sussexes lost theirs after leaving the royal family in January 2020, much to the consternation of fans all over the world — alongside British taxpayers, who are still footing the bill for it, per Express. The Duke of York was stripped of all royal titles and military patronages due to the sex abuse lawsuit leveled against him by Virginia Giuffre, who was also one of Jeffrey Epstein's accusers.
Andrew has made several attempts to re-enter public life in the intervening time, all of which have been disastrous (via Yahoo! News UK). However, if one expert is to be believed, the disgraced prince reckons it's about time he starts being referred to as "His Royal Highness" again. As long as his brother backs him up, naturally. 
The Duke of York wants to ease his way back into royal life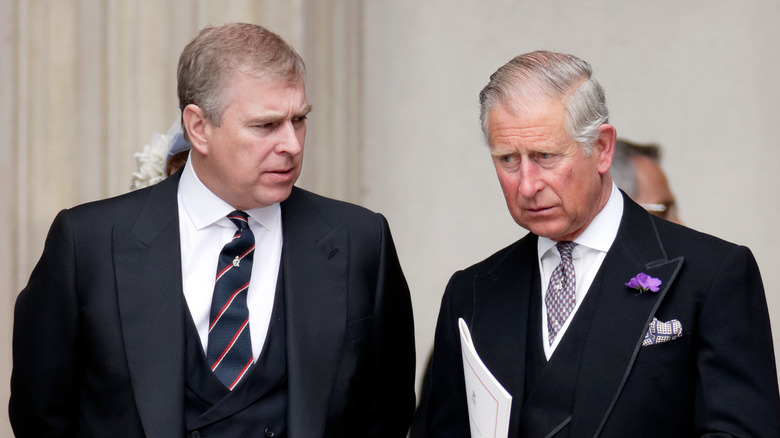 Max Mumby/indigo/Getty Images
Prince Andrew's return to public life might happen sooner than anybody expected if he can convince King Charles III to play ball. Writing in the Daily Mail, royal expert Ephraim Hardcastle revealed: "[Andrew] is said to be perplexed as to why he cannot again use the HRH title." After all, the beleaguered prince has always maintained his innocence even while settling out of court with accuser Virginia Giuffre, as People reported. In fact, Andrew allegedly continued making secret visits to Queen Elizabeth II's home right up until her death last year. 
As Hardcastle explained, "His trump card with mother was invariably: 'Innocent until proven guilty.'" She was adamant he would not use his titles again, however. Likewise, a royal insider confirms that Charles isn't fully onboard about giving them back either, at least publicly, since it risks creating even further controversy. Thus, it's understood that the Duke of York may start to use "His Royal Highness" quietly, "in a low-key way to test the waters — should he get the king's consent.'"
Even despite continuing to hold his hopes high, deep down, Andrew surely knows there's no going back to his previous life. Last year, shortly before Her Majesty's death, a meeting with Charles allegedly left Andrew in tears because the king made it clear his brother would never return to the fold, per the Daily Mail. For the time being, it doesn't look like he's budging either.