The Best Under Eye-Patches Have These Key Ingredients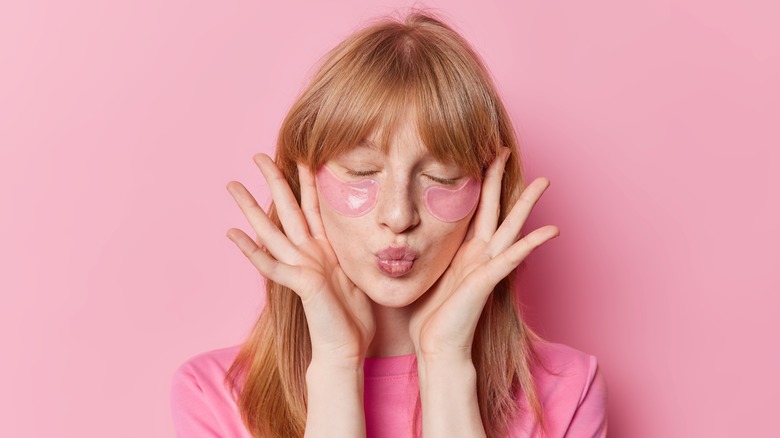 Wayhome Studio/Shutterstock
When it comes to dark circles and under-eye bags, they typically don't go away as easily as they appear on our faces. Caused by genetics, lack of sleep, allergies, and aging, at-home remedies and products rarely get rid of them permanently, says Johns Hopkins Medicine.
Surgery or medical treatments are probably the only solutions that will completely banish under-eye bags and dark circles. There are very high-quality eye creams out there, such as the La Prairie Caviar Eye Cream. They come with very expensive price tags, though, so you might opt for medical treatment instead.
While prevention is probably your best bet against eye bags, there has to be some sort of way to get instant results at home that will help to reduce the look of fine lines, puffiness, and dark circles, right? Thankfully, there is. Eye treatments, typically in the form of eye patches, target specific issues under the eyes in a fast-acting way (via Depology).
Eye patches can be brought out for a pick-me-up or for some extra brightening and smoothing before an event. Just like eye creams, the ingredients in eye patches are an integral part of their efficiency as a product. So what ingredients should you be looking out for to ensure that your under-eye patches actually work?
The best ingredients in under-eye patches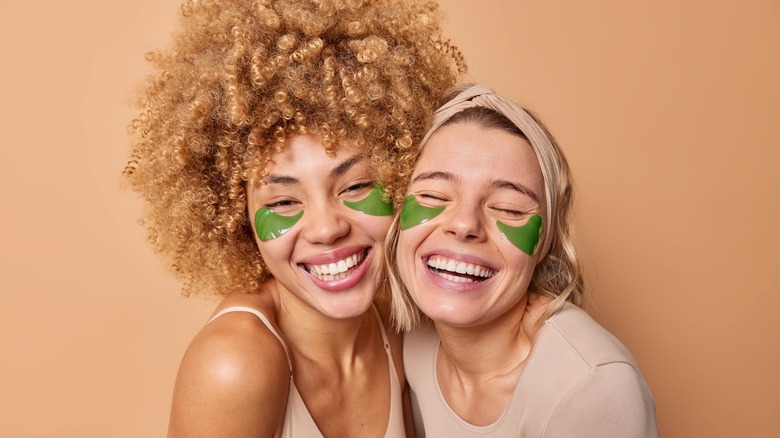 Cast Of Thousands/Shutterstock
Caffeine is a popular eye-care ingredient that does wonders for puffiness, reports Vogue India. Caffeine constricts the blood vessels under the eyes, effectively decreasing the built-up fluid that contributes to puffy under-eye skin. Helping to boost circulation, the ingredient may also help with pigmentation under the eyes.
However, if you really want to target dark circles, look for a brightening ingredient. Vitamin C is a supplement that can do many things for you. For under-eye circles derived from hyperpigmentation, vitamin C works to stop the production of excess melanin. It gets rid of dark spots and discoloration, leaving illuminated eyes in its wake (via InStyle).
If dryness is your struggle, ceramides are the key to hydration. An amazing skin barrier repairer, ceramides plump and smooth the skin with extra moisture, according to Paula's Choice. With the barrier they form, ceramides prevent moisture from leaving the skin while protecting it from UV damage, a major contributor to discoloration.
For fine lines and wrinkles, retinol does the trick. A multi-tasking ingredient, the vitamin A powerhouse promotes collagen production and lightning-fast cell turnover rates, giving you refreshed, plump skin around the eyes (via Well + Good). While the ingredient delivers strong results, it can also be a bit much for the skin, so make sure any retinol product you use under the eyes is specifically created for the area. Also, be sure to use sunscreen during the day.
The best under-eye patches on the market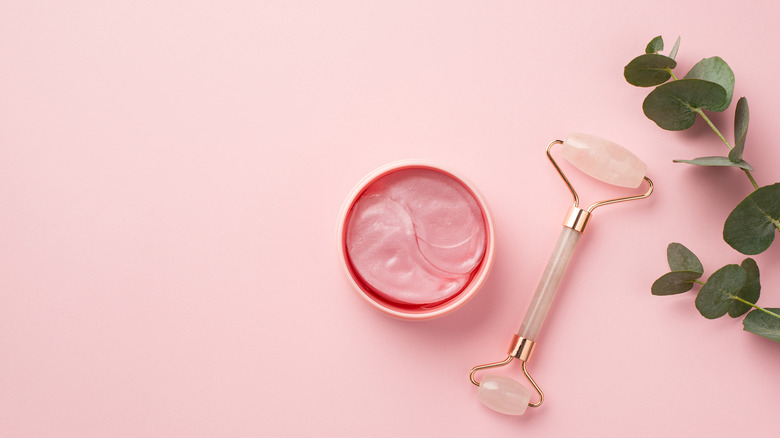 Inspirationgp/Getty Images
Pixi DetoxifiEYE Hydrating and Depuffing Eye Patches contain caffeine and cucumber for smooth, hydrated eyes. The cooling hydrogel eye patches are formulated with hyaluronic acid for extra moisture, as well as gold and coconut, nourishing and soothing tired under eyes.
To brighten the eyes, try the Derma E Vitamin C Bright Eyes Hydro Gel Patches. An effective skincare duo, niacinamide and vitamin C work in tandem to brighten and smooth eye bags. The product also contains aloe vera leaf juice and cucumber extract, hydrating the skin under the eyes. Reviewers praise the eye patches, saying they help to reduce puffiness, particularly when they've been placed in the fridge.
If you're struggling with dry, sensitive under eyes, the Pacifica Vegan Ceramide Hydration Under Eye & Smile Line Jelly Patches are here to deliver moisture without irritating the delicate skin under your eyes. Created with soothing marshmallow root and glycerin, a humectant, the cruelty-free product soothes redness and irritation while forming a protective, moisturizing barrier under the eyes.
Although they're the priciest product on the list, the reviews for the Shiseido Benefiance WrinkleResist24 Pure Retinol Express Soothing Eye Mask speak for themselves. Winner of the 2020 Allure Best of Beauty Award, these eye patches rid the under eyes of fine lines, wrinkles, dullness, and uneven texture.