The Foolproof Way To Fix Creased Eyeshadow, According To A Makeup Artist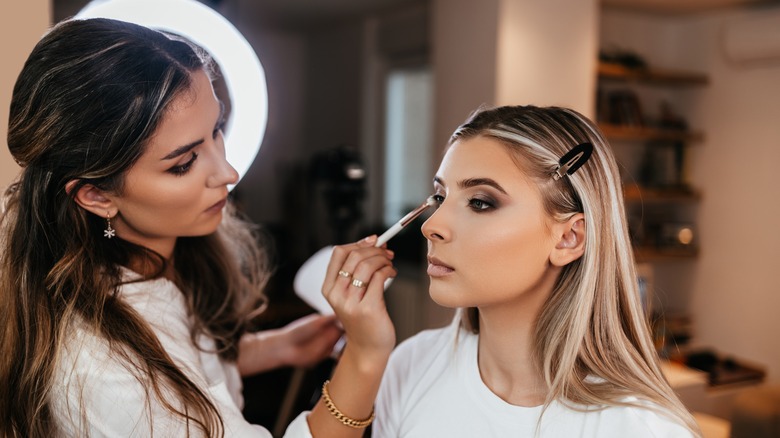 DuxX/Shutterstock
You may notice throughout the day that your makeup doesn't quite look the way it did when you first applied it. Your lipstick may start to look dull, your complexion a little too shiny, and, of course, there's the eyeshadow creasing. As you go about your day, your skin may produce excess oils, which causes these makeup mishaps to happen, especially when it comes to that creased eyeshadow (per Vogue). It might look patchy and begin to separate at the eyelid crease, giving an uneven finish.
Thanks to makeup artists, beauty gurus, influencers, and #BeautyTok creators, countless tips and tricks are floating about in cyberspace to help fix every makeup and skincare issue. From fixing concealer creases under your eyes to repairing your damaged skin barrier, the helpful hacks are endless — and you don't need to be a makeup aficionado to get your hands on them. When it comes to unsightly eyeshadow creasing, the remedy to fix it really couldn't be any simpler.
Use a small blending brush to buff that creased shadow
Renowned celebrity makeup artist, beauty educator, and content creator, Katie Jane Hughes (@katiejanehughes), posted a TikTok video sharing her secret for fixing creased eyeshadow, and all it takes is one simple tool — a small blending brush. In the video, Hughes takes the eyeshadow brush, closes her eye, and places the brush in the center of the lid where the creasing is. "And just be patient for just a moment," she says in the video while moving the brush back and forth in soft sweeping motions. "A little tiny bit more pressure on the area where there's a crease. And voila."
The results? Seamless and perfectly blended eyeshadow. The trick to this technique relies on the blending motion, but you want to ensure you use the right amount of pressure. Hughes spoke with Breakeven about her top makeup tips, and her number one piece of advice was that "Any sort of application with a brush should be very, very light, like icing a cake." While you definitely want to use some added pressure while blending out that creased shadow, Hughes mentions that if the bristles of your brush are "bending," then you are using too much pressure.
Don't panic — eyeshadow creasing is normal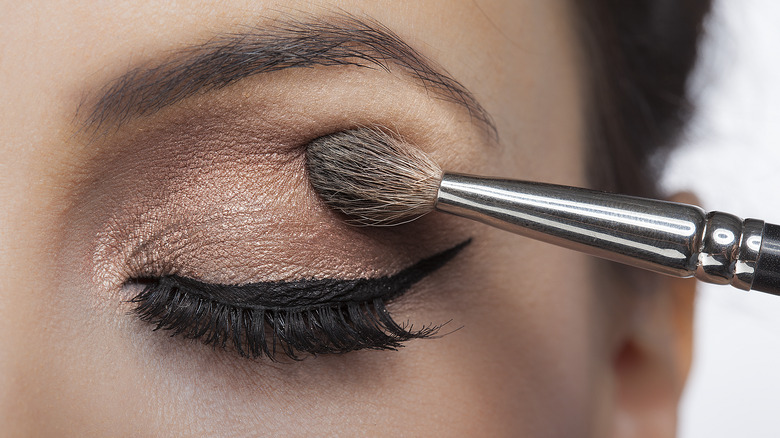 Petardj/Getty Images
Listen up; eyeshadow creasing is very normal. And it may happen, no matter how many preventative steps you take. You could apply an eyeshadow primer before going in with any shadow to keep the creasing at bay or use a thin layer of concealer for a smooth base. But in an interview with The Strategist, Hughes admits she doesn't use any eyeshadow primer. When asked if she primes the eyelids, Hughes replied with one simple word, "nope." All of her online videos prove this to be true; she skips the eyelid priming and goes straight in with eyeshadow.
In fact, Hughes believes primer is "optional" in any area of the face, not just the eyes. She told Refinery29 that it could be helpful, but it's not totally necessary. Primer can give a smoothing effect on the face by filling any pores, but she hits home on the idea that your makeup will naturally crease throughout the day — and that's okay. "It's always going to," she said. "Just use your ring finger to press it away or blend it back into the skin. I'm a realist, and if makeup moves, I let it move or simply add more." Nobody has perfect skin or magical makeup products. But rest assured, fixing minor makeup issues, like a creased lid, is only one simple hack away.