Riley Keough's Eulogy For Lisa Marie Presley Shows The Incredible Depth Of Their Bond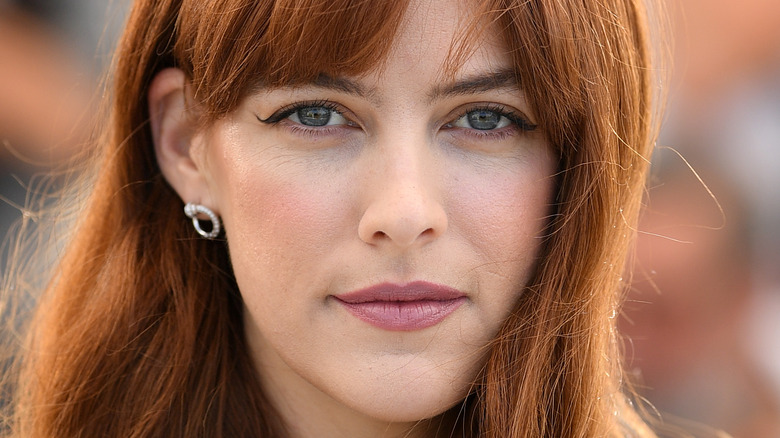 Pascal Le Segretain/Getty Images
Riley Keough shared a touching tribute to her mother, Lisa Marie Presley, at the late singer's funeral service on Sunday, January 22, 2023. The service was held at the Graceland Estate, the mansion-turned-museum that Lisa Marie inherited from her father, the legendary Elvis Presley when he passed. The New York Times confirms that many of Lisa Marie's closest friends and family were in attendance, and there were performances from Alanis Morissette and The Smashing Pumpkins singer Billy Corgan, among others. There was also a public procession that allowed fans to pay their respects.
During the funeral, Lisa Marie's mother, Priscilla Presley, read a eulogy written by one of the late singer's daughters. "Lisa Marie Presley was an icon, a role model, a superhero to many people all over the world, but Mama was my icon, my role model, my superhero in much more ways than one," it read in part, per People. "Even now, I can't get across everything there is to be understood or known about her but as she always said, 'I'll do my best.'" Elsewhere, Keough's equally heartbreaking eulogy was read by her husband, Ben Smith-Petersen, and it contained a revelation about their growing family.
Riley Keough's eulogy revealed that she's now a mom
Riley Keough's heartwarming tribute to Lisa Marie Presley underscored just how strong their bond was. In her eulogy, which was read by Keough's husband, Ben Smith-Petersen, the actor expressed her gratitude and unwavering love for Lisa Marie. "I'm certain I chose the best mother for me in this world and I knew that as far back as I can remember you," she gushed (via YouTube). Keough then detailed how loving a mother Lisa Marie truly was, mentioning how she remembers the late singer "driving me in my car seat listening to Aretha Franklin" and "the way you'd cuddle me when I'd come into your bed at night." 
The "Zola" star also noted how "safe it felt to be in your arms," and that she remembers "that feeling as a child and I remember it two weeks ago on your couch." Keough also took the opportunity to reveal that she is now a mother herself. "Thank you for showing me that love is the only thing that matters in this life," her eulogy concluded. "I hope I can love my daughter the way you loved me."
Keough has always been open about how close she was to Lisa Marie. In a 2022 interview with People, she described her mother as her role model. The actor mused: "I was raised by somebody who did their own thing and didn't really care what other people thought. She was definitely inspirational to me."