General Hospital Star Kristina Wagner Gives Thanks After Unspeakable Tragedy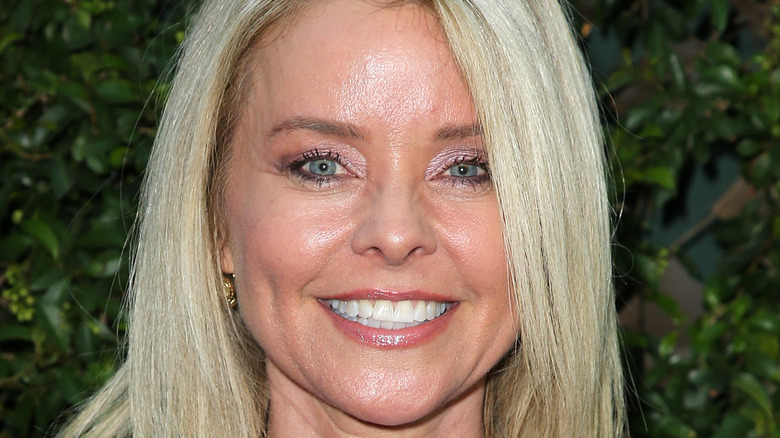 David Livingston/Getty Images
When the heartbreaking death of Kristina and Jack Wagner's 27-year-old son Harrison was reported last year, friends, and fans shared their love and support for the family. The couple had originally met on the set of "General Hospital," and their characters, Felicia Cummings and Frisco Jones, became a fan favorite super couple. As such, fans are always interested in the lives of their favorite actors and were also grief-stricken at the news. Although the couple divorced in 2006, they've remained friends over the years, and Jack was the first to open up about Harrison's death, per People. 
Kristina would later speak out about their son's tragic death, posting on Twitter a thank you to the fans when flowers were delivered to her at the ABC studio. "I walked into my dressing room at General Hospital and it was filled with the fragrance of flowers," she wrote, adding, "Thank you for your compassion. My son, Harrison Wagner, is and always will be a powerful presence in my life and in the lives of all who loved him." Fans continued offering condolences to the Wagners and their oldest son, Peter.  
Now, Kristina has opened up about the courage her family has mustered in the aftermath of their worst nightmare.
Kristina Wagner derives strength from her family
Kristina Wagner posted a picture of herself with long-time "General Hospital" co-star Finola Hughes and her friend Glenn on Instagram, marveling at the outpouring of fan love and the strength she derives from Jack and Peter. "Since the horrible death of my son 7 months ago I often experience pride that fills my heart so full I think it may burst. Pride at my oldest son, Peter, for all he achieves despite the odds," she wrote, adding, "Pride with my community of friends for their love, compassion, empathy, and thoughtfulness. I have noticed others in my life and strengthened those bonds. Watching Peter and his dad carry on encourage(s) me to carry on. Pictured above are two of my closest friends, Finola and Glenn. They have encouraged me on the journey of grief from the start. And Johnny W the dog."
Hughes and former co-star Kimberly McCullough sent Wagner their love as did her legion of friends and fans. One fan wrote, "It's ok to smile. Nice to see you have amazing friends who will guide you when you need it." Many were able to relate to the Wagners' loss, and quite a few were happy to see Kristina smiling again. A devoted fan responded, "Awhh, sweet! You are so strong and so loved by so many."
Jack and Kristina continue to honor Harrison through the Harrison Wagner Scholarship Fund.