The Absolute Best Place To Store Your Sheet Mask Collection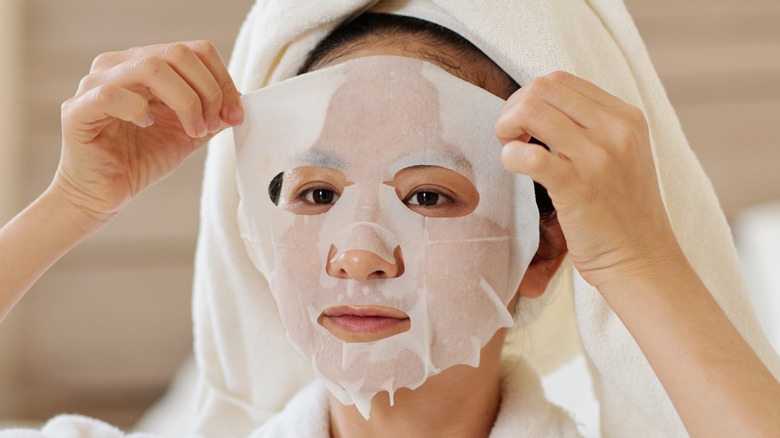 Dragon Images/Shutterstock
We may receive a commission on purchases made from links.
Nothing says at-home spa day like a sheet mask, a power nap, and maybe even a few cucumber slices. Notably, sheet masks are more effective than standard serums and moisturizers — even if they do make you look a bit like a horror movie villain. As dermatologist Dr. Fatima Fahs explains to Forbes, "Sheet masks usually contain a higher concentration of active ingredients than a product in a bottle," adding, "Using them can facilitate deeper penetration of these ingredients as the mask itself creates a barrier that keeps them from evaporating."
According to The Cut, "Everything Everywhere All at Once" star Michelle Yeoh applies a sheet mask daily — though Dr. Joshua Zeichner, the Director of Cosmetic and Clinical Research in Dermatology at New York City's Mount Sinai Hospital, says that once a week should do the trick. Whether you're looking for a formula packed with snail mucin or a vitamin C solution for under $5, there's no shortage of face mask varieties (and price tiers) on the market. Most importantly, consider your skin's type and texture before choosing a mask. When it comes to sensitive skin, for instance, Dr. Fahs recommends "non-fragranced sheet masks with soothing ingredients like aloe, allantoin and chamomile extract." Meanwhile, masks featuring hyaluronic acid and glycerin have hydrating effects.
But once you've stocked up on masks, don't store them in the medicine cabinet alongside your other cosmetics. Believe it or not, keeping certain skin care products next to your perishable food items is the way to go.
Refrigerate your sheet masks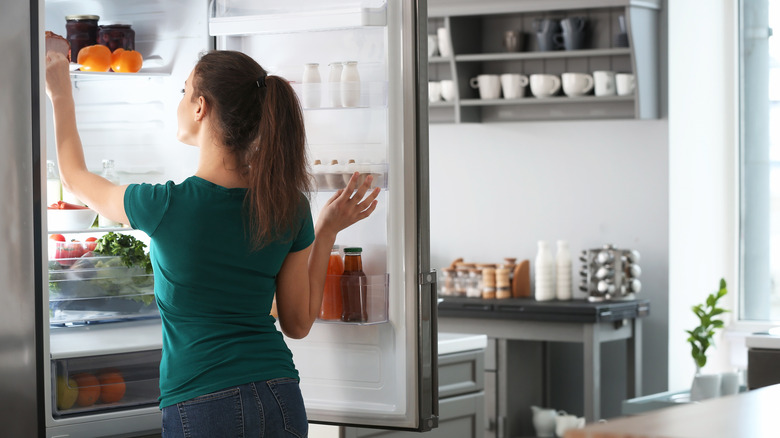 Pixel-Shot/Shutterstock
Move aside milk and eggs to make room for your sheet mask collection. As Consonant Skincare founder Bill Baker tells Fashion, "products that contain only oils and butters, and products that contain water but no preservative should be refrigerated to extend their shelf life." Though chilling your sheet masks won't increase their efficacy, colder temperatures can temporarily combat puffiness and aid in relaxation. "Generally, refrigeration doesn't change the ingredients of the product," dermatologist Melissa Piliang, MD informs Cleveland Clinic, adding, "it ends up being more about how it feels on your skin."
Alicia Yoon, the founder of the skincare brand Peach & Lily, is a fan of the fridge method. "Anytime it gets overheated (like after a workout, in the summer, or after a laser treatment), my skin can lose moisture and also produce more sebum and throw its balance way off," she recounts for Byrdie, noting, "I cool my skin immediately with sheet masks that are stored in the fridge."
For starters, incorporate a chilled aloe vera face mask — like this popular Tonymoly product – into your post-beach day routine. Additionally, don't forget to keep a collection of refrigerated eye masks for those extra sleepy mornings — check out Milk's Cooling Water Patches for a refreshing start to your day.
Skincare fridges are social media famous
In a video that's amassed over 1 million likes, TikTok creator @miyaevarenae stocks up her skincare fridge with an impressive collection of sheet masks, serums, and facial rollers. Dermatologist Dr. Azadeh R. Shirazi, MD (@skinbydrazi on TikTok) duets the viral video, assuring followers that, although mini-fridges aren't a necessity, they are helpful when it comes to chilling sheet masks and extending the longevity of retinol and benzoyl peroxide.
According to Cleveland Clinic, the ideal temperature for storing skincare ranges between 40 and 60 degrees Fahrenheit. Most kitchen fridges operate best at 37 degrees according to Home Depot, making them a tad too cold for serums and sheet masks. With this in mind, a mini skincare fridge will allow you to adjust the temperature without putting your perishables at risk — after all, nobody wants spoiled milk. The Beauty Spy co-founder Ryan Sullivan advocates for skincare fridges, telling Today, "It's a great additional way to remind yourself to use the products." It can also spiff up your bathroom — check out this light green retro design available on Amazon, or invest in a portable pink mini from AstroAI.