The Best Type Of Bronzer To Use As Eyeshadow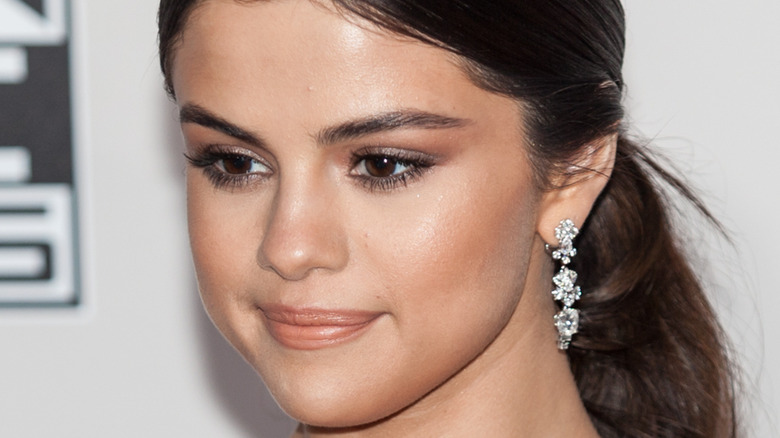 Jamie Lamor Thompson/Shutterstock
We may receive a commission on purchases made from links.
With an impending recession on the horizon, makeup trends are changing in accordance with our wallets. Although makeup has notoriously been recession-proof, TikTok may be changing that. Beauty accounts and makeup aficionados, such as @maddiebwells on TikTok, have turned to "deinfluencing", showing viewers the products they actually do or don't need as a way to save money and avoid falling for expensive trends.
The ongoing clean-girl trend, along with a larger focus on skincare, has caused people to take up minimalism, a predicted makeup trend of 2023. This can manifest in various ways, from pared back makeup collections and routines, to a smaller amount of makeup products used on the face.
The start of this can be seen on the Golden Globes red carpet, where guests donned similar colors on their eyes, cheeks, and lips, even matching the colors to the clothes they wore (via InStyle). Multi-use products, like bronzer, are a great way to use less products while still creating an amazing makeup look.
How to use bronzer as eyeshadow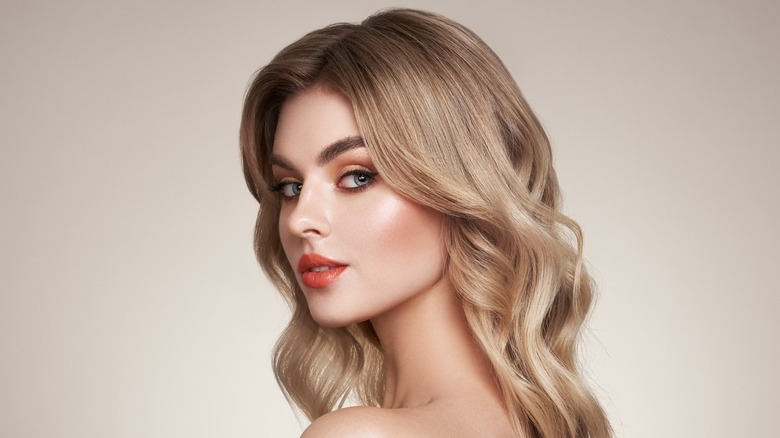 Oleg Gekman/Shutterstock
Aside from warming up the face and giving a gentle glow, bronzer can add depth to the face, making it a perfect eyeshadow product. When used on more than one part of the face, it gives you a cohesive look, delivering a dimension that enhances the features.
L'Oréal Paris suggests using a matte powder bronzer, as opposed to cream or liquid since it's easier to blend. Bronzer can be applied all over the lid for a simple wash of color, or on the outer part of the eye, for a subtle wing. While a small, fluffy brush will always be a no-brainer eyeshadow brush to have in your collection, a large blush brush may be helpful for another bronzer eyeshadow technique.
Although this technique isn't a new thing, it's had a bit of revival on the internet. Demonstrated by @avonnasunshine on TikTok, using a large fluffy brush, pick up a bit of powder and apply it in a round motion on the high point of your cheeks, outer eye, and temple. The result is a warm flush of color that makes you look naturally sun-kissed.
The best bronzer to use as eyeshadow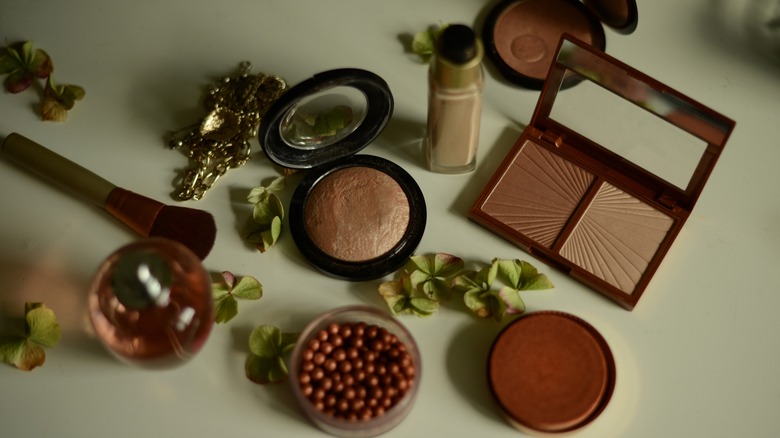 Kristina Strasunske/Shutterstock
The Fenty Beauty Sun Stalk'r Instant Warmth Bronzer lives up to its name, adding a bit of glow to the skin without a shimmery finish. With up to nine shades, there's a bronzer for every skin tone and undertone. The long-wearing bronzer has a transfer-resistant formula, preventing staining and budging all day.
A longtime staple in the beauty community, the Benefit Cosmetics Hoola Matte Powder Bronzer warms up the skin, delivering a soft matte finish. Easy to blend with the perfect amount of pigmentation, the Hoola bronzer comes in four different shades.
The Mented Cosmetics Bronzer is rich in pigmentation, offering a high color payoff with great coverage. Coming in four shades, the bronzer gives a soft, matte glow in a blend-able formula. Made with vitamins A & E, the vegan bronzer warms up the face with a sun-kissed look.
For a beachy glow that lasts all day, try the e.l.f. Cosmetics Primer-Infused Bronzer. As the name suggests, the formula locks in the powder all day, meaning your glow won't fade or dissipate. Vegan and easy to blend, the bronzer rings in at only $7 — definitely a steal.