The Only Eyeshadow Brushes You Really Need Complete Any Look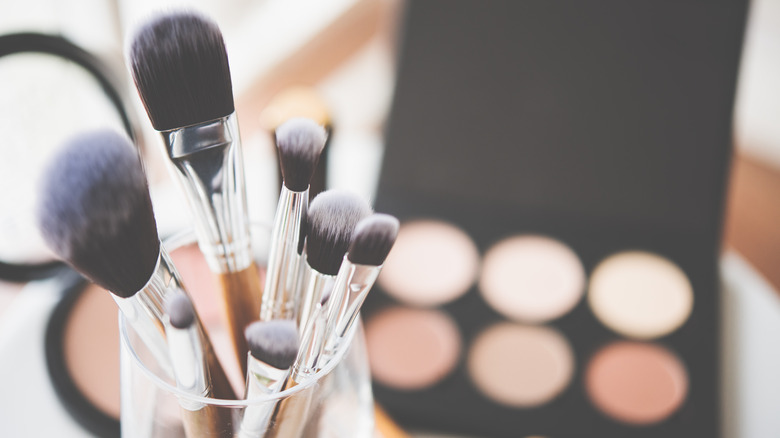 Daria Minaeva/Shutterstock
From the big and fluffy to the small and precise, hundreds of different eyeshadow brushes exist. For the average makeup wearer, knowing how and when to use each unique brush can be challenging, but it doesn't need to be.
If you're just starting your makeup journey or typically stick to simple everyday looks, then you actually don't need as many eyeshadow brushes as you might think. While investing in a 14-piece brush collection from Morphe may be tempting, it might end up being more overwhelming than helpful.
Besides, there are many good-quality and budget-friendly brush options for makeup beginners. If you're not sure where to look, check out brands like e.l.f. and Real Techniques, which can be found at most drugstores (per Slashed Beauty).
Whether you're following the poolside blue trend or going for a glossy eyeshadow look, read on to discover what eyeshadow brushes are truly needed to complete any makeup look.
There are three key brushes to start your collection with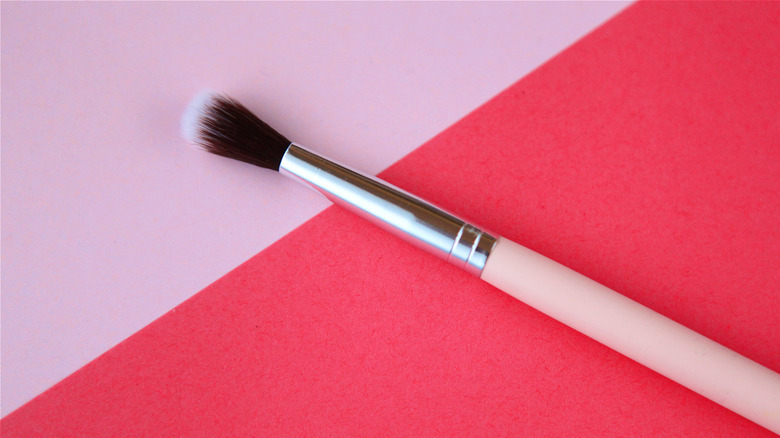 Catherine D Photo/Shutterstock
To give you a place to start, a few brushes are considered essential to any makeup collection. The first eyeshadow brush on this list is the blending crease brush.
As defined by New Beauty, a crease brush is used to apply eyeshadow to the crease of the eye and is fluffy enough to be used as a blending brush, as well. This means that a good blending crease brush should be both tapered and soft.
As YouTuber Ale Jay mentions in their YouTube video, the crease shade is typically the starting point for an eyeshadow look, so you want to make sure this brush is a part of your collection. As for size, Jay explains the importance of picking a crease brush that works for your determined personal eye shape.
A completely round blending brush is another must-have. Johnny Ross explains in their YouTube video that this brush will help you blend colors that are already on the lid. Instead of picking up shades, this brush stays clean beside the colors it touches on the eye.
Featured in both Ross' and Jay's videos, the third brush that we recommend is the flat eyelid brush. These brushes are great for picking up product and applying it evenly across the lid, making them perfect for the eyelid shade.
Finishing touches can be added with two other brushes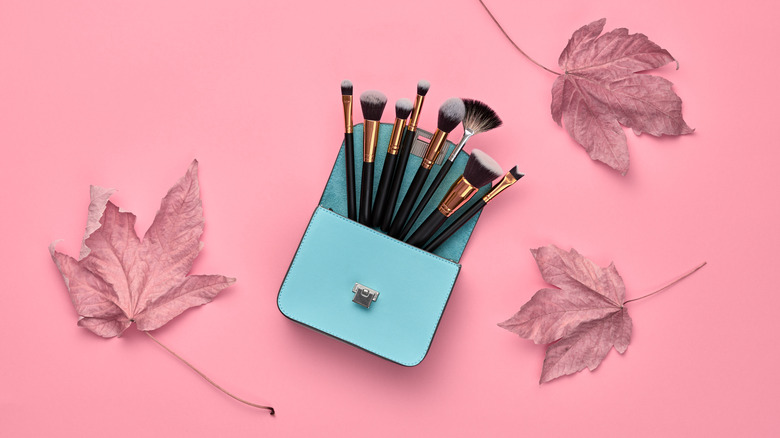 Indigo Photo Club/Shutterstock
You might be able to get by with just crease, blending, and flat brushes, but two others are helpful in completing nearly any eyeshadow look.
To start, Ale Jay mentions the smudge brush as great for applying colors under the eye, creating a smokey look. New Beauty explains that smudge brushes are typically short and tightly packed, making them strong enough to smudge both eyeshadows and eyeliners.
A small rounded or pencil brush is really helpful for applying color to the inner eye and adding depth to other eyeshadow shades. YouTuber Smitha Deepak explains that these brushes are pointed and dome-shaped, but shorter and stiffer than a blending brush. A pencil brush can also double for detail work and smudging if you don't have a smudge brush.
With just these five brushes, you should be able to complete almost any makeup look. You can always expand your collection down the line, but this is an especially great starting place for beginners.