Whatever Happened To Kristen's Brother Peter Blake On Days Of Our Lives?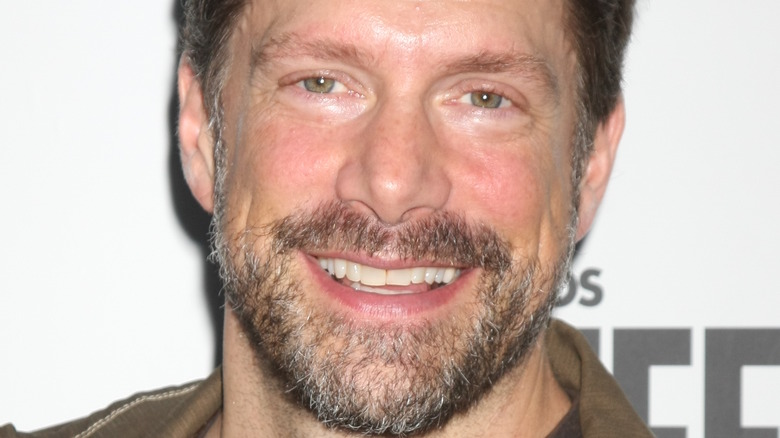 Kathy Hutchins/Shutterstock
"Days of Our Lives" viewers know that the DiMera family tree is one of the more challenging ones on the long-running soap. The family has grown substantially over the years, in part due to the discovery of Stefano DiMera's many children. Longtime soap opera fans may remember that Stefano had three biological daughters, Renee DuMonde (Philece Sampler), Megan Hathaway (Miranda Wilson), and Lexie Carver (Renee Jones). Over the years, Stefano was also proven to be the father of Benjy Hawk and Andre DiMera (via Soap Central).
The younger generation of DiMera family members also includes Stefano's sons, Chad DiMera (Billy Flynn) and EJ DiMera (James Scott/Dan Feuerriegel), who have taken over running their late father's business. Following Stefano's death, it was revealed that he fathered twins Stefan (Tyler Christopher) and Jake (Brandon Barash) with Vivian Alamain (Louise Sorel), per Soaps. Although the twins never got to know their father or each other, they both exhibited DiMera-like qualities during their time in Salem. In addition to his biological children, Stefano also adopted daughter Kristen DiMera (Eileen Davidson/Stacy Haiduk) and her brother Peter Blake (Jason Brooks).
While Kristen has turned out to be very much like her adoptive father and is known for causing chaos in Salem, Peter is a much different story as he's been absent from Salem for many years.
Peter fell in love with Jennifer Horton
"Days of Our Lives" fans were first introduced to Peter Blake in 1993. Peter arrived in Salem to protect his sister, Kristen DiMera. Peter warned Kristen to keep her distance from John Black (Drake Hogestyn). However, when it was revealed that Kristen and John had fallen in love, Peter teamed up with his adoptive dad Stefano DiMera (Joseph Mascolo) and plotted to have John killed. The father and son duo then went on to manipulate Kristen into marrying Tony DiMera (Thaao Penghlis), per Soap Central.
Eventually, Peter began dating Jennifer Horton (Melissa Reeves) and wanted to change his ways for her. He began to clean up his life and decided to get out of all of his illegal dealings. However, when Jennifer's mother, Laura Horton (Jamie Lyn Bauer), found out that Peter was trafficking drugs he teamed up with Daniel Scott (Stan Ivar) to stop her. The pair came up with a plan to expose Laura to a toxin that would make her hallucinate and seem as though she were mentally unstable (via Soaps). However, the plan backfired when Jennifer also became a victim, and Laura's mental state was cleared.
Despite the drama, Peter and Jennifer's relationship thrived. According to Soaps in Depth, they even got engaged. However, when Jennifer's old love Jack Deveraux (Matthew Ashford) returned to Salem things got complicated.
Peter was sent to prison for his crimes
Although Jack returned to warn Jennifer about Peter, it wasn't enough to change her mind. "Days of Our Lives" fans watched Jennifer and Peter get married, but Jack was determined to save Jen from the DiMera protege. Jack eventually learned that Peter was planning to drug Jennifer and leave the country. Jack took matters into his own hands and shot Peter (via Soap Central). He was later arrested and sentenced to life in prison for murder. However, Peter had faked his death so that Jack would be charged with his murder. Jack eventually got out of prison and he, Jennifer, and their daughter Abigail went on the run to stay safe from Peter. When Peter found them he kidnapped Jennifer. Jen eventually escaped and found a car. She drove off with Peter following her. The car later went off the road and exploded.
Peter thought Jennifer was dead and was ultimately convinced to turn himself into the police. It was later revealed that Jen had faked her death in hopes of trapping Peter. According to Daily Soap Dish, Peter was sent to prison for his crimes. However, he later escaped and went underground. Peter hasn't been seen in Salem since that time. Although in 2021, DiMera family members did mention Peter's name when talking about their siblings and their shares of DiMera Enterprises, per Soap Hub.
Although he's been gone for decades, fans are still hopeful that Peter Blake may one day return to Salem.