Days Of Our Lives Family Tree: The DiMera Family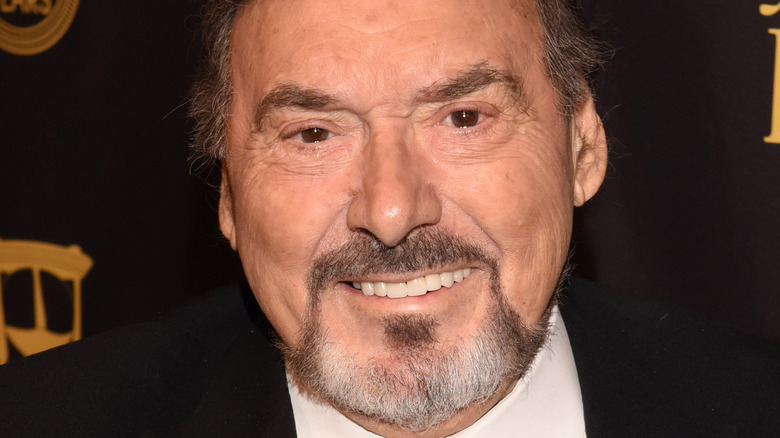 Vivien Killilea/Getty Images
"Days of Our Lives" fans can't get enough of the DiMeras. The family has been creating trouble and drama from the moment they stepped into Salem, and the family's matriarch, Stefano DiMera (formerly Joseph Mascolo) became one of the most notorious villains in soap opera history (via Soap Central). The DiMera family is known for their wild and reckless plots to seek revenge on the Brady family. However, they've also wronged many other Salem citizens like the Horton family and the Kiriakis clan.
The DiMera's feud with the Bradys began with Stefano's father, Santo DiMera, per Soaps. Santo met and fell in love with Colleen Brady, and he convinced her to break her oath as a nun. She later learned that Santo was married with children and the heartbreak of what she'd done caused her to kill herself. After that time, the families were declared enemies, and tension ran high between them for decades.
Understanding the DiMera family can be very tricky thanks to Stefano's many children and a plethora of love interests over the years. However, the DiMera family tree below will help you figure out exactly who is related to who in Salem.
If you or anyone you know is having suicidal thoughts, please call the National Suicide Prevention Lifeline​ at​ 1-800-273-TALK (8255)​.
Understanding Stefano DiMera's complicated family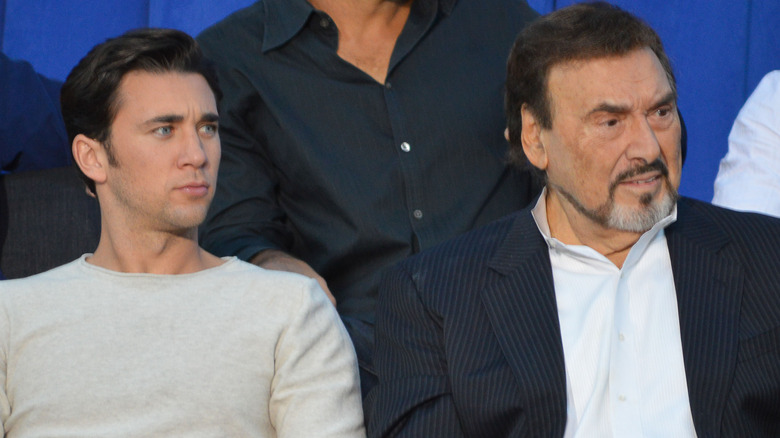 Michael Mattes/Shutterstock
Per Soap Central, the first generation of DiMeras were Stefano's parents. His father was a traveling salesman from Italy named Santo DiMera (via Soaps). However, his mother's name has never been revealed. Not much is known about Stefano's childhood, except that he had six older brothers. Stefano's family tree is long and twisted with branches that span through multiple other "Days of Our Lives" families.
Andre is the oldest son of Stefano. He was killed in 2018. Meanwhile, Tony was thought to be Stefano's son with Daphne DiMera for years before it was revealed that the two weren't biologically related. However, Stefano adopted Tony into the DiMera family and he's been considered a member of the clan ever since. Stefano also fathered Renee DuMonde with Lee DuMonde and Megan Hathaway with an unknown woman. He was later revealed to be the father of Benjy Hawk, his son with Ellen Hawk, and Lexie Carver, whom he shared with Celeste Perrault.
Stefano fathered his next son, EJ with Susan Banks, and was also confirmed to be the biological father of Chad, whose mother was Madeline Peterson Woods. After Stefano's death, it was also confirmed that he fathered twins, Stefan and Jake, with Vivian Alamain, per Soaps in Depth. Over the years Stefano also adopted Peter Blake and his sister, Kristen, who later took the last name DiMera.
While Stefano had many children, he was also the grandfather to many as well.
Breaking down the youngest generation of DiMeras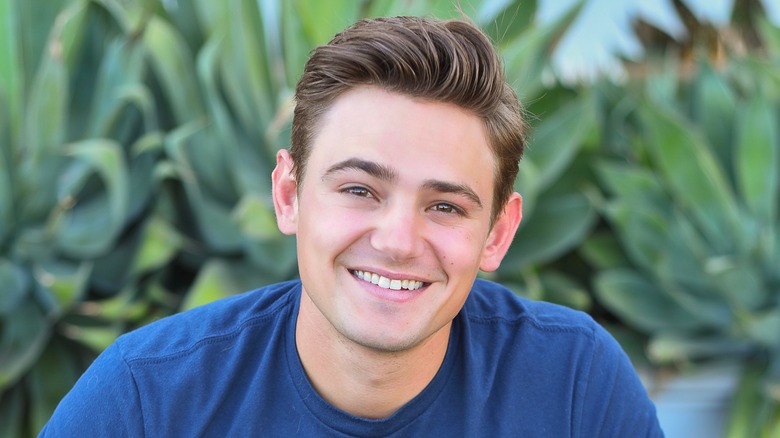 Michael Mattes/Shutterstock
"Days of Our Lives" fans who have been watching the show for years know that Stefano DiMera had a soft spot for his grandchildren, and often took extreme measures to make sure that they were protected and had everything they wanted. Because Stefano had so many children, it seems obvious that he would also have plenty of grandchildren to fill out his family tree (via Soap Central). Stefano's son Benjy has a son named Steven with his wife Sonja. His late daughter Lexie shared a son named Theo with her husband Abe Carver. Meanwhile, EJ DiMera has fathered three children, Johnny and Sydney, whom he shares with Sami Brady, and a son named Daniel DiMera with Nicole Walker, who was stillborn (via Soap Central).
Chad DiMera shares two children with Abigail Deveraux, Thomas and Charlotte. He also fathered a daughter that died named Grace, per Soaps. Stefano's adopted daughter is the mother of Rachel Black, whom she shares with former fling Brady Black. All of whom make up the youngest generation of the DiMera family. Since the family is known to be ruthless and stir up trouble, only time will tell what Santo and Stefano's grandchildren will do to carry on their family's legacy going forward. However, "DOOL" fans can wait to find out.