The Serum Selena Gomez Uses To Remove Her Makeup Has A Hefty Price Tag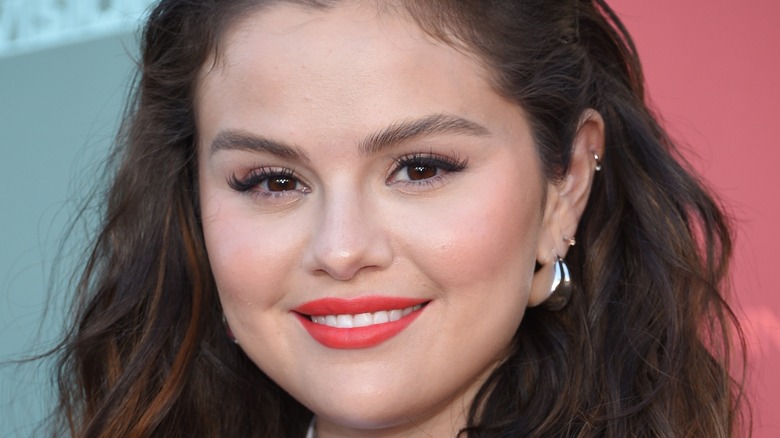 DFree/Shutterstock
Selena Gomez is a woman of many talents. Not only did she grow up a Disney Channel star and then become a pop icon, but she also now executively produces "Only Murders In the Building," a Hulu original in which she also stars opposite Steve Martin and Martin Short. 
She has also become one of the many faces of mental health advocacy and is the founder of her own makeup line, Rare Beauty. The brand is known for prices that don't go over $30, making it extremely accessible for everyone.
Although Gomez's makeup brand is affordable, that doesn't mean she isn't allowed to splurge on more expensive skincare for herself. On Jan. 5, 2023, Gomez posted a TikTok showing her fans her skincare routine, which happened to include a facial serum with a rather hefty price tag that she used in an unusual way.
Selena Gomez uses a pricey serum to remove makeup
@selenagomez

PSA I got most of these products free. I ain't just rolling like that everywhere. Use any serum to take off make up before washing. It breaks it up nicely. Also use a sponge to wipe eyes to treat eyes delicately when removing make up. K I'm done pretending I know what I'm taking about.

♬ Never Be Me - Miley Cyrus
In her TikTok, Selena Gomez is seen using La Mer The Concentrate Serum, which is priced at a whopping $425 on Sephora. And the star uses it in quite an unconventional way: to remove her makeup. As the first step of her skincare routine, after pushing her hair back with a headband, Gomez applies the serum directly to her face with the applicator and then massages it over her face and eyes to remove her makeup. 
She mentions that she was gifted most of the skin care products, and we don't think we'd use La Mer as a makeup remover unless it were free, either. Gomez then went over her face with Bioderma Sensibio Micellar Water on a cloth and a Beauty Blender to remove any leftover gunk before proceeding with her routine.
Meant to help protect the skin barrier and reduce redness and inflammation, The Concentrate Serum features lime tea concentrate, which is full of antioxidants; stabilizing ferment, which strengthens skin; and the Concentrated Miracle Broth, which aids in reducing signs of irritation. Typically, the serum is meant to be applied like any other serum: gently massaged over the face and neck twice daily, followed by your favorite moisturizer. 
However, we give Gomez credit for her creative use of the product.
Skincare dupes for La Mer
Are you looking to replicate Selena Gomez's skincare routine on a budget? Look no further. The first option is to wait for La Mer products to go on sale, which does happen sometimes. During Nordstrom's anniversary sale, for example, there are a ton of La Mer products on sale, including a four-piece Radiant Hydration set, which is less than $100.
The second option is to buy a dupe. We did the research so you don't have to. According to BeautyMag, there are a few La Mer dupes that treat your skin similarly as the luxury brand, including the Weleda Skin Food Original Ultra-Rich Cream, which is all-natural and can easily be found on Amazon, and the Tatcha Dewy Skin Cream, which is still a bit expensive but not as much as La Mer. It's available at Sephora. You can also opt for the drugstore classic Nivea Creme, which is known to be super-moisturizing and extremely affordable.