How To Replicate Selena Gomez's Skincare Routine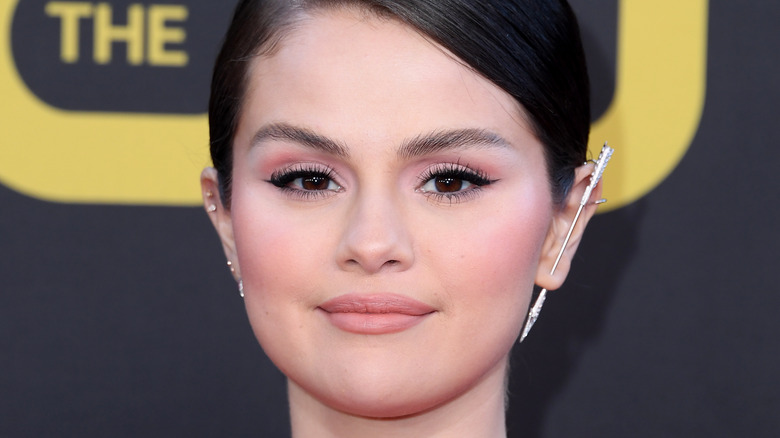 Steve Granitz/Getty Images
We may receive a commission on purchases made from links.
We love Selena Gomez for so many reasons. Despite growing up in the limelight, she is one of the most beloved celebrities who has done it all with grace — from being a child actor on Disney to an accomplished musician and a beauty brand mogul to a mental health advocate.
One of the reasons we love Gomez is because of how transparent she has been about her mental health struggles with depression and anxiety. Gomez told Rolling Stone, "Bringing attention to mental health or media or just by talking about your own journeys can help." She added that people should have the freedom to talk about their mental health struggles without being ashamed. In 2020, she revealed her bipolar disorder diagnosis and later launched a mental health platform on Instagram called Wondermind in 2022 (via Self).
Gomez's brand, Rare Beauty, is a fusion of mental health and beauty because they plan to raise $100 million in the next 10 years to provide mental health access to people, per Rare Beauty. Rare Beauty also focuses on using makeup to accept who you are rather than trying to look perfect. Gomez said on the brand's website, "Being rare is about being comfortable with yourself. I've stopped trying to be perfect. I just want to be me."
This beautiful yet real role model accepts her skin the way it is while taking care of herself and often takes to TikTok to share her skincare routines without hiding behind filters.
Selena Gomez's luxe skincare routine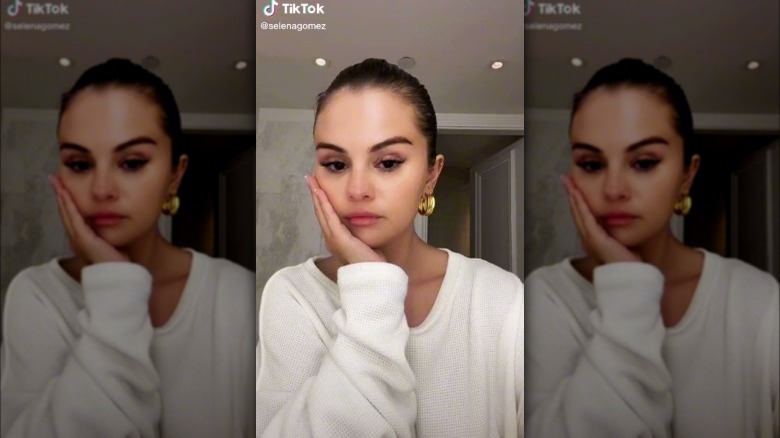 Selena Gomez/TikTok
Selena Gomez is among the most-followed celebrities on Instagram with 347 million followers and has over 43.5 million followers on TikTok, where she often shares her straightforward skincare routines.
Recently, Gomez posted a video on TikTok to share her fancy skincare routine that included high-end products. The fresh-faced rare beauty had her hair pulled back and could be seen rocking her signature gold hoops. While she doesn't talk in the video to mention the products, she runs us through her routine step-by-step to "Dreams" by Fleetwood Mac.
First, she sprays her face with Evian Natural Mineral Water Facial Spray, then massages it with La Mer The Cleansing Foam. She resprays Evian and wipes her makeup off with a little towel. After cleansing, she applies Dior Capture Totale Super Potent Age-Defying Intense Serum on her face and Dior Capture Totale Super Potent Eye Serum under her eyes.
She uses the famous La Mer Moisturizing Soft Cream on her face, neck, and decolletage because you can't just show love to your face. Despite the outrageous price, dermatologists are a fan of this OG of moisturizers. "While many products contain similar types of ingredients, there is something about the quality of the formulation that makes it superior and a cult-favorite," board-certified dermatologist Joshua Zeichner told The Zoe Report.
She ends her routine with Peter Thomas Roth's 24K Gold Hydra-Gel Eye Patches to lift and firm her under-eye area, and it has over 46,000 likes on Sephora.
Selena Gomez is also a fan of affordable skincare products
Selena Gomez is one of the biggest celebrities in the world, with access to any skincare product and treatment. However, she keeps it real by using affordable yet good, skincare products that mere mortals can easily find in their beauty aisles as well. And, they don't cost a fortune.
In another TikTok video captioned "Super affordable and works!" she shares wallet-friendly products that she got at CVS. Once again, Gomez shares her self-care routine to a cover of "Put Your Records On," while wearing those gold hoops.
She starts with Urban Hydration's Aloe Gel Mask to eliminate impurities and makeup. Infused with castor oil and vitamin B5, it hydrates and fights acne (via Insider). For a cleanser, she turns to Neutrogena's Hydro Boost Hydrating Cleansing Gel with hyaluronic acid that boosts skin hydration. The third step is Vichy Pureté Thermale Perfecting Facial Toner, which is alcohol-free and leaves your skin so soft and hydrated.
The only slightly-pricey product she uses with her drugstore bundle is Caudalie Firming Eye Gel-Cream, per Prevention. It's formulated with resveratrol, a powerful antioxidant that firms and depuffs skin and reduces the appearance of wrinkles.
For serum, she uses Neutrogena Bright Boost Illuminating Face Serum, which comes in a beautiful rose gold bottle. It is formulated with neoglucosamine and turmeric extract to gently exfoliate and reduce the appearance of dark spots and fine lines. Every product used in this routine is perfect for sensitive skin as well.