D'Arcy Carden Details Filming And Living With Her Shotgun Wedding Co-Stars - Exclusive Interview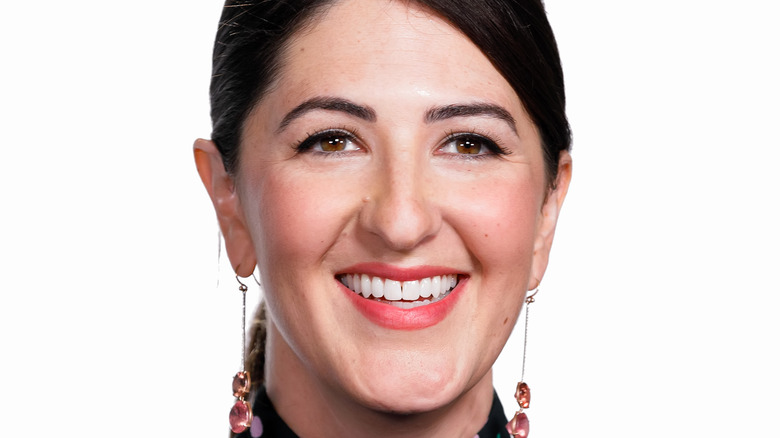 Rich Polk/Getty Images
Weddings are special occasions known for bringing all sorts of different people together. This month, a star-studded cast of hilarious actors has been brought together for the biggest on-screen event of the season.
Jennifer Lopez and Josh Duhamel star in "Shotgun Wedding," a film all about celebrating their characters' big day in the Philippines. As their family and friends flock to the aisle on a secluded isle — with guests played by Jennifer Coolidge, D'Arcy Carden, Cheech Marin, and Lenny Kravitz, just to name a few — everyone is ready to party the night away. That is, until a band of pirates takes all of the wedding guests hostage.
"Shotgun Wedding" is the perfect mix of humor, high stakes, and a vacation hotspot — for tourists and, apparently, pirates. None of them will ever be able to forget about this special day, and we haven't been able to forget about all of the hysterical lines coming from Carden's character, Harriet.
In an exclusive interview with The List, the "Good Place" actress described what it was like living with her "Shotgun Wedding" co-stars in the Dominican Republic, looked back on the cast's favorite line from the film that was improvised on the spot, and shared a disastrous, real-life wedding story she experienced as a guest just a few years ago.
What set this script apart from other projects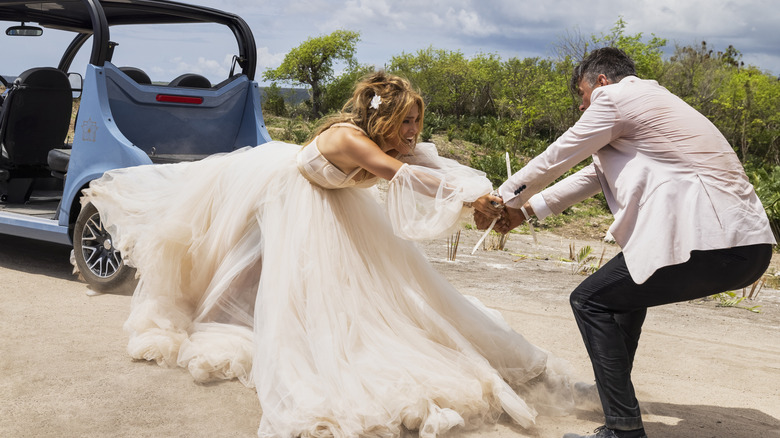 Ana Carballosa/Lionsgate
What initially drew you to the project "Shotgun Wedding"?
Every single thing about it, starting off with Jennifer Lopez, the king herself, and then Jason Moore, who I love, the director. The little bit of the cast that I knew, I was really excited about, and [I was excited] knowing that it was going to be shot in the Dominican Republic.
It was also pretty early in the pandemic. It was the first on-set acting job I had during the pandemic, so everything about it was very appealing. It was one of the easiest yeses I've ever said.
And [add] the character I got to play in the script, and it was like, "Yep, yep, yep, yep. Easy. Let's go, let's go, let's go, let's go."
How did you prepare differently for this action movie compared to other comedic roles that you've had in the past?
There's [not] so much difference in preparation other than you work with a stunt team. The production does it all for you, basically. You get to work with the stunt team, and you work with the props people with all the guns and this and that, and they're ready for you.
It's a really fun side of acting. Whether it's doing stunts or having to learn an instrument or learning whatever skill it is, it's such a fun, cool side thing that you get to do with acting. [You get to] work with these super professional, amazing teachers [whose] main job is to make you look good. [Laughs] And you get to acquire a tiny little new skill. It's one of my favorite parts.
Whenever I get the opportunity for that, I go all out. I'm like, "I'm yours. Let's work whenever you want. I don't need to sleep. Let's do this." It's my favorite part.
The cast spent a lot of time together both on and off the screen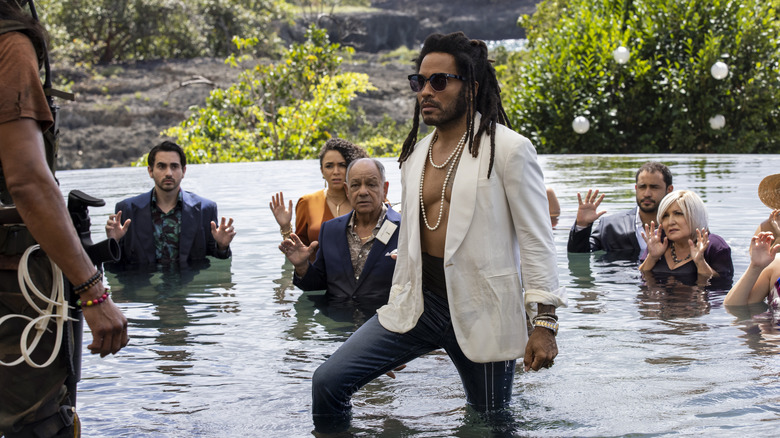 Amazon Studios
Your character spends a majority of time in a pool. What was it like to have to be in water for so long to film?
I cannot complain about it because it is the most beautiful location with the most amazing people. And also, the water was warm, but it is gross. [Laughs]
When you get down to it, it's spending three weeks in the pool for however many hours a day. It's not as cute as you think it might be. [Laughs] After the first couple days, you're a little pruny and a little soggy, and maybe your skin is reacting weird to the water or the sunburn or whatever. You have to hunker down.
But every time we would get to complaining about it, it was easy to turn around and be like, "No, no, no. Look where we are. We could be doing the same job in the snow or in the desert." So we were very, very lucky. It's the smallest thing to complain about.
You were in such a beautiful location. What did you and the cast like to do in the Dominican Republic when you weren't filming?
It was pretty early in COVID, so [with] the restrictions, we weren't doing a lot. We weren't going out. But here's the thing: We all lived together. The actors all lived together in this beautiful, gigantic beach house, so even though we weren't going out to restaurants and stuff, we were eating all of our meals in the kitchen together. I say "kitchen" like it's this quaint little kitchen. It was the most beautiful dining room.
Because we were living together and we were bubbled, we spent every hour of the day with each other, whether it was on set or at dinner or in the pool on the weekends. We would watch movies together in the screening room.
This ... does sound cheesy, and that's okay. On the weekends, we would watch each other's movies. One of the actors, Steve [Coulter], who plays Josh's dad, would host a Q&A with the actor. For example, we watched "Kiss of the Spider Woman," and then Steve would do a Q&A with Sônia Braga, who's a legend. Then every weekend, [we'd do it with] a new person.
Everybody was very aware of how special this was. We had this little chunk of time where we were all together, happy, on vacation while working, and loving each other, loving together. It was pretty dreamy. It was 100% special. It was great.
The moments that went off script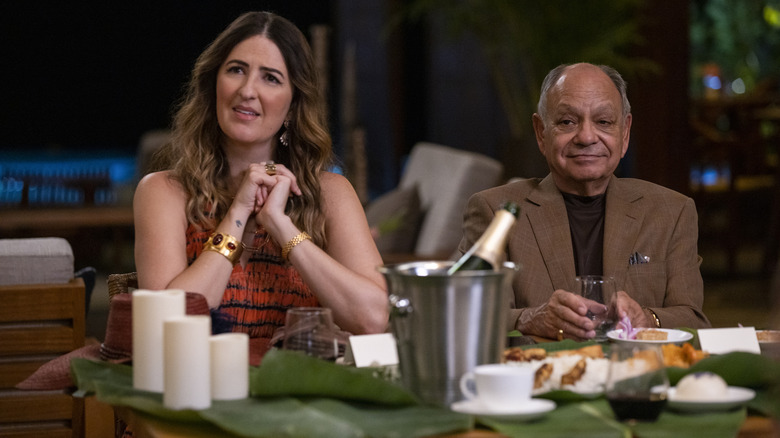 Amazon Studios
Were there any moments in "Shotgun Wedding" that were improvised by any of you?
I think so, but it's always hard to look back and actually remember what was in the script and what wasn't.
This is a small one, but it's one of the ones that the cast loves the most. There's a part where the family is sort of pleading with the pirates. They're saying, "Here's why I'm special" and "Here's why you shouldn't kill me."
And Steve Coulter — he's one of the funniest people on the face of the Earth. Everybody had their thing. "I'm a mother," and "I'm a this," and "I'm a that," and "Here's why you shouldn't kill me." And Steve just said, "I'm Larry Fowler," and then nothing was after that. That's all Steve, and that's a perfect encapsulation of his humor. It's very dry, and you have to be with him and go, "Oh, yeah. He's done. Okay. No, that's really funny."
He and Jennifer Coolidge have some of the world's best chemistry. We all wrote a second movie, basically, [called] "The Fowlers," about the two of them. [Laughs] We're ready to go back to the Dominican. We'll all direct it. Writing credits for all of us. We're ready to rock.
This isn't the first wedding movie that you've done recently. You were also in "The People We Hate at the Wedding" last year. Do you have any real-life wedding guest disaster stories that have happened to you?
I do, actually. I went to a wedding maybe six or seven years ago in Austin, Texas, and it was this beautiful, outdoor, tented wedding with chandeliers. It was really beautiful. It was stunning.
There was a little bit of light drizzle, and then at one point during this best man's speech, everyone got an alert on their phone. It said, "Tornado incoming," and everybody just laughed and put it down. "Clearly, they don't mean us."
And then 10 minutes later, a tornado came through and lifted the tent out of the ground, and everybody ran screaming into this house that was nearby, soaked to the bone. Not an injury to be had, but I'm telling you, someone could have died. It was so traumatic. 
Then once the tornado passed, which it quickly did, it was a drunken dance party for the rest of the night. We'd all been to war together. [Laughs]
Here's what you may see D'Arcy Carden starring in next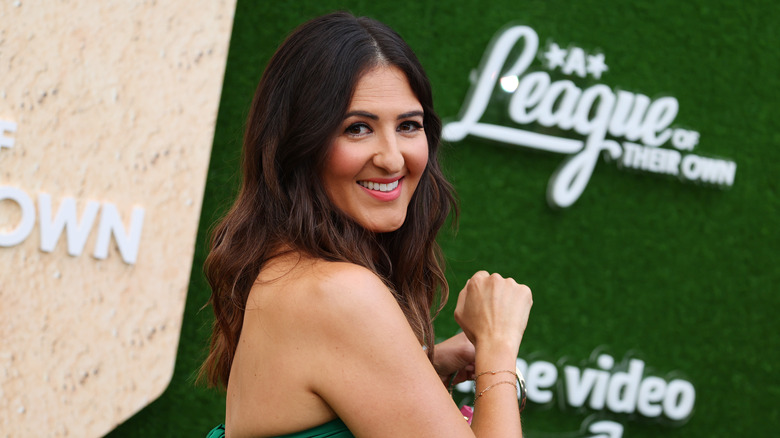 Leon Bennett/Getty Images
Do you know anything about Season 2 of "A League of Their Own"?
We don't really know anything. I said "really" because I'm always digging. I'm like, "What do we know? What do we know?" But I guess it takes a long time. It's really taking a long time. We're very hopeful. The fans of the show have been beyond our wildest dreams with the love they're showing and the way they're fighting for Season 2. That's not lost on any of us. It's really awesome.
You were also recently on "The Great American Baking Show." Are we going to see you on more baking shows coming up?
I hope so. That was one of my favorite experiences I've ever had. I loved it so much. I told them I'm down for an "All Stars" whenever they're ready. I'm the first to sign up. I had the best time. I would be very, very happy to do more of that.
"Shotgun Wedding" will be available to stream Friday, January 27 exclusively on Prime Video.
This interview has been edited for clarity.