Prince Harry Makes Waves With His Comments About Elvis' Graceland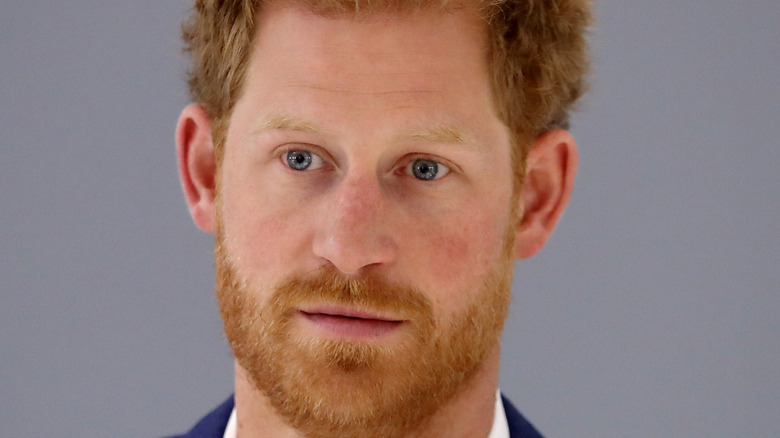 Chris Jackson/Getty Images
The Duke of Sussex is a bit like a royal moth to the flame of controversy as of late. Whether it's the premiere of his highly talked-about docuseries with wife, Meghan Markle, "Harry & Meghan," or the fallout from Prince Harry's new memoir, "Spare," he has no problem telling it like it is and accepting any and all of the inevitable backlash that follows. 
Since the release of "Spare," plenty of quotes from the book have come under scrutiny and caused both offense and accusations of inaccuracy. The latest snippet from his memoir to come under fire is very different from those that came before it. This time, it's not Harry's own family whom he's thought to be bashing. Instead, folks believe that it's now time to defend another famous family who is talked about in "Spare." 
While Harry's seemingly benign comments likely wouldn't have caused much of an uproar just mere months ago, timing is everything. In the wake of the heartbreaking death of Lisa Marie Presley, Harry's criticism of the Presley family's famous Graceland estate isn't going over too well with the public, which already has the Presleys in their thoughts and prayers — and the Duke of Sussex under a microscope (via OK! Magazine). Here's what Harry had to say about Graceland.
Prince Harry calls Graceland dark, claustrophobic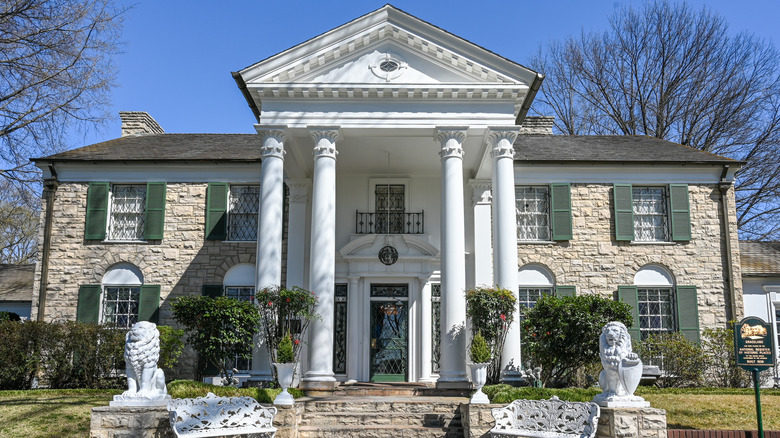 Rolf_52/Shutterstock
Prince Harry may be the son of King Charles III, but Lisa Marie Presley was the daughter of the King of Rock 'n' Roll. Per OK! Magazine, on Jan. 22, 2023, Harry's aunt and close friend of Lisa Marie, Sarah Ferguson, visited Elvis Presley's mansion, Graceland, for Lisa Marie's memorial. Sarah believes that she died of a broken heart as the singer, who suffered cardiac arrest on Jan. 12, had struggled since her son's suicide in 2020. 
According to the Mirror, Elvis bought Graceland in 1957 and lived in the mansion until his death in 1977. Lisa Marie then inherited the property, and it will now be given to her daughters, Riley, Harper, and Finley (via The Guardian). The rawness of Lisa Marie's tragic passing makes an excerpt from Harry's memoir, "Spare," stick out. 
In the book, Harry recalls traveling to Tennessee and visiting the estate on the way to a friend's stag party. "People variously called the house a castle, a mansion, a palace, but it reminded me of the badger sett," he wrote. "Dark, claustrophobic. I walked around saying: The King lived here, you say? Really?" He took things a step further, writing, "I stood in one tiny room with loud furniture and shag carpet and thought: The King's interior designer must've been on acid." 
Regardless of Harry's opinion of the mansion, this historic property remains revered and will surely be in the Presley family for decades to come.
If you or anyone you know is having suicidal thoughts, please call the National Suicide Prevention Lifeline​ by dialing 988 or by calling 1-800-273-TALK (8255)​.
The truth about Graceland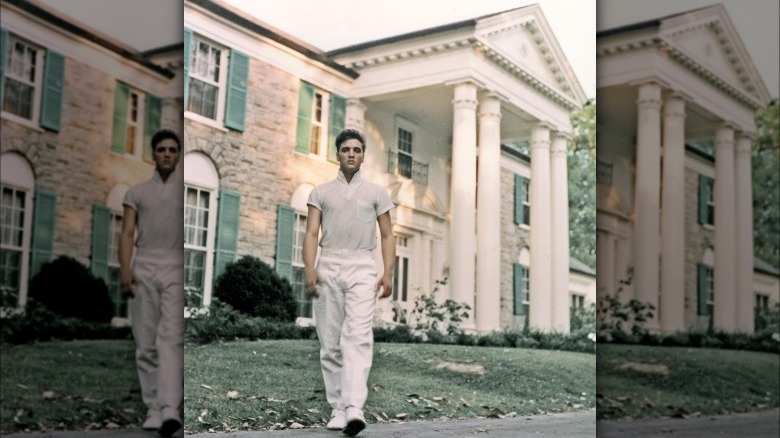 Michael Ochs Archives/Getty Images
While much of Prince Harry's goal in releasing "Spare" to the public was to take control over the narrative about him and his family back from the media, a few excerpts from the memoir that have made the rounds don't exactly show the Duke of Sussex in the best light. His comments about Graceland are the latest quotes to leave fans thinking that Harry may be more out of touch than he lets on.
Per Express, Graceland — which is now primarily a museum but is still used by the Presley family for holidays and special occasions — first opened to the public in 1982. Since then, Graceland has become the second most visited house in the United States (the White House being the first) with hundreds of thousands of visitors annually, according to Mighty 990. Graceland is a 13.8-acre estate: the eight-bedroom and bathroom mansion has a total of 23 rooms and 14 televisions, to name just a few of its luxuries.
Knowing just how beloved Graceland has become and how many folks are impressed by its grandeur makes implications that it isn't actually a mansion feel condescending to some fans –– even when it's coming from someone who grew up in Buckingham Palace. Regardless of Harry's opinion of the mansion, this historic property remains revered and will surely be in the Presley family for decades to come. As for the public's opinion of Harry, hopefully, only positive quotes from "Spare" will surface from now on.