The Weird Reason Retinol May Make Your Wrinkles Look Worse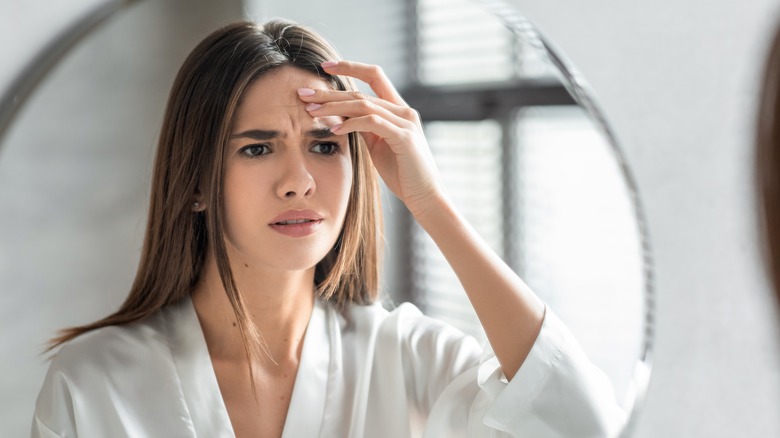 Prostock-studio/Shutterstock
We may receive a commission on purchases made from links.
If you are looking for the best facial products to keep skin looking fresh as you age, you have likely heard that a retinol-based face serum or cream is an anti-aging essential. Retinol is actually one of the most popular ingredients in skincare, per Healthline, and it can be found in a variety of different products. This is because the benefits of retinol use are vast and significant. It works to increase the production of collagen and elastin, which has many positive effects, the most popular of which is reducing the appearance of wrinkles. It also gives the dermis an overall younger appearance, making it unsurprisingly popular among many. When you use retinol every day, you'll definitely start to notice a difference.
But, as with many skincare products, retinol does come with a few negatives. It is often prescribed to people dealing with tough-to-treat skin issues, from severe acne to psoriasis, but use and especially overuse of the product can come with drawbacks. According to One Skin, retinol can cause your skin to change color over time and can lead to uncomfortable problems like dryness, redness, and blistering. But, one of the most shocking side effects of retinol is the fact that it may actually make your wrinkles look worse.
Does retinol cause more wrinkles?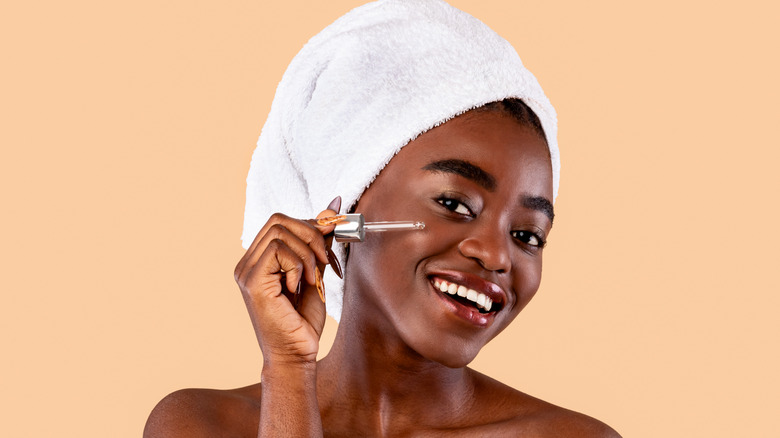 Prostock-studio/Getty Images
If you have been prescribed a retinol or picked up an over-the-counter product to fix your skin issues and help reverse signs of aging, you may be surprised when you suddenly notice your wrinkles looking worse. If this has happened to you, it's not just in your head. According to Dr. Bollmann, Owner and CEO of Bare Skin Care, retinol can, in fact, make your wrinkles look worse — but only temporarily. 
There are a few reasons this happens. The first is that, if you have never used retinol before, it can make your skin dry initially. This lack of hydration can cause wrinkles to appear larger. But after consistent use, your skin will get used to the product and the lines will likely disappear.
Retinol is an exfoliant, so if it is overused it can cause the skin to thin, per Devika Icecreamwala, M.D., founder of Icecreamwala Dermatology (via InStyle). That thinning of the epidermis will increase the appearance of wrinkles. Time in the sun and using the wrong products can also contribute to lines appearing while using retinol. But, there are things you can do to avoid this.
How to avoid more wrinkles when using retinol
Retinol is a strong product, so if you are using it for the first time, it's best to consult your dermatologist to understand the right dose for you, per David Colbert, M.D., co-founder of the New York Dermatology Group (via InStyle). Using too much of it can yield results that are likely the exact opposite of what you were hoping to see, but if used correctly, it can be the ultimate solution to aging and other skin issues.
Dr. Bolman of Bare Skin Care recommends splurging a bit on retinol products, as oftentimes, cheaper options can cause more harm than good. 
If you are looking to add retinol to your routine, there are over-the-counter products you can try. The Charlotte Tilbury Magic Night Rescue Cream is a great option for people who are looking for plumper skin free of fine lines and wrinkles. Other great options include the Glo Skin Glyco Retinol Drops, which are beloved by many who swear by the product's ability to brighten skin and minimize pores, or the Drunk Elephant A-Passioni Retinol Anti-Wrinkle Cream, a vegan moisturizer that fights wrinkles and uneven skin tone.