The Absolute Best Sneaker To Nail The 'French Girl' Footwear Style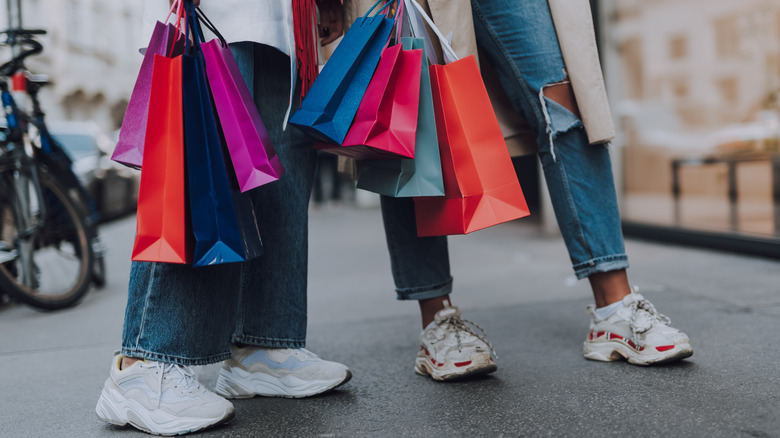 Yakobchukolena/Getty Images
French style and fashion have been incredibly influential on American culture for decades, creating a lasting impact through icons like Coco Chanel and Brigitte Bardot. In the modern age, the idea of the effortlessly beautiful and fashion-savvy French woman has consolidated into what's known as the "French girl style."
This aesthetic centers around the idea of focusing on your natural beauty and being smoothly stylish, combining the coolness of an it-girl and the sensibility of a Parisian pedestrian (per French Style). While Parisian Street Style notes that the heart of French girl fashion is an individualized sense of style, the aesthetic is associated with timeless fashion pieces and high-quality basics.
This concept extends to footwear, too, with Leonce Chenal noting things like ankle boots and ballet flats as classic shoe options for aspiring French girls. As mentioned, this style is not just about elegance, but practicality too, making sneakers an unexpected staple of this elevated aesthetic.
Converse are a classic sneaker perfect for French girl style
As mentioned, the French girl style favors timeless clothing items — think loose-fitting white blouses, neutrally colored trench coats, and simple ballet flats. Not only are these items super versatile, easily mixed and matched, dressed up or down, but they are also practical. Audrey Coyne explains that practicality is a big element of city living, as items that are comfortable and long-lasting are important to a Parisian lifestyle.
It's unsurprising, then, that the classic converse sneakers work really well with the French girl style. Besides adding a bit of nostalgia to an outfit, these are comfortable walking shoes that create an interesting contrast with the dressier elements of this aesthetic (per The Mom Edit). If you're wondering how you'd style these comfy sneakers with this type of fashion, social media has plenty of inspiration. For example, French entrepreneur @anne_dressingideal pairs high tops with black, straight-leg jeans and a beige trench coat for a functional, stylish look. Similarly, model @salome.mory styles white sneakers with an oversized, blue blazer and matching slacks for a classic French girl outfit.
Besides working well with French girl staples, Converse can also be used to tailor the style to your own personal fashion tastes. This can be seen in the outfit from Parisian influencer @aude_julie, who combines a pair of beige and white Converse x Mr. Kim Jones sneakers with inverted denim pants and a matching denim blouse to create an effortlessly cool girl look.
Other sneaker brands work great for this aesthetic
Converse shoes may be the ultimate French girl sneaker, but they are far from the only trainers that Parisian women are wearing. Veja is another popular footwear brand in this aesthetic, adding a clean edge and casual look to any classic French girl outfit. For example, French influencer @aida.bdji pairs black and white Vejas with a striped blouse, blazer, and retro sunglasses for an easy business casual vibe. Similarly, Parisian user @louise_vgrx styles her green and white Vejas with baggy jeans, a beige trench coat, and a matching turtleneck.
New Balance is another brand that's common in this style, providing a chunkier silhouette and a dash of color to Parisian fits. This can be seen in the outfit from @elborn_doris, who wears blue sneakers with corduroy pants, a dark green houndstooth blazer, and a gray turtleneck. The resulting look is a practical French girl outfit with a hint of dark academia. Featured on @frenchgirldaily, @annelauremais pairs red and white New Balance sneakers with a strappy slip dress, contrasting the shapes and dressiness of these effortless pieces for another ultimate cool girl look.
Beyond these examples, if you're ever wondering what sneakers to wear with your French girl-inspired outfit, you can't go wrong with clean-cut, all-white trainers.