The Best Ways To Style Your Favorite Comfy Sneakers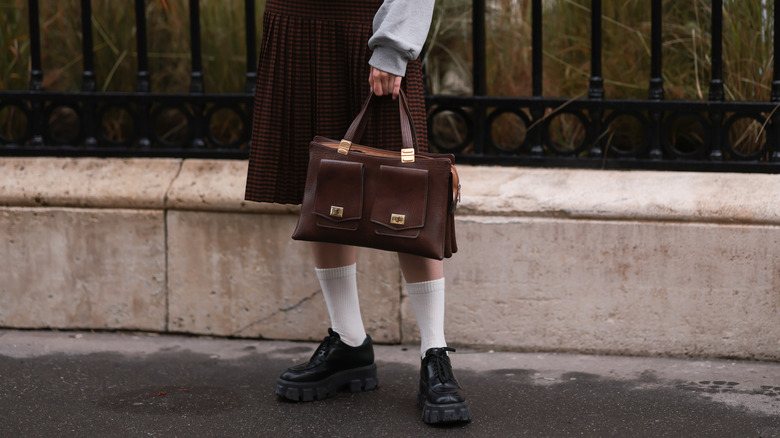 Jeremy Moeller/Getty Images
There's nothing worse than picking out a stylish pair of new sneakers and finding out later they are painfully uncomfortable. Instead of showing off your new pair of sneakers, you have a fresh amount of blisters to show for it. However, just because you need a comfortable pair of sneakers doesn't mean that you can't look stylish. When it comes to a comfortable pair of footwear, your best bet is purchasing sneakers. Recently, sneakers have gained in trends and popularity. According to Statista, the sneaker industry is estimated to hit $113 billion by 2025. However, the best part of a growing sneaker industry is the fact that there are now sneakers for every need you may have.
Styling a pair of comfortable sneakers comes down to what style you prefer and how you plan to wear them. Whether you are dressing them for fall or summer, dressing them up or down, there's always something new you can do with your sneakers.
Before you can style your favorite sneaker with an outfit, you have to find the right sneaker.
Picking out the right type of sneaker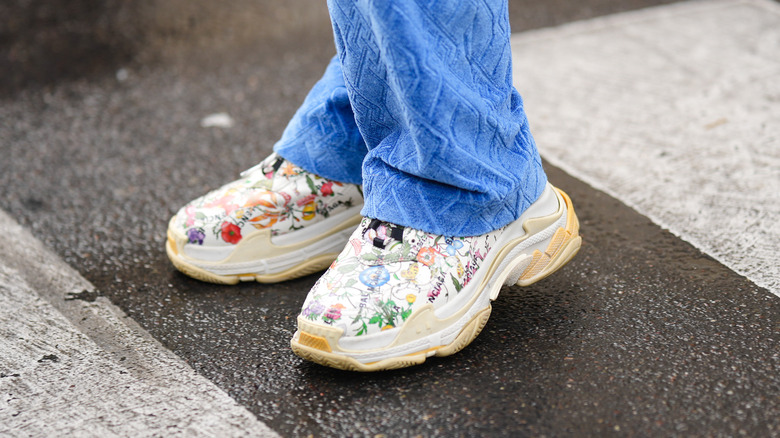 Edward Berthelot/Getty Images
One of the most important parts of styling comfortable sneakers is by choosing the best sneaker. It's much easier to style a pair of classic sneakers than one that is a bit more of a statement sneaker.
A classic choice for sneakers is a white sneaker. Whether you want something chunky or slimmer, white sneakers are a great choice if you want something comfy yet stylish. When choosing a comfy pair of white sneakers, Shoe Zone recommends focusing on a padded lining, foam insole, flat base, firm sole, and enough room around your toes. Focusing on these specific areas will mean that you can choose shoes that will help you all day long.
Another easy way to choose a comfy sneaker is by opting for a shoe designed for comfort. Athletic and sporty sneakers have been on the rise because they are both comfortable and on trend right now. According to Streetsense, the Nike Air Jordans remains the No. 1 selling sneaker of all time. This classic sneaker has been remixed in different variations and colors to suit your style best. Along with being versatile, this sneaker is both comfortable and padded enough where you can use them in your daily activities.
Now, here are some of the best ways to style your favorite sneaks!
How to style your sneakers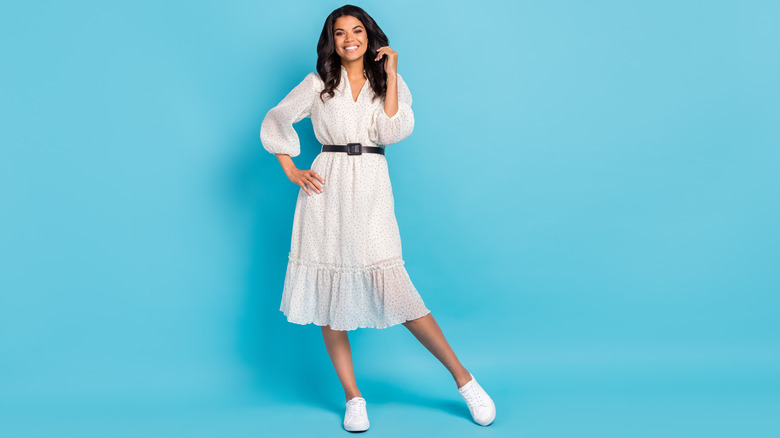 Roman Samborskyi/Shutterstock
Styling your sneakers can be the trickiest part. Depending on the shoe, it can be hard to know what goes with your sneaker.
Fashion blogger and content creator, Fashion Jackson, recommends pairing your sneakers with dresses as the ultimate crossover of classic pieces. "It's actually one of my favorite outfit combinations," she said. "Pairing a spring or summer dress with a great pair of fashion sneakers gives you an edgy feminine vibe and is such an easy look to wear." Another fun way you can make this outfit work, is by bulking it up with a chunky sneaker and a more feminine dress. This unbalanced pairing is one way to make your outfit chic and comfortable.
On the other hand, if you are looking for a more casual outfit, you can also count on your sneakers for this look. Emily Henderson, the content creator behind Style By Emily Henderson, suggests pairing your sneakers with a fun skirt and oversized sweatshirt. This combination is perfect for those who perhaps want more layers or an outfit that is optimal for daily errands. Also, this pairing is a great way to incorporate your sneakers during the fall season.