Chebula May Be The Secret Ingredient Your Skin Needs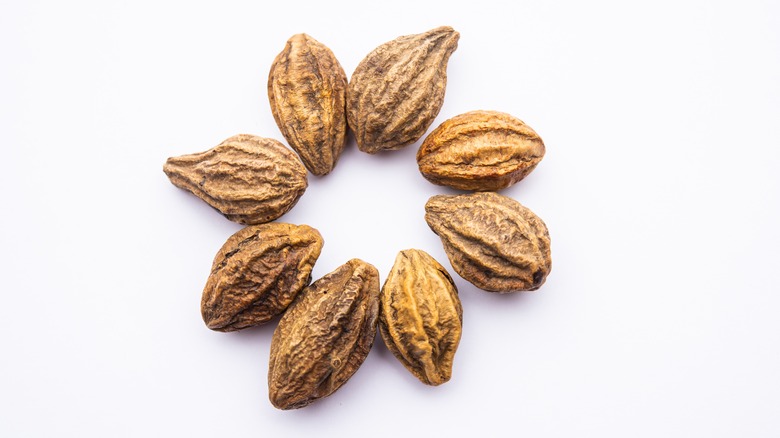 StockImageFactory.com/Shutterstock
We may receive a commission on purchases made from links.
Knowledge of life — this is what Ayurveda means in Sanskrit (via Johns Hopkins Medicine). Ayurvedic medicine is about harnessing essences from the earth to heal one's body and mind. From this Eastern origin comes a relative newcomer to the skincare world — a fruit named chebula (per Byrdie). 
True Botanicals Chebula Active Immunity Serum hit the market with the herb as its main active ingredient recently, and since then, the glowing reviews have kept people wondering. According to the True Botanicals website, this serum is an "entirely new way to approach anti-aging skincare using chebula, a breakthrough, bioactive, anti-aging powerhouse, along with highly nutritive, natural-biocompatible actives and antioxidants that support your skin barrier." 
There is truth to the fact that you can't believe everything you read, but what is it about this Ayurvedic healing plant that's got people talking? If you feel like your skin could use a new skincare routine, find out if chebula might be a good fit for you. 
What exactly is chebula?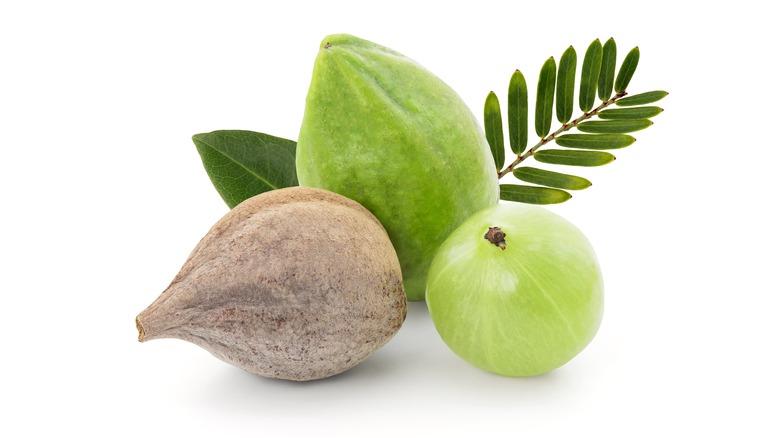 Wasanajai/Shutterstock
Chebula is one fruit that makes up a collection of three that is used in traditional medicine; the other two are amla and Bibhitaki, per Russh. Known in Ayurvedic terms as Triphala, this trio has existed in Indian medicinal practice for years and have been useful forms of treatment for a variety of conditions including inflammatory diseases, cancers, dental disease, and even obesity (via Healthline). 
While it's known popularly as "the king of medicines," especially by Tibetans, Indians, and the Nepalese, the other names for chebula include terminalia chebula, birhara, haritaki, harada, and chebulic myrobalan, reports Russh. 
In addition to the True Botanicals serum, you can find chebula in Paula's Choice Super Hydrate Overnight Mask, Vegnclever Chebula Active Serum for Face, and Paraania by iYURA. 
The ingredient's popularity in the skincare world was predicted as a trend for 2023 by Beauty Pie. In fact, the 2022 Google search volume increase of 922% speaks for itself. So what's the secret behind this ingredient's favor in the skincare world?
Is chebula the secret ingredient you've been waiting for?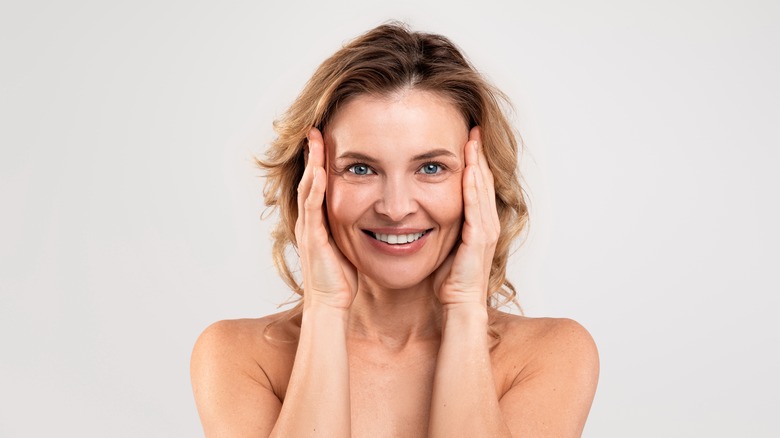 Prostock-studio/Shutterstock
When dissecting what the fruit can do for your skin, what stands out the most is its antioxidant properties, per Russh. Antioxidants have a variety of benefits when it comes to maintaining healthy skin, some of which include increasing moisture, improving collagen production, reducing damage from the sun, and fighting the signs of aging (wrinkles and fine lines), reports Medical News Today. The fruit is also packed with luteic acid and gallic acids, according to Premium Beauty News.
"Chebula is able to offset more free radicals and for a longer period of time than other antioxidants," explains Russh. In addition to research that studied the never-before-seen ability to fight the signs of aging, a 2012 study looked at the way in which the ingredient helped hydrate skin. Photodamage, which is another culprit when it comes to aging skin, was also targeted with the application of chebula in another study, and the Ayurvedic fruit seemed to not only reverse the signs of it, but it also protected the dermis against the sun's harmful rays. 
Do you want softer and brighter skin too? The anti-inflammatory chebula is great for that (per Russh). Have you ever wondered what people with great skin do every day? You may not have to if you include chebula in your own skincare routine.