Should You Change Your Makeup Routine If Your Face Has Changed Shape?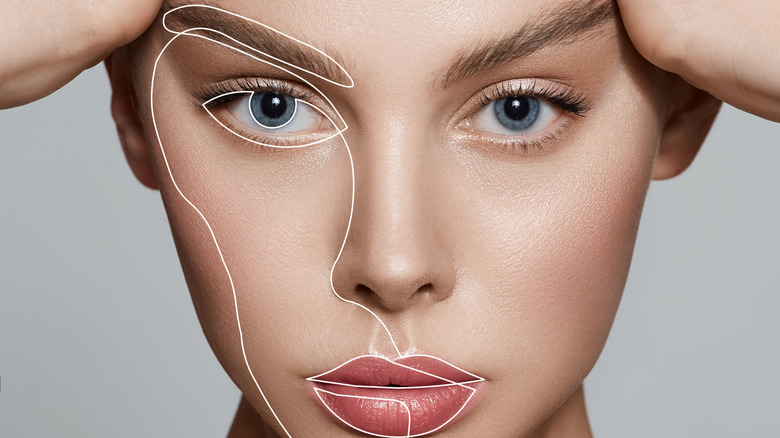 Peakstock/Getty Images
Whether you're considering the best bangs for your face shape or figuring out how to apply blush, looking our best means feeling confident in the skin we're in. If we're already obsessed with our makeup routines or are just starting to explore the world of skincare, understanding how our faces adapt as we age and our bodies change is key to finding the routines that work for us.
We may look up to celebrities who have their signature look and beauty tricks all figured out, but it's easy to forget that all bodies are inconsistent and that our hormones, sleeping, eating, and exercise habits can all have an effect on the way we look on any given day. The trick is finding hacks that work around changes that may come up, like weight loss, weight gain, pregnancy, or other hormonal and physical shifts. Our go-to makeup routines can be super comforting, but a changing face shape doesn't mean you have to abandon all your favorite products or techniques.
Figure out your face shape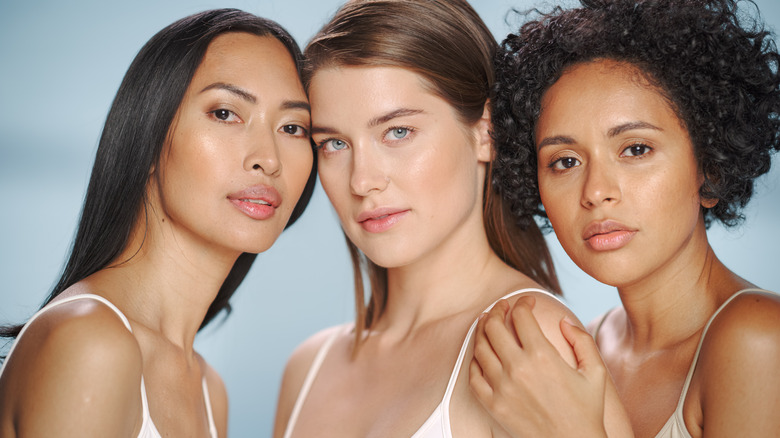 Gorodenkoff/Getty Images
Figuring out our basic face shape is an important part of understanding our features, and Who What Wear's expert Simon Ourian, MD, recommended looking at yourself in the mirror and tracing your face's outline with lipstick or a removable pen. Whether your face is roughly shaped like a square, heart, circle, oval, rectangle, or diamond, there are different methods for accentuating prominent features like high cheekbones, a strong brow line, or a standout chin. 
When we gain weight, our faces may change, becoming plumper in the cheeks or rounding out around our jawline. Gaining weight may have upsides for your skin; makeup artist Barbara Stone told The Cut, "There are people who're getting fillers to mimic the plumpness and the volume you're seeing in your skin." For more jawline definition, she recommends tracing it with a bit of bronzer. Giving the brows a lifting arch and drawing focus to your eyes can also help you achieve the angular look you want.
When you have a fuller face shape than you're used to, changes in your skin's coloration may also occur, such as more flushed cheeks or the increased size of discolored spots. But you can lean into the rosier look by working with a shimmery primer and a flattering bronzer, letting your natural flush work within a strong outline.
Key ingredients make a difference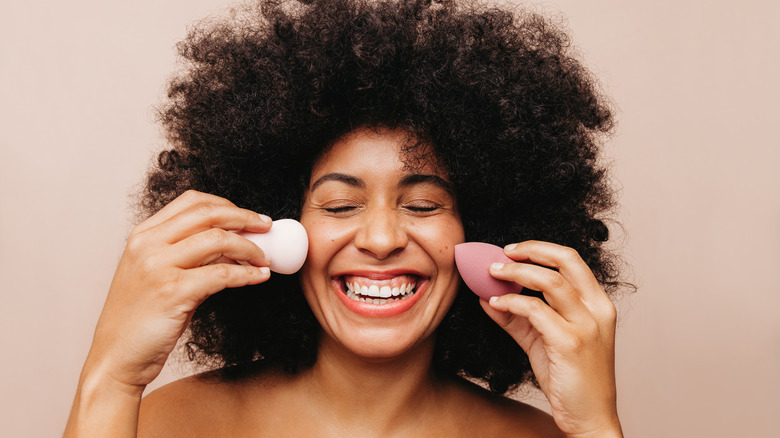 Jlco - Julia Amaral/Getty Images
After age 30, we lose around a teaspoon of fat in our faces each year, according to Clinique. Losing fat means losing elastin and collagen, which can result in sagging skin, deepened wrinkles, or hallowing cheeks. But stimulating ingredients like caffeine and creatine can help the skin regain some life. And formulas including peptides and neuropeptides can help reduce the look of lines, while hyaluronic acid can hold moisture within the skin, helping it appear fuller. 
When we lose weight, our under-eyes can lose plumpness, making us look older or tired. Expert makeup artist Eve Pearl told Today that starting with a cream base can help the skin appear more buoyant, and adding a salmon concealer can help with dark circles. A cream blush can also help with freshening up looser skin, and warm tones are perfect for getting a healthy glow. 
Celebrity aesthetician Renée Rouleau recommends a serum with Vitamin C to promote healthy and bright skin that maintains its elasticity even when your face shape has changed. As dermatologist Nina Desai told Weight Watchers, "Vitamin C protects the skin from free radical damage (which breaks down collagen) while also promoting the synthesis of collagen." Of course, you should wear sunscreen to prevent premature aging and damage from UV rays. And for a range of hydrating serums and creams that include vitamin C and rejuvenating Retinol, RoC Skincare offers a Smooth and Glow AM/PM set to keep skin looking happy and youthful.