What Are Subtractive Goals And Why Should You Avoid Them?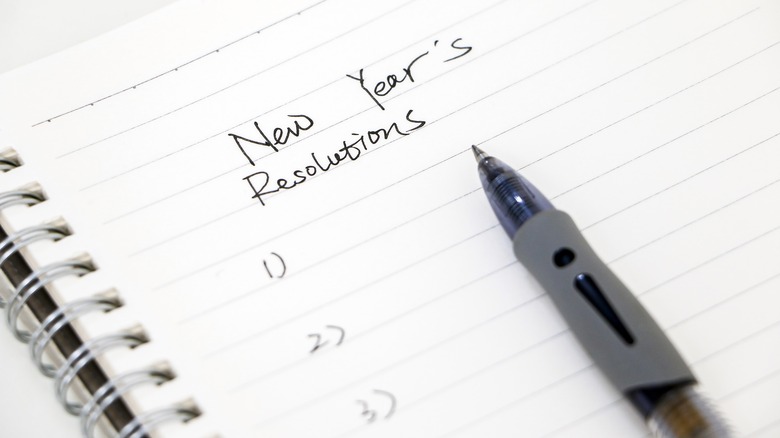 Adam Yee/Shutterstock
Each year when the clock strikes midnight on January 1, the phrase "new year, new me" echoes around the world. As you're popping champagne and celebrating one more trip around the sun, people begin to discuss their big goals and changes they are implementing come New Year's Day. A PLoS One study cited by Forbes found that 44% of Americans planned to make New Year's resolutions. This tradition is actually thousands of years old. It is believed that ancient Babylonians were the first to ring in the new year with resolutions, although their calendar marked the beginning of the new year in March (via The Conversation).
According to a Statista Global Consumer Survey, the most common New Year's resolutions made by Americans at the beginning of 2023 were all about self-improvement: Losing weight, eating healthier, and saving money were amongst the most popular resolutions. What do all three of these goals have in common? They are subtractive goals.
Subtractive goals, according to Well + Good, are goals that require one to cut out, minimize, or take away certain habits altogether in order to achieve measurable success. Experts have found that this practice is not only difficult to maintain but can be harmful to a person's mental and physical health.
Most people with subtractive mindsets don't achieve their goals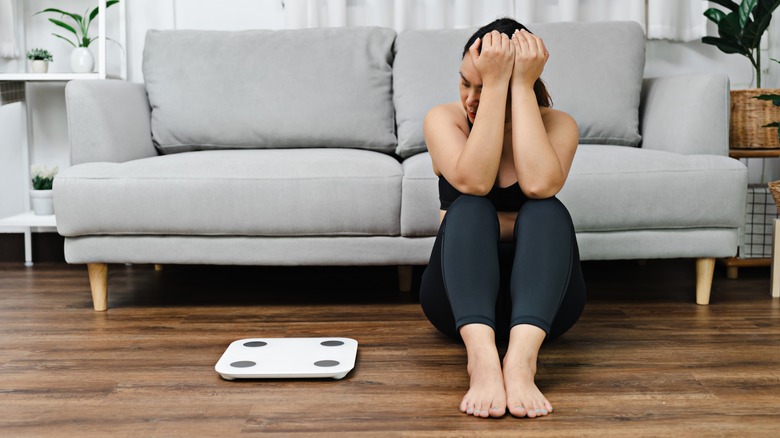 mojo cp/Shutterstock
Seemingly "healthy" New Year's resolutions can actually be terrible for you – When you set a subtractive goal, you are subconsciously telling yourself that the habits, traits, and values you currently hold somehow make you less worthy of success. On the Well + Good podcast, positive psychiatrist Dr. Samantha Boardman said, "There's so much pressure within the whole industrial complex around self-improvement that it tends to leave us feeling worse."
The problem with subtractive goals is not necessarily the goals themselves, but how the goals are approached. If your New Year's resolution is to lose 20 pounds because you want your body to appear slimmer, smaller, or less than you are now, you are also choosing to believe that the size you are now needs to be changed or fixed. Most of the time, people set subtractive goals because they are unhappy with themselves in their current state, not realizing that the person they are now is the person who will tackle these goals, and that person often needs support and love in order to accomplish them (via Inverse).
Not only can subtractive goals be harmful, but they aren't often manageable. Psychiatrist Dr. Michael Bennett told The New York Times, "If you [set goals] out of the sense of self-hate or remorse or a strong passion in that moment, it doesn't usually last long."
For long-lasting success, try setting additive goals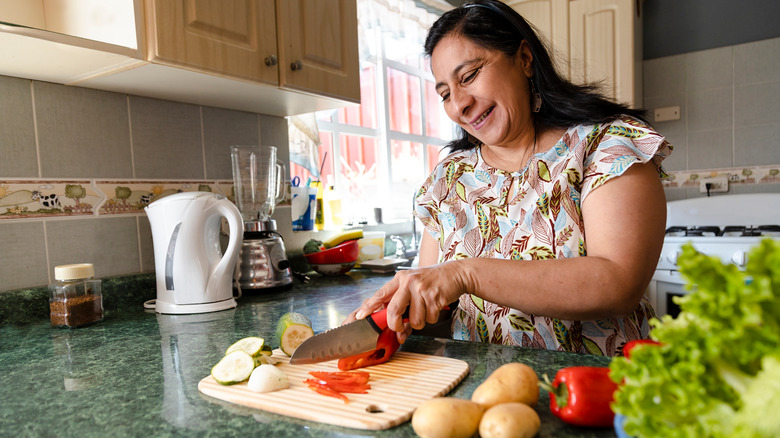 Fernanda_Reyes/Shutterstock
There is often a sense of shame attached to subtractive goals. When people analyze their need for self-improvement, they often focus on what they are lacking. The key to long-lasting, healthy goals is actually rooted in personal strength and enjoyment. Instead of asking yourself, "What's wrong with me that needs fixing?" try thinking about what you love doing and how you can incorporate more of that into your daily routine to achieve your health and happiness goals. Per Mayo Clinic, the most successful goals are ones rooted in positive motivation and self-love.
Joy expert Ingrid Fetell Lee shared on the Well + Good podcast that it is easier to find the motivation to do something that has elements of joy and fun. Instead of telling yourself to avoid carbs and sugar, you get to encourage yourself to experiment with creative and nutritious recipes in the kitchen. Rather than focusing on the goal of losing weight, frame your goal as an added activity during your day that you get to enjoy, such as a refreshing swim or a walk in the park.
And remember: You don't need to wait until January 1 to set and implement new goals for yourself. The beauty of self-improvement is it can happen at your own pace, on your own time.