The Viral TikTok Method Recommended For Diffusing Your Hair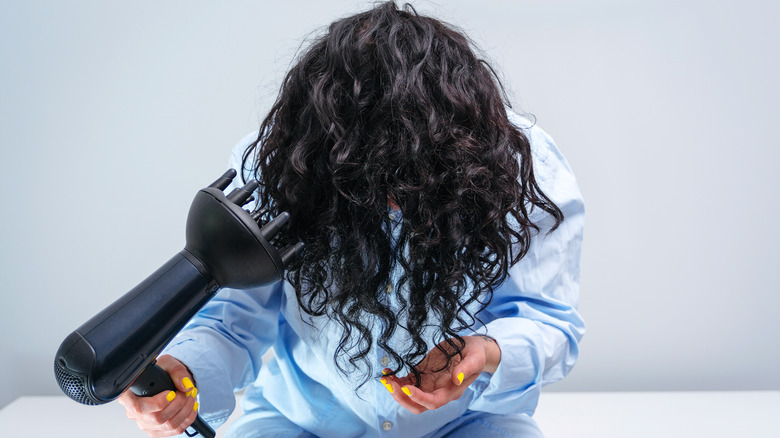 Volurol/Shutterstock
We may receive a commission on purchases made from links.
Frizz is only a curl that needs some love. For curly tresses, using a blow dryer after washing your hair can create a lot of frizz. However, air drying is not always a viable alternative. It can take hours, and no one wants to suffer the consequences of going to bed with wet hair (achoo). Plus, having a salon-quality hooded dryer in your bathroom is not easy. Who knew drying your hair could be so taxing? Luckily, diffusers were born.
A hair diffuser is a blow dryer attachment that helps to evenly distribute hot air. Hair educator Stephanie Diaz explains it can reduce frizz, keep your curl pattern uniform, and does not alter your natural waves or coils (via Good Housekeeping). Yet, it seems you can get those same results without the dryer accessory. TikTok has brought to light a hair trick that can help diffuse your curls with a utensil sitting in your kitchen.
The sieve hair-drying hack
A sieve is essential to sift flour for smooth cakes and even to strain pasta when you can't find the colander, but now it might be a must-have for your hair-care routine. Beauty hack guru Liz Roseberry shared the discovery with her more than 150K followers, and the tip garnered 22.5 million views. In the video, she places her scrunched waves inside the sieve and blow dries as normal. The outcome is perfect curls with frizz nowhere to be found. But not everyone was instantly impressed. Some questioned how safe it was to heat a metal sieve while pressing it against your hair.
Roseberry responded to the concerns in a sequel video. The DIY influencer conducted an experiment with the sieve, blow dryer, human hair wig, and digital thermometer. With the thermometer continuously measuring the temperature of the sieve, she blow-dried the hair with her diffuser method. The record high was mid-140 degrees Fahrenheit. According to Curl Centric, blow dryers can reach 140 degrees Fahrenheit or greater when operated at the highest heat setting. Whether trying out the sieve hack or sticking to traditional diffusers, just don't forget about heat protectants.
Other methods for diffusing curls
If you'd rather leave the sieve in the kitchen, we understand. There are other ways you can achieve dry locks relatively quickly without disrupting your curl pattern. Celebrity hairstylist Felicia Leatherwood recommends hooded dryers for the curly hair club. The natural hair expert adds wearing a steam cap while drying your curls will help to keep your hair hydrated (per The Strategist). We love the Gold 'N Hot Hard Hat Dryer from Sally Beauty. The curl-friendly dryer cost is just under $73.
For an even greater steal, there are bonnet attachments that will convert any blow dryer into a hooded one. The accessory was made with curly hair in mind and has ventilation holes that diffuse the hot air. Its deflatable function aids in easy storage, while the drawstrings customize the perfect fit just for you. At only $15.95 on Amazon, there's no harm in trying the Granteva Hair Dryer Diffuser Cap. Whether a hooded dryer, diffuser attachment, or sieve, don't let drying your curls get you in a twist.