The One Person Who Can Mend King Charles' Relationship With Harry And Meghan, According To Royal Expert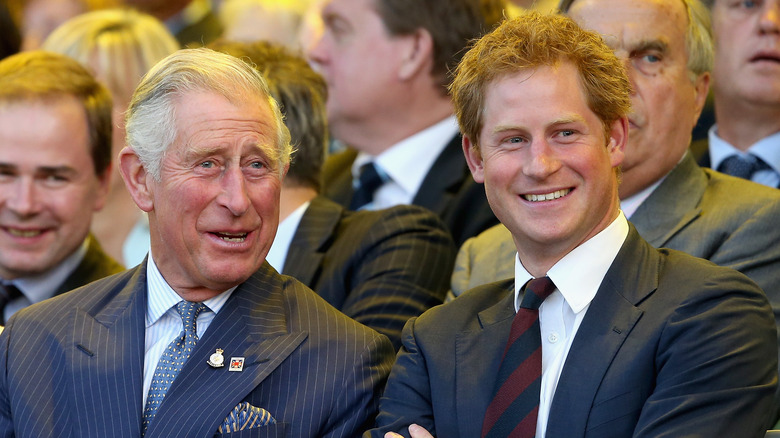 Chris Jackson/Getty Images
It's no secret that issues between the royal family and Harry and Meghan have reached an all-time high. Since Harry and Meghan officially left the throne in January 2020, they've publicly expressed the hardships they faced before, during, and after their courtship, via Us Weekly.
"It's really sad that it's gotten to this point, but I've got to do something for my own mental health, my wife's, and for Archie's, as well, because I could see where this was headed," Prince William said of his father, the now-King Charles no longer taking his calls, during his and Meghan's interview with Oprah. "I feel really let down because he's been through something similar. He knows what pain feels like, and Archie's his grandson."
With the release of Prince Harry's memoir, "Spare" which includes a number of bombshells about the family's private life, it's unclear if the damage done can ever be repaired.
"The public-facing side of the institution may be putting on a dignified silence, but make no mistake that behind closed doors many conversations will be taking place about 'Spare' and what to do next ... the public chatter now happening about relationships with the press, and the actions that have come alongside that, may result in a more cautious approach in the future. A lot of people are watching," a palace aide told Harper's Bazaar.
The latest discord between the family comes at a difficult time, with King Charles's coronation ceremony set for May 6, via Town & Country.
A potential peacemaker for Harry and King Charles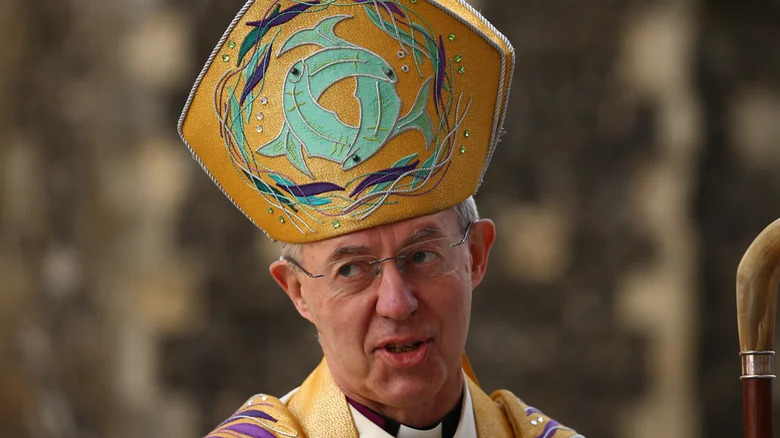 Hollie Adams/Getty Images
Not surprisingly, the king's coronation is set to be a grand affair, with multiple days of celebration. And despite everything that's transpired between Harry and his family, King Charles III is still determined to have Harry by his side for the big day.
"Charles is a forgiving person by nature, and he wants to move on," a royal source told Vanity Fair. "Whatever has been said and done, Harry is still his son and he loves him. He also cannot imagine being crowned, the most important moment of his life, without both his sons witnessing the moment."
And there is one person that seemingly can bring the two men back together: Justin Welby, The Archbishop of Canterbury.
The Archbishop of Canterbury is not only the officiant of the coronation but is also someone who Meghan and Harry turned to in their time of need, making him the perfect go-between for the divided family, via Marie Claire. He previously attempted peacemaking efforts for Harry and Prince William after the Queen's passing in September.
"There is always a way forward. But it has to be at the right time," the Archbishop previously said of reconciliation between Harry and King Charles, via Twitter.
King Charles is reportedly seeking the Archbishop's help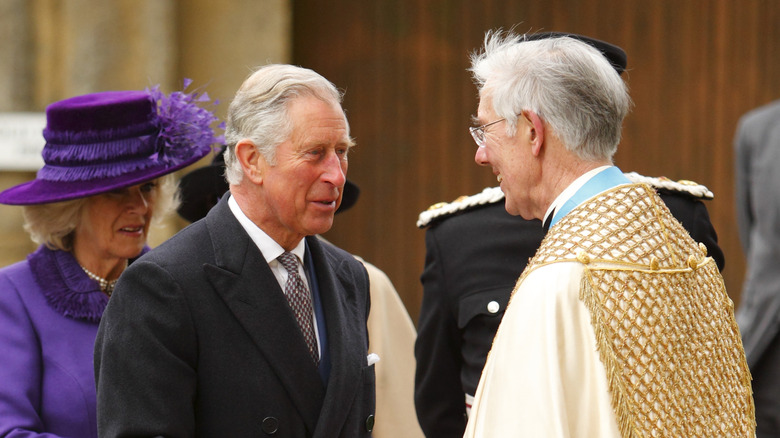 Wpa Pool/Getty Images
In yet another update to the longstanding feud, it appears that King Charles III wholeheartedly wishes for Harry to be at his upcoming coronation. The Daily Mail's royal sources say Charles did indeed reach out to The Archbishop of Canterbury to play mediator. He is asking The Archbishop to help "broker a deal" between the two parties so Harry and Meghan will be willing and able to attend the coronation. 
King Charles seems prepared to bury the hatchet and move on from the drama, and so does William. Despite the deep rift between the two, William is also said to be pushing for Harry to attend, although The Daily Mail's sources say his reason for doing so has more to do with protocol and protecting his family's image. Like the rest of us, William seems to know that any story featuring Harry and Meghan is a magnet for social media gossip and mayhem. If they failed to show up to the coronation after being invited, he fears the historic event would be overshadowed by the drama. 
As for Harry, he's stated in an interview that "the ball is in their court" when it comes to his attendance at the coronation, via Town & Country. Whether or not the family will come together remains to be seen — but either way, it's certain to be a coronation to remember.