How To Choose The Best Eyebrow Color For You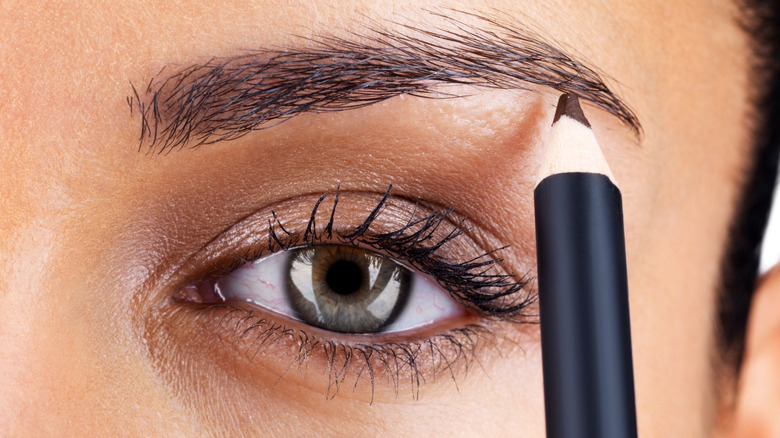 Jacob Wackerhausen/Getty Images
Eyebrows can make your whole face, but, when they're off, they can ruin your look entirely. Many of us are not blessed with naturally thick and full eyebrows. Some have sparse eyebrows due to medical conditions (via Healthline) or simply just their own distinctive growth pattern and have to resort to cosmetics. That can be an easy enough fix, although getting eyebrows to look the way we want can be challenging.
There's a saying that you shouldn't think of your eyebrows as twins, meaning that we furiously aim to get identical versions on the right and left sides, as per Yahoo! Life. Instead, as the saying goes, we should attempt to have them look like sisters, close enough that we can see the similarities, but each is slightly different in its own right.
White getting your eyebrows in a decent shape is a feat all its own since eyebrow mistakes are somewhat inevitable, finding the right color pencil is surely another. Yet using the proper shade is pivotal.
The shade you should pick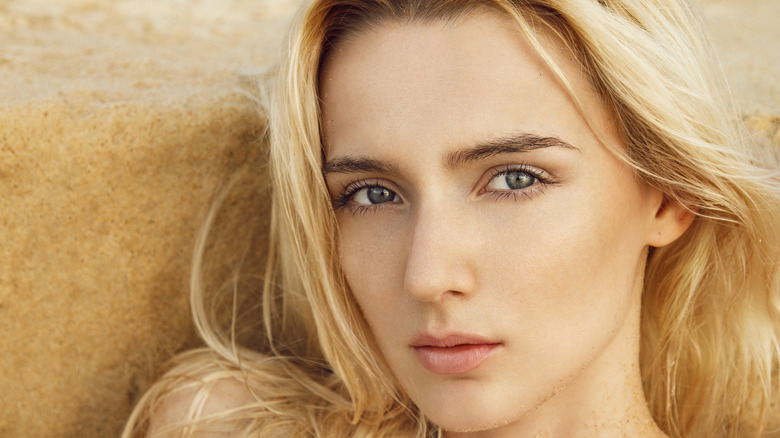 Andry5/Getty Images
Though many people go for a dark eyebrow, experts say that you should aim for a color that is actually lighter than your natural eyebrow, by about one shade, per Self. Shades that are light typically give off a more natural look and don't appear artificial. They also allow more room for error. 
"If you have dark brown hair, choose a light or medium brown powder — I feel that brows should complement the face, not overpower your features," explains Giselle Soto of Giselle Soto Brows to Self. He advises those with blond or red hair to try taupe or dark-blonde eyebrow pencil or powder.
Taking into account the shadow that your natural eyebrow hair gives off is another approach (via Allure). "The ideal color will mimic the shadow already there that is created by eyebrow hair," says New York City makeup artist Delina Medhin. "I'm looking for an eyebrow pencil that ... conveys the look of a shadow." 
For a supremely natural look, try this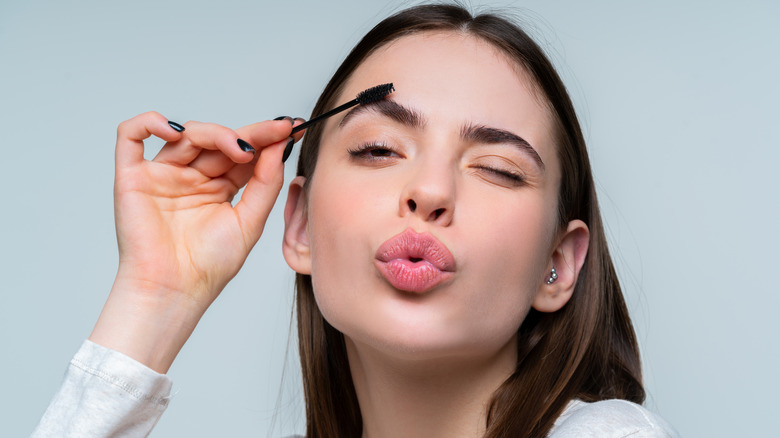 Puppy 9/Shutterstock
If you don't want to add color to your natural eyebrows, you can use a colorless eyebrow gel. You can also try a tinted gel. Eyebrow gels can thicken the hair on your brows while also keeping it in place. Furthermore, whether you want skinny and thin arches or thicker and bushier brows, a gel will work for both.
"Tinted gels are miraculous for those with light or blond brow hair or those losing pigment (going gray) because they quickly deposit color bringing your brows back to life," eyebrow specialist Michele Holmes tells InStyle. "Many tinted gels also contain thickening agents or fibers to bulk up eyebrows, giving the appearance of three-dimensionally fuller, yet natural-looking brows."
According to Maybelline, the secret to drawing the most natural eyebrows is to blend away. The more you blend, the less dramatic the brows look and tend to take on a natural look. It also helps to brush your brows upwards before you apply color.