Jeremiah And Hannah Duggar Give Fans Up-Close Look At Newborn Daughter Brynley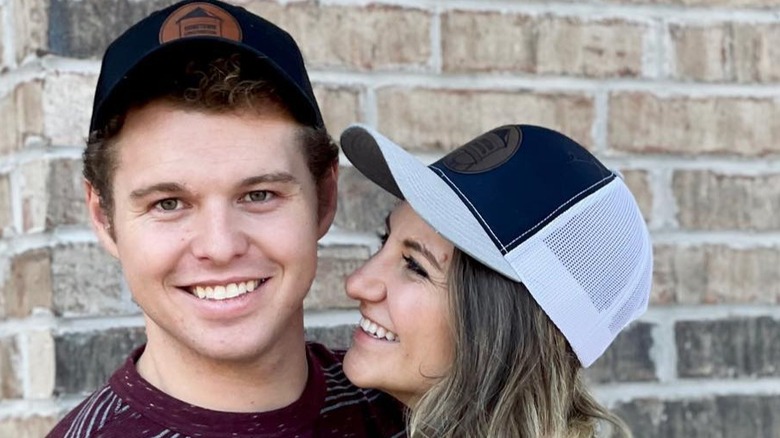 The Duggar family, who rose to fame with the TLC reality shows "19 Kids and Counting" and "Counting On," have shown off their large family to the public for over a decade. When the show first started, under the title "17 Kids and Counting," the Duggar kids were much younger. We've watched them grow up in the spotlight and become parents themselves, via Us Weekly.
Many of the Duggar kids appear to be following in their parent's footsteps when it comes to growing their own families. Jessa and Ben Sweewald have four children, while the couple's eldest son, the disgraced Josh Duggar, and his wife Anna, are the parents of seven kids, via Distractify. Jim Bob and Michelle Duggar have 26 confirmed grandchildren with a few more on the way.
Twins Jeremiah and Jedidiah, who are in their early 20s, have added to the grand Duggar headcount. Jed is a father to one child, while his twin brother, Jeremiah just welcomed his first with his wife Hannah Duggar. The pair recently shared a photo of their new addition, and fans are going wild for the baby!
Fans can't get enough of baby Brynley!
Jeremiah and Hannah Duggar just welcomed their first child, a baby girl named Brynley Noelle, People reports. She was born on Christmas Day, making her arrival a bit earlier than they expected. The couple took to Instagram to share their exciting news.
"After an incredible year, God gave us a precious Christmas gift to top it all off!!" the caption read. "Baby girl decided to arrive early and we are totally and completely in love with our little Brynley Noelle. 12.25.22 * 6lbs 15oz * 19.5 in."
While the pair shared a cute photo of themselves with little Brynley, they recently posted the first close-up look at the baby. The post on Instagram marked her first month, and fans couldn't get enough of how adorable she is.
"She is Absolutely Adorable Hannah and Jeremy," one fan gushed. Another added, "She is so precious. I have thought she looks like Momma in all the other pictures but I see a tad of Jer in this pic."