How The Duggars From 19 Kids And Counting Have Changed Since The Premiere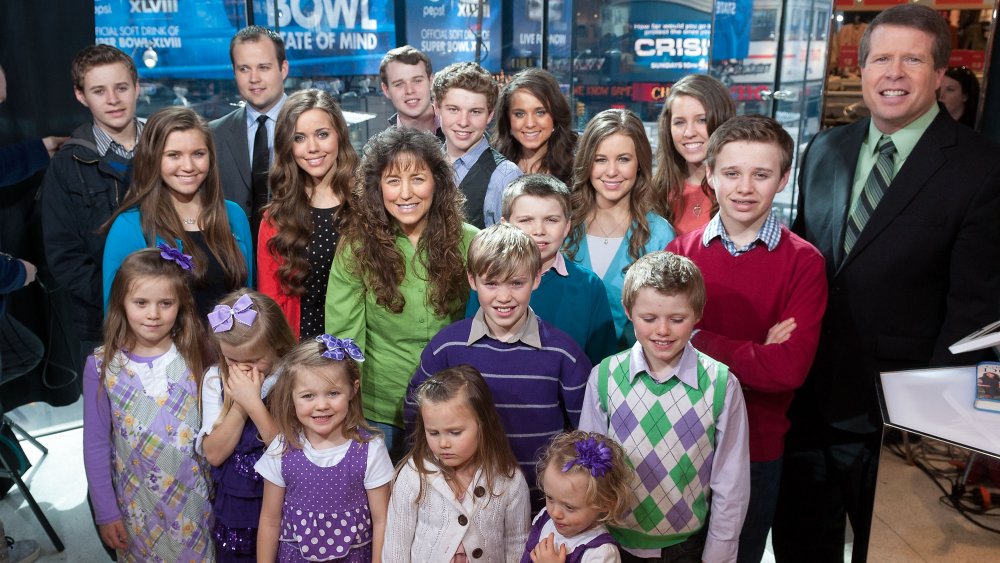 D Dipasupil/Getty Images
We may receive a commission on purchases made from links.
The Duggars of TLC's 19 Kids and Counting have changed a lot since the show's premier. Hailing from small-town Arkansas, the family fascinated viewers, thanks to their conservative politics and strict rules.
When the show premiered in 2008, it was then called 17 Kids and Counting, which had to be changed as the family grew while on television. Known for being followers of the Quiverfull movement, the Duggars have adhered to the notion of being fruitful and multiplying since the get-go. It's gotten the family a lot of attention, as their views on family planning essentially turned out to be not planning, and having as many kids as they believe God wants them to have. 
All controversy aside, though, the Duggars are still pretty relatable, charming, and entertaining to watch. From their penny-pinching ways, to only choosing names that start with the letter J, the Duggars seem as if they were made for reality television. But looking at how the Duggars have changed since the 19 Kids and Counting premiere, it's clear that they've come a long way.
Josh Duggar from 19 Kids and Counting caused a lot of controversy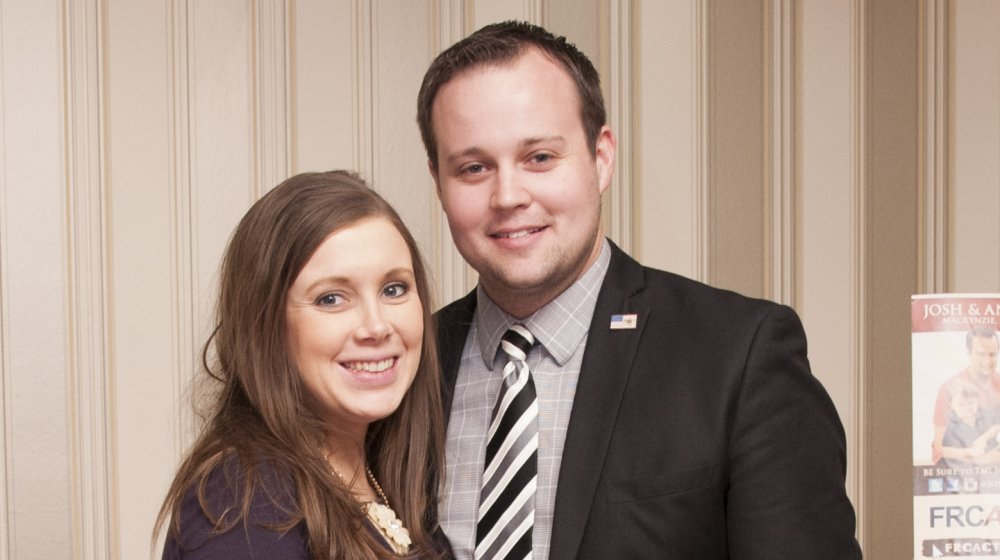 Kris Connor/Getty Images
The Duggar family from 19 Kids and Counting has been rocked by a scandal that tore the Duggar family apart. In 2015, news broke that eldest son, Josh Duggar, had previously molested multiple young girls when he was younger — including two of his sisters, Jill Duggar and Jessa Duggar. It was shocking news for fans of the Duggars, but the family was quick to defend Josh.
In an interview with Megyn Kelly on The Kelly File, Jim Bob Duggar explained the situation, and insisted that Josh wasn't malicious in his intentions. "He said he was just curious about girls and he had gone in and just basically touched them over their clothes while they were sleeping; they didn't even know he had done it," he explained. 
However, that wouldn't be the last scandal Josh would bring to the Duggar name, according to The New Yorker. Just a few months later, a list of clients for a website called Ashley Madison – which helped married people find someone to cheat on their spouses with — was leaked, and Josh's name was on that list. The entire family then had to face the consequences of his actions.
19 Kids and Counting came to an end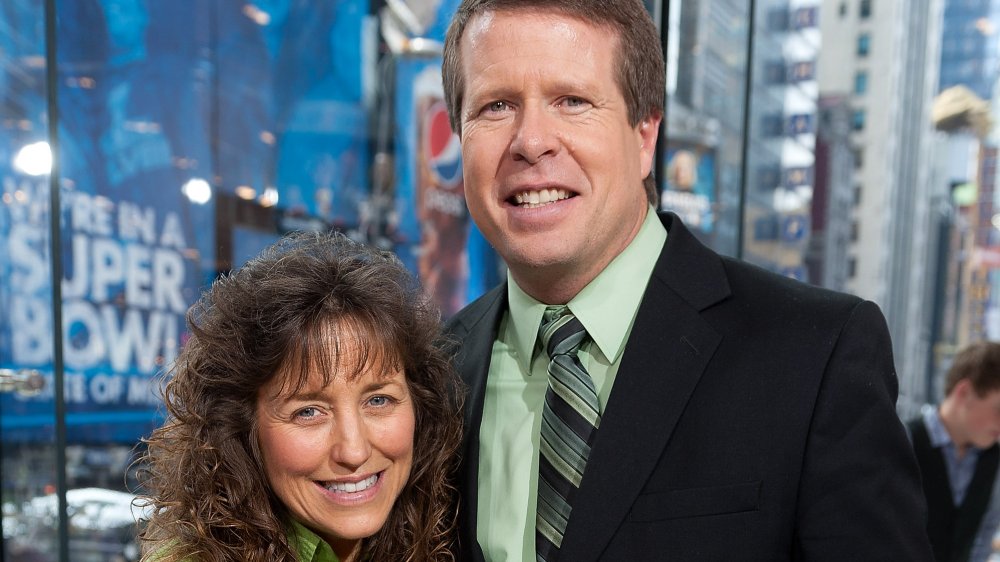 D Dipasupil/Getty Images
Shortly after Josh Duggar publicly admitted that he'd inappropriately touched young girls, TLC made the decision to cut the cord on 19 Kids and Counting. While the alleged incidents took place years before the Duggars started filming, the company wanted to make it clear that their relationship with the family was over. 
In a statement from TLC to ABC News, the network revealed their choice. "After thoughtful consideration, TLC and the Duggar family have decided to not move forward with 19 Kids and Counting. The show will no longer appear on the air." Even reruns of 19 Kids and Counting stopped airing on TLC. 
But, that wasn't the end of the road for members of the Duggar family and reality television. In fact, TLC decided to launch a new series, Counting On, which would more closely follow the lives of the older Duggar children and their spouses, without Josh.
Michelle Duggar from 19 Kids and Counting has seemingly stopped having kids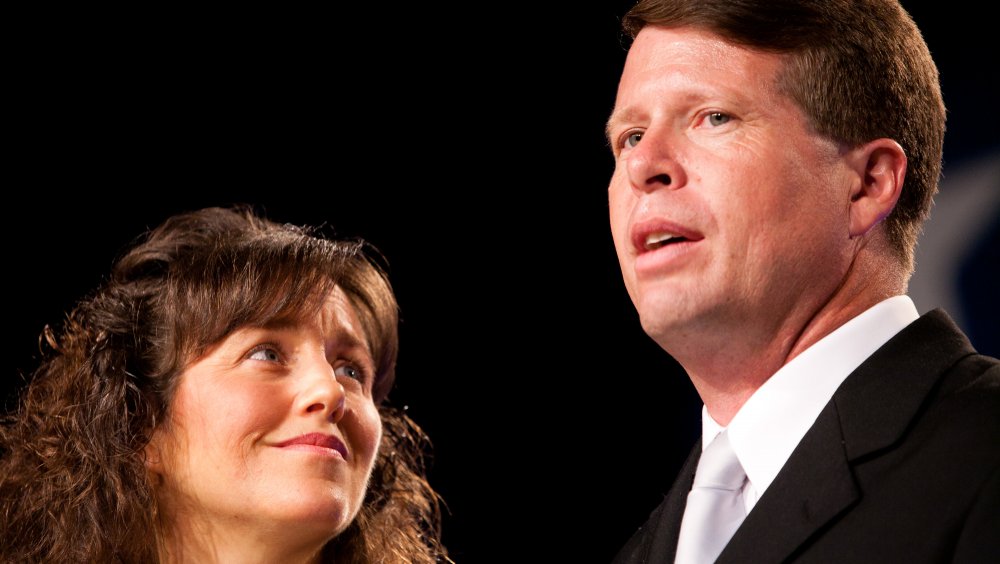 Brendan Hoffman/Getty Images
Part of what makes the Duggar family from 19 Kids and Counting so unique is the sheer amount of Duggars that there are. But even after having 19 children, Michelle Duggar was actually open to having even more. In an episode of 19 Kids and Counting (via Parents), the Duggars went to see a fertility expert, and Michelle said, "We would love more children if God saw fit to give us more; I just want to make sure that I am ready to catch a baby if that would happen."
Obviously, the doctor pointed out Michelle's age, which was 47 at the time, and said her chances of a viable, low-risk pregnancy were slim. At that, Michelle seemed to be okay with not having more kids. "If I am in that season of life where we're not able to have any more, then I'm fine, I 'm happy with that," she added. 
For someone whose identity has been inextricably linked to motherhood, the idea that she's done having kids couldn't have been easy for her to process. But Michelle hasn't been visibly pregnant since, so perhaps she's finally done.
19 Kids and Counting's Jim Bob and Michelle Duggar adopted their 20th child
19 kids might sound like a lot, but it seems that the Duggars from 19 Kids and Counting can't get enough children. Though Michelle Duggar may be done having biological offspring, she and Jim Bob Duggar have continued to expand their family. In fact, they adopted Michelle's great-nephew, Tyler, and made him part of their family.
In Touch Weekly reported that the couple became Tyler's permanent guardians back in 2016, after his mother struggled with financial setbacks and had run-ins with law enforcement. "Jim Bob and Michelle couldn't be happier right now," an anonymous source told the paper of the family's latest addition. "Jim Bob and Michelle have made the child feel right at home. They treat him like their own and he looks up to them as parents." 
Adopting a great-nephew might not be the same as having a biological child, but the Duggars seem thrilled to have Tyler under their roof for good. 
Jill Duggar from 19 Kids and Counting was the first daughter to get married, but more followed suit
Fans of 19 Kids and Counting know that the Duggars are a busy family. But once the Duggar children started getting old enough to get married, they got even busier, if that's even possible. Once one Duggar daughter got hitched, it seemed like there was a Duggar wedding every year following that — and there actually was.
In 2014, Jill Duggar married Derick Dillard in a televised ceremony, as People reported; soon after, Jill's younger sisters followed suit. In 2015, Jessa Duggar tied the knot with Ben Seewald (via Us Weekly), and while their wedding was also televised, they chose to keep their first kiss private. Then, in 2016, that Jinger Duggar married Jeremy Vuolo, as noted by People. Joy-Anna Duggar walked down the aisle less than a year later, according to People, towards her sweetie, Austin Forsyth. There must have been something in the water at the Duggar house, because those girls found their husbands really quickly!
Of course, that's not even accounting for the Duggar sons, who've also grown up and got married since the 19 Kids and Counting premiere.
19 Kids and Counting's John-David Duggar finally found the one, and so did his brothers
When it comes to Duggar traditions from 19 Kids and Counting, there's nothing quite like a courtship. Essentially, the Duggar term for dating means that a Duggar and their sweetheart must follow a set of strict rules (including no kissing!) while in the courtship phase. Almost always, the courtship leads to marriage, and that was certainly the case for the older Duggar sons — well, most of them.
Just as the older Duggar daughters married in quick succession, there was a stretch of time when it felt like one of the Duggar boys was constantly either entering into a courtship, getting engaged, or tying the knot. Joseph Duggar kicked things off by marrying Kenda Caldwell in September of 2017, according to the Duggars' Instagram page. Shorting after, People broke the news that his brother, Josiah Dugger (who was actually previously in a courtship with someone else), married Lauren Swanson in June 2018. And finally, Us Weekly reported that John David Duggar married his true love, Abbie Grace Burnett, in November 2018. That's a lot of weddings, but hey, when you know, you know!
Jim Bob and Michelle Duggar from 19 Kids and Counting became grandparents
It's no secret that the Jim Bob and Michelle Duggar from 19 Kids and Counting absolutely love kids. So, when their children started having children, the couple was ecstatic. And while the first Duggar grandchild was born to Josh and Anna Duggar in 2009, according to Duggar family blog, it was when Jill Duggar and Derick Dillard expanded their family that fans really got really invested. After all, viewers had seen their wedding on TV, so when they had their first child, fans were thrilled.
In 2014, Jill learned she was pregnant with her first child, and could hardly contain her joy. "We were super excited," she told Us Weekly. "We prayed together, and thanked God for this new little life. I was screaming and everything." Then, in 2015, Jill gave birth, and her own parents seemed just as excited as she was. Jim Bob and Michelle shared the good news on Facebook. "We are so thankful for a healthy Mom and baby," they wrote. "We are happy grandparents and we promise more pictures soon!" 
Truly, becoming grandparents changed the Duggars for the better.
19 Kids and Counting's Jill Duggar's husband has caused quite a stir
For some reason, it's always the men of the Duggar family from 19 Kids and Counting who tend to cause controversy. In addition to Josh Duggar's scandals, Jill Duggar's husband, Derick Dillard, has also caused quite a stir. On more than one occasion, Derick posted transphobic comments on social media that ended up getting him fired from TLC in 2017.
According to People magazine, Jill Dugger's husband reportedly bullied Jazz Jennings on Twitter, in response to a promotion of her TLC show I Am Jazz. "What an oxymoron...a 'reality' show which follows a non-reality," Derrick tweeted. "'Transgender' is a myth," he continued. "Gender is not fluid; it's ordained by God." Derick then went on to misgender Jazz as well.
Though Derick was fired, and he and Jill no longer appeared on Counting On much at all, it's clear that Jill's husband is still worked up about things. In fact, as the Daily Mail reported, he went on a commenting rampage in 2019 about his father-in-law, Jim Bob Duggar, and the TLC network. Bitter much?
Jinger Dugger and her husband from 19 Kids and Counting made a big move
For the most part, the Duggar family from 19 Kids and Counting is pretty close-knit. Save for a few outliers such as Josh and Anna Duggar, who lived in Washington, D.C., and Jill and Derick Dillard, who spent a lot of time in South America, most members of the family stick close to home. 
However, Jinger Duggar and Jeremy Vuolo actually spent most of their marriage in Laredo, Texas, until they made a big move even further away from the Duggar compound in Arkansas. "In recent days, God has made it overwhelmingly clear to us that he is leading us out of Laredo," the couple shared with TLC. "Through much prayer and counsel, the next step for our family is to relocate to Los Angeles to attend Grace Community Church as Jeremy pursues graduate studies at The Master's Seminary." 
Now that Jinger and Jeremy are even further away from the Duggar family, it can't be easy for them. But, Los Angeles is a great city, and who knows, fans might see Jinger break even more Duggar family rules now that she's living in California!
The Duggar kids from 19 Kids and Counting have gotten involved in the family business
Raising children is an expensive task in and of itself, but raising a family as large and ever-expanding as the Duggars has got to take a toll on your stress levels and your wallet. Fortunately for the Duggars, money doesn't seem to be an issue. Sure, they're strict with their finances and tend to shop second-hand, but they're still doing well. So well, in fact, that multiple Duggar children have gotten involved in the family businesses since the 19 Kids and Counting premiere back in 2008.
In addition to the paychecks from TLC, Jim Bob Duggar makes a nice living as a real estate agent. Additionally, People reported that the Duggars actually sold their family home for a huge profit in 2020 after completing a ton of renovations on the property. Not only did Jana Duggar help out with the renovations, according to her Instagram page, but Duggar sons Joseph and Josiah have gotten involved in the real estate game as well. Hey, with 19 kids, you would hope some of them would want to continue on in the family business!
The older Duggar daughters from 19 Kids and Counting wrote a book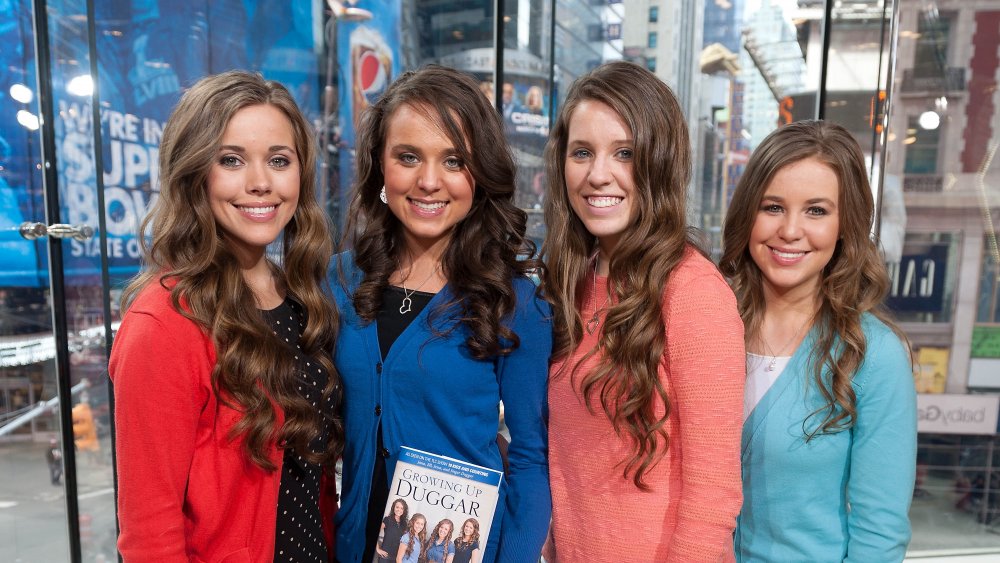 D Dipasupil/Getty Images
Because 19 Kids and Counting launched the Duggars into the spotlight, it's no surprise that the family has been able to parlay that success into the world of publishing. And since fans are especially curious about how the Duggar family controls dating and wardrobe rules for women, it makes sense that it was the Duggar daughters who would write a book, entitled Growing Up Duggar.
In the book, the four eldest Duggar sisters share their unique advice for fellow young women with readers, and it's just as conservative as you would imagine. For instance, they make their stance on sex before marriage very clear. "When we say true love waits, we mean that couples should not act like they're married when they're not or share physical intimacies that married couples share," they wrote. The sisters also explain why they keep their hair long – although Jill Duggar cut off 14 inches of her hair for this reason – their views on debt, and more. 
The book was released in 2014, and shows yet another way in which the family has changed since the 19 Kids and Counting premiere.
A few of the Duggar children from 19 Kids and Counting have strayed from their parents' strict rules
As 19 Kids and Counting and even the eldest Duggar daughters' book proves, the Duggar family are sticklers for rules. Whether it's how to date, how to spend money, or even how to style your hair, they've pretty much got a rule for everything. And while the younger Duggars who still live at home obviously adhere to those regulations, a few of the older Duggars, particularly the daughters, have strayed a bit from those strict guidelines. 
Most notably, Jinger Duggar was the first Duggar daughter not to immediately get pregnant after she married Jeremy Vuolo, leading many to wonder if she used some form of birth control. But she's not the only Duggar seemingly ready to break free of her parents' restrictions. Jill Duggar has also been spotted breaking some rules, such as wearing pants, getting her nose pierced, and more. Clearly, the Duggar girls are taking their lives into their own hands, and in the years since 19 Kids and Counting has premiered, have changed significantly.
The Duggar family from 19 Kids and Counting have had their fair share of heartbreak
For as much joy as the Duggar family experiences when a new baby born into the family, they've also experienced their fair share of heartbreak. For one, on an episode of Counting On, Jinger Duggar and Jeremy Vuolo revealed that shortly after they'd told her family she was pregnant, she started having spotting. Then when she went to the doctor, they couldn't find a heartbeat. The news was obviously heartbreaking for the couple, but Jinger wasn't alone in her grief.
Previously, in 2019, Joy-Anna Duggar and Austin Forstyth revealed that they had suffered a miscarriage. "We only had her for 20 weeks," Joy-Anna wrote in a heartbreaking Instagram post, letting her followers know what had happened. "Life is fragile and precious."
Furthermore, Lauren and Josiah Duggar also suffered a terrible loss in 2018. "A couple months ago, we found out that we were expecting, but suddenly thereafter, we lost our baby," Lauren said to the cameras, according to Us Weekly. We're so sorry for your losses.
The youngest Dugger daughter from 19 Kids and Counting has grown so much
If you really want to see just how much the Duggars have changed since the 19 Kids and Counting premiere, then look no further than Jim Bob and Michelle Duggar's youngest daughter, Josie. Josie wasn't even alive when her family's show premiered, and when she was born, her birth was pretty scary. As People reported, Josie was born prematurely in 2009, at 25 and a half weeks. She weighed only one pound and six ounces.
But since the show's premiere, the Duggars' youngest child has grown so much! In honor of Josie's ninth birthday in 2018, the family shared a throwback of her as a newborn on Instagram, and explained how happy they were that she survived. "That was the most difficult time in our family's life, but by God's grace Josie and our whole family made it through," they wrote in the caption. 
Since then, Josie has grown up into an adorable young girl, and the littlest Duggar isn't so little anymore. So much has changed for the Duggar family since the premier, and Josie is the perfect example of that.