Kate Middleton Brushes Off Rude Crowd Response While Promoting New Children's Project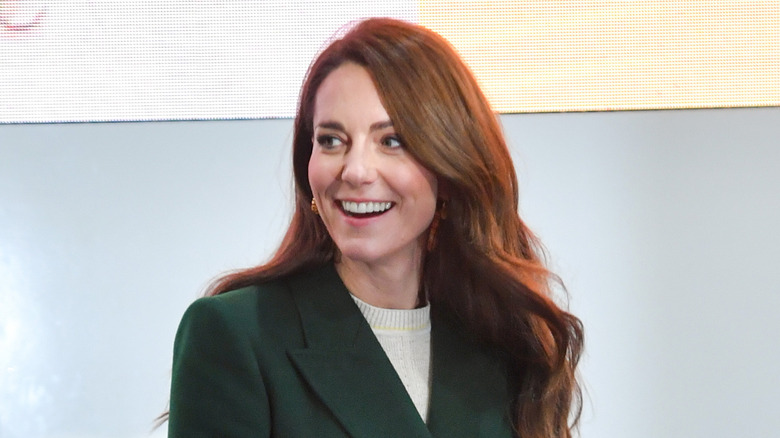 Anthony Devlin/Getty Images
Catherine, Princess of Wales, enjoys a grand royal title and a lifestyle to match, but there's a certain price to be paid for marrying into the royal family. She must conform to a dress code in public — no dashing out to Starbucks in a hoodie and pajama pants — and do without the foods royals never eat for health and propriety reasons (shellfish, foie gras, and garlic are all forbidden on the palace tables). As the wife of the future King of England, Kate Middleton must also endure the occasional boorish encounter without a grumble or fight.
In exchange for that stress, royals have the opportunity to launch campaigns and promote causes that can make a difference in the world. Such is the case with Kate's newly announced Shaping Us campaign. Per Hello!, the initiative is intended to promote the importance of providing safe and nurturing environments for children from birth to age 5. In a speech she gave on January 30, Kate said, "The way we develop, through our experiences, relationships and surroundings during our early childhood, fundamentally shapes our whole lives. It affects everything from our ability to form relationships and thrive at work, to our mental and physical well-being as adults and the way we parent our own children."
The following day, the princess spread that message further by mingling with the public and engaging them in conversations about their own childhood experiences. Not even an ill-mannered passerby could make her lose her cool.
The princess took a rude gesture in stride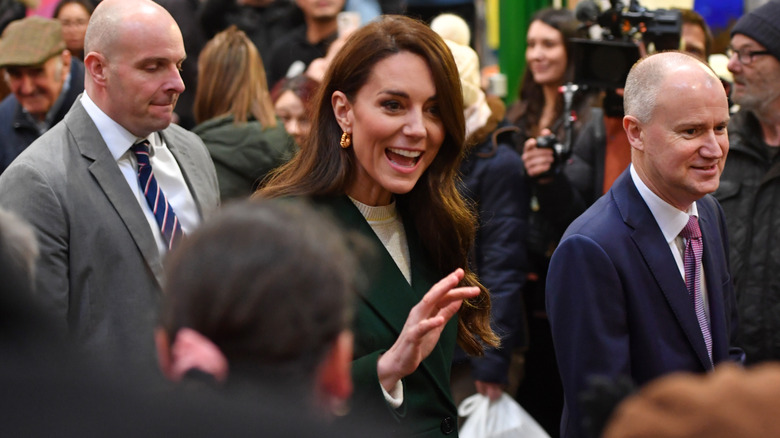 Anthony Devlin/Getty Images
William, Prince of Wales, and Catherine, Princess of Wales, have made it a point to be more accessible to the public and open with their feelings. It's said they're trying to erase the aloof reputation of the monarchy as they prepare for William's future ascension. 
To that end, Kate spent the morning of January 31 in the famed Kirkgate open-air market in the northern England city of Leeds. Stunning as always in a long green coat and a cream Victoria Beckham dress, the princess showed her newfound confidence through her sense of style. She chatted up the crowd about her new Shaping Us campaign, and according to The Telegraph, one shopper was heard to say, "I didn't know, love, you were coming! It was a complete surprise."
There was one awkward moment during the visit, per to the Mirror and other tabs: An unidentified person in the crowd let out a wolf whistle aimed at the princess. However, it takes more than a little rudeness to fluster the future Queen Consort. Ever gracious, Kate opted not to acknowledge the whistling at all, instead continuing her meet-and-greet before heading over to the University of Leeds to attend a lecture in the childhood studies department. Thankfully, there were no similar outbursts on campus. "It makes me want to be back at uni," the princess told a group of students. "Everyone says it's never too late."