Is There A Time When It's Too Late To Start Retinol?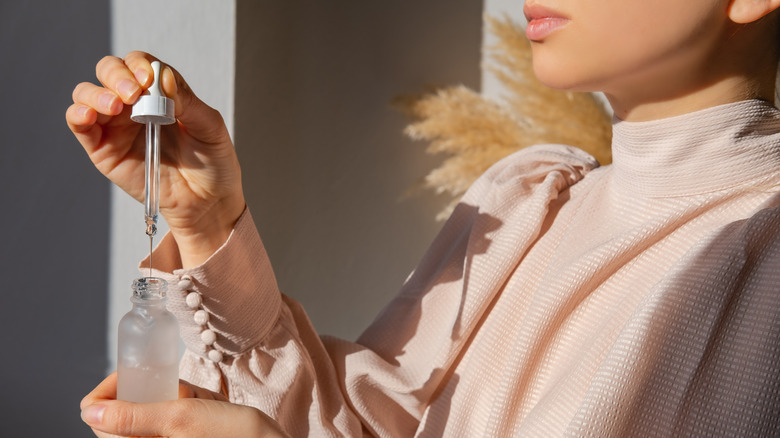 KaryB/Shutterstock
Understanding the inner workings of your skincare routine has never been more popular, and it makes total sense. Investing your time and energy into a hobby that makes you look and feel your best is a worthy cause. With skincare YouTube channels like Hyram gaining massive popularity, there has been a noticeable shift in the marketing techniques of many skincare companies. While natural skincare ingredients will always have a special place in our hearts, there has been a clear push for science and transparency within skincare products.
Companies like The Ordinary demonstrate this marketing trend exceptionally well, with their simple ingredient labels and product names that assume the consumer knows a little something about skincare. For example, their Retinol 1% in Squalane is a great option for those wanting to add retinol to their evening skincare routines. Since retinol can be drying to the skin at first, pairing it with a hydrating solution like squalane is ideal. Whitney Bowe, a dermatologist in New York City,  explained to Vogue that retinol should only be used at night since the sun will reduce retinol's impact and increase skin sensitivity.
Skincare can feel overwhelming at first, and it can be easy to wish we started our skincare journey earlier, but is there ever a time when it's truly too late? With a popular skincare ingredient like retinol, it's important to understand how it works before we jump to any conclusions.
What is retinol?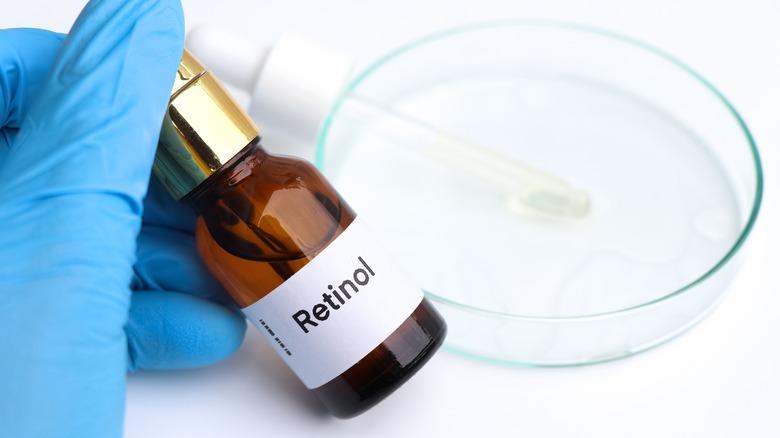 chemical industry/Shutterstock
Retinol is a part of the retinoid family, which is a term used to describe various skincare products with a vitamin-A base. According to The American Academy of Dermatology (AAD), retinol is not just a short-term craze that's a part of a skincare trend but it actually has proven benefits. Back in 1971, the U.S. Food and Drug Administration approved tretinoin, another retinoid that is used to treat acne on the skin.
Dermatologists quickly realized that beyond unclogging pores and reducing acne scarring, retinoids also had incredible anti-aging effects. The AAD explains that retinoids cause skin cells to replenish at a much faster rate, which increases the skin's natural collagen production. This can also help minimize wrinkles and even out your skin tone.
While those who start using retinol in their late teenage years are primarily focusing on preventative measures, those who are much older can still see results and give their skin a more youthful appearance.
It's never too late to start a skincare routine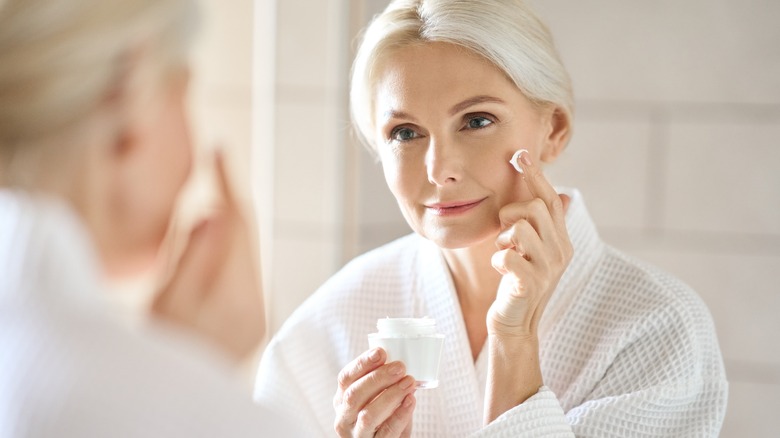 Ground Picture/Shutterstock
We've all heard the phrase "It's better late than never," but when it comes to skincare, late is a relative term. There are simply different needs that your skin might have depending on your age. Skin Pharm explains that those who add retinol to their skincare routine in their late teens to early 20s will be focusing on preventative measures, while those in their 30s are usually taking the first steps toward reducing signs of aging. A simple retinol serum will likely be enough at this stage.
The great news is that adding retinol to your skincare routine in your 40s and 50s will not only slow down signs of aging but can even reduce current wrinkles over time. Adding a retinol-based moisturizer to your routine, in addition to the retinol serum, can be beneficial when building a skincare routine for aging skin. The key thing to remember as you get older is to include hydrating and moisturizing products in your routines since too much retinol without enough hydration can leave the skin feeling dry or looking red. Dermatologic surgeon, Joel Schlessinger, told Everyday Health that you shouldn't use retinol daily in the beginning because your skin will need time to adjust, explaining that our skin "builds tolerance" over time.
While it may seem like there is a lot to learn, the best time to start creating a skincare routine for your skin is now because forming that healthy habit will help you stick to your skincare goals. Your future self will definitely thank you.