Split Hem Jeans Had Its Moment, But 2023 Will Usher The Comeback Of A Classic Style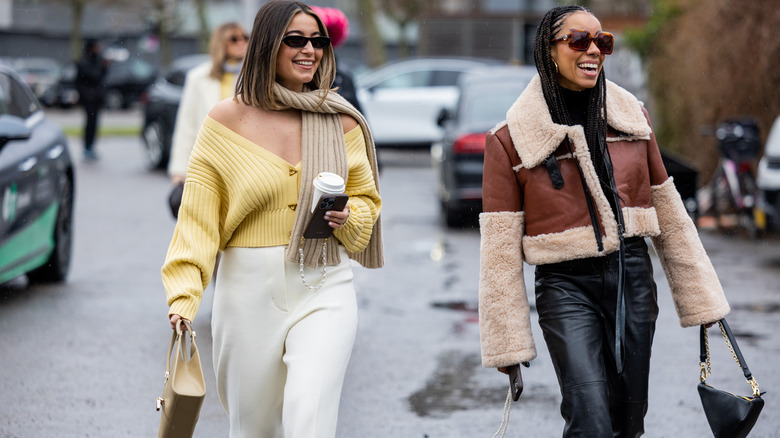 Christian Vierig/Getty Images
We may receive a commission on purchases made from links.
Everything that two-time Academy Award nominee Margot Robbie wears might as well have been touched by the fashion gods. When she stepped out in an expensive pair of Mango's split hem pants during a press run for "Amsterdam," as spotted by InStyle, we could practically hear the collective sound of wallets draining as style lovers rushed to copy her look. 
It's hard to pinpoint what it is about this simple detail that can transform your entire look. Is it the subtle draping of fabric? Or the unexpected tease of your heels as you strut across the room? Or is it the callback to the 90s' — the best decade for fashion? The list goes on. But Robbie isn't the only style icon who gravitated toward this look. Tutorials on how to style this trend dominated TikTok's fashion vertical. Though the split hem trend had a hold on everyone's closet in 2022, 2023 is ready to usher in a "new" champion.
Why the split hem trend had a firm grip on fashion in 2022
Split-hem jeans had a good run. There was just something about having a small slit at the bottom of your pants that screamed comfort. Vogue credited Victoria Beckham's fashion line for the pants trend that frames your legs in a tailored fit before fanning out at the ankles to show off your shoes. Gone were the days when you spent hours planning the perfect outfit, going back and forth between which pair of shoes to wear, only for your pants to cover them anyway.
Queen of every trend Hailey Bieber also tried her hand at split hem bottoms, but went the denim route instead, per Who What Wear. Not only did she nail the look, but she infused hints of her personality into her outfit, starting from her casual white tee and luxury Bottega Veneta pouch bag. Heels lovers found a loyal one with this pants trend.
Classic trousers are the comeback heroes of 2023
Fashion tends to be cyclical. Trends come and go, but style is here forever. As much as we loved the split hem trend, classic trousers will always reign supreme because of their versatility, and how easy it is to incorporate them into both your personal and professional style. 
Instagram user Simone Dennis proved that with her modern take on traditional workwear. In her post, she paired high-waisted classic trousers in neutral khaki with a striped blouse. She finished off her look with a pair of stilettos and statement shades. If you're a fellow fan of high-waisted pants, Everlane's Way-High Drape Pant in sandstone or ash brown and Madewell's Pleated Tapered Pants in neutral melange are excellent contenders. But if you're a high-waist nonbeliever, there is a pair of classic trousers for everyone. Lee Women's Flex Motion Regular Fit Trouser Pant racked up 4.2 stars on Amazon, and will hit you at your natural waistline.