How Hailey Bieber's Style Changed When She Started Dating Justin Bieber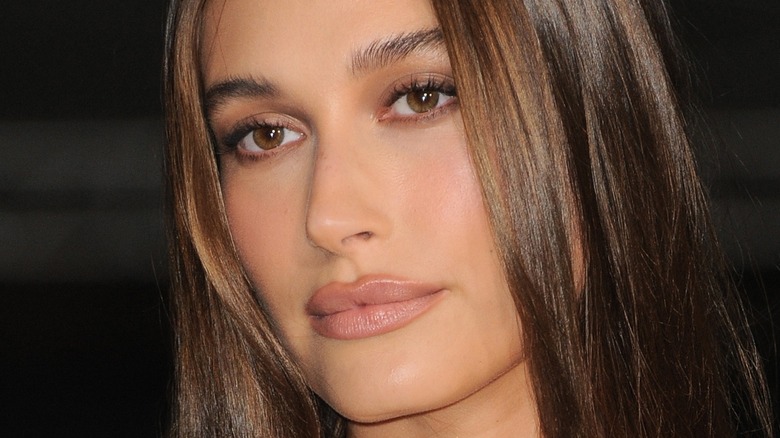 Tinseltown /Shutterstock
There's pretty much a general consensus that Hailey Bieber is the street style queen. Whether she's strutting her stuff in bold gold hoops and her signature oversized blazer or heading to pilates in effortlessly put-together athleisure, the girl knows how to dress. During a 2022 appearance on the "Tonight Show with Jimmy Fallon," Hailey shared that she's had an interest in fashion ever since she was little. She also revealed that, in her early days, her main fashion inspiration was Miley Cyrus' Hannah Montana. "[Cyrus] used to wear, like, outfits on "Hannah Montana" that I would try to recreate because I thought they were just, like, everything."
The model added that as she got older, she admired fashion legends like Kate Moss, Christy Turlington, and Naomi Campbell. That being said, we can't help but think she may have forgotten about another famous face that's had a significant influence on her fashion sense: husband Justin Bieber.
Since going public with her relationship with Justin in 2016, Hailey's style has transformed quite a bit. It's worth noting that Justin has an eye for fashion himself, having started his own clothing label, Drew House, in 2019. The two are often caught out and about looking casually — yet tastefully — in sync. There's no doubt that the two bounce off one another when it comes to fashion.
Before and after Hailey Bieber became one less lonely girl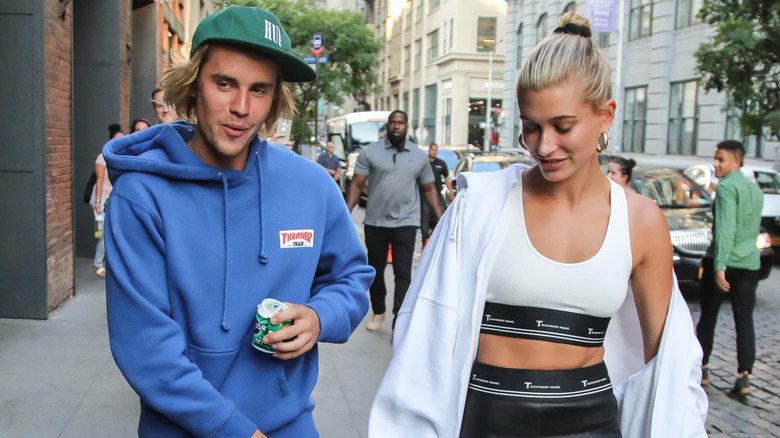 Liam Goodner /Shutterstock
While Hailey and Justin Bieber met in 2009 as sweet, awkward preteens, they didn't confirm their romance until 2016. After a short fling and a two-year break, the couple tied the knot in 2018. Post-2018 is when you can really see a shift in Hailey's style. Prior to their marriage, Hailey was spotted in more trendy, pop-punk outfits clad with embellished pieces and eye-catching prints.
In a 2021 interview with Harper's Bazaar, Hailey's former stylist Maeve Reilly (these days, the model is working with stylist Dani Michelle) commented on the aforementioned fashion phase. She explained that Hailey was more into following the fads back then, saying, "You could look at photos and know what year it was back then, whereas now I don't think you can." 
Reilly then went on to note that while, at the time, she and Hailey were "still experimenting" with her style, Hailey's since moved towards a look similar to Rosie Huntington-Whiteley. "I think that is the direction as she gets older; very sophisticated and classy but with a unique, elevated twist to it," Reilly said.
Hailey Bieber and Justin Bieber evolve together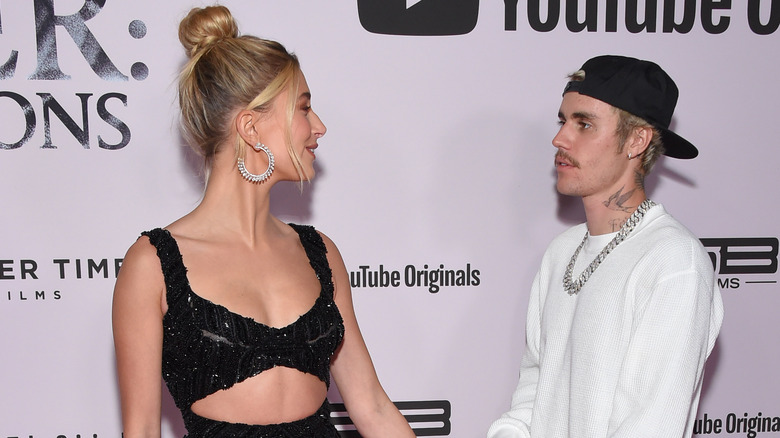 DFree /Shutterstock
With every new relationship comes quite a bit of change. Couples sometimes adjust their schedules, their diets, and other lifestyle choices to meet each other's needs. And in the world of celebrities, it's not uncommon to see their style change as well. An extreme example of this would be Kourtney Kardashian's goth transformation after going official with the punk drummer Travis Barker. However, in an interview with the Daily Mail's FEMAIL, fashion expert Samantha Harman noted that Kardashian and Barker aren't the only couple to mesh their looks, explaining that "dressing in a way that matches your partner can happen subconsciously." 
Hailey Bieber definitely doesn't seem to back away from evolving when it comes to her fashion journey. In a 2022 interview with Harper's Bazaar, Hailey said, "I'm never afraid to try anything. I think that just goes to show that there's a moving evolution [in my style]. It just keeps growing." And it seems Hailey also isn't afraid of embracing husband Justin Bieber's "more grungy style," per FEMAIL. 
Celebrity stylist Rochelle White told the outlet, "I would say that Hailey mirrors Justin's style when they are together, because they just have an unspoken bond and similar fashion prowess." In her interview with Harper's Bazaar, Hailey mentioned she approaches her relationship with Justin the way she approaches fashion, viewing it as a space to grow and change with one another. Given that style is definitely a big part of both of their lives, it's no wonder that her fashion sense has transformed alongside their relationship.