How To Wear Tights In The Winter Without Freezing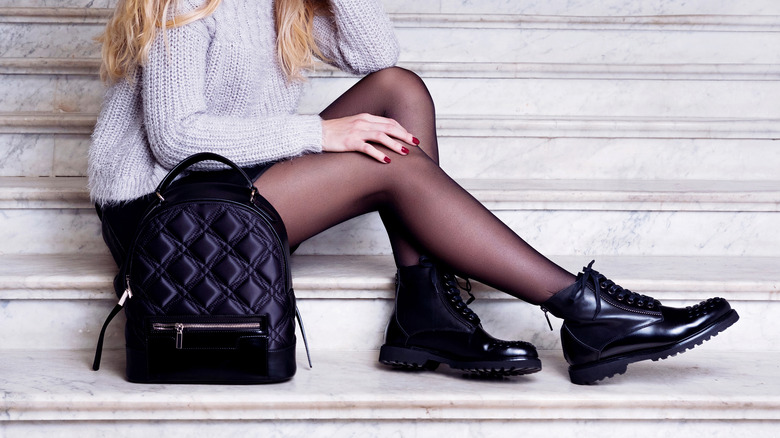 Visoook/Getty Images
Over the years, women's fashion has come a long way. However, one thing that has seemingly never gone out of style is tights. Some version or evolution of tights, whether it be stockings, pantyhose, leotards, or leggings, has seemingly always been a great way to accessorize any outfit, reports Vienne Milano. Of course, there is a reason why people like to wear tights and leggings so much. They are thought by many to be much more comfortable than traditional slacks or jeans and offer wearers the ability to move more freely in the stretchy material, via Fashion Gone Rouge. The outlet also suggests that the legwear can help accentuate your shape or even give you the one that you desire. Meanwhile, tights are also becoming an acceptable form of work attire, and colorful tights can add flair to any outfit.
As for trends, plenty of celebrities have rocked tights in their looks. Stars like Miley Cyrus, Taylor Swift, Sofia Vergara, Anne Hathaway, Dua Lipa, and more have been spotted wearing tights that make their ensembles pop, via Hollywood Life.
Meanwhile, others have taken it a step further, like Kendall Jenner, who has been seen wearing tights with no pants, per StyleCaster. Of course, during the winter months, this could get a bit tricky. But here's how you could wear your tights in the winter — without freezing.
It's important to style tights correctly in the cooler months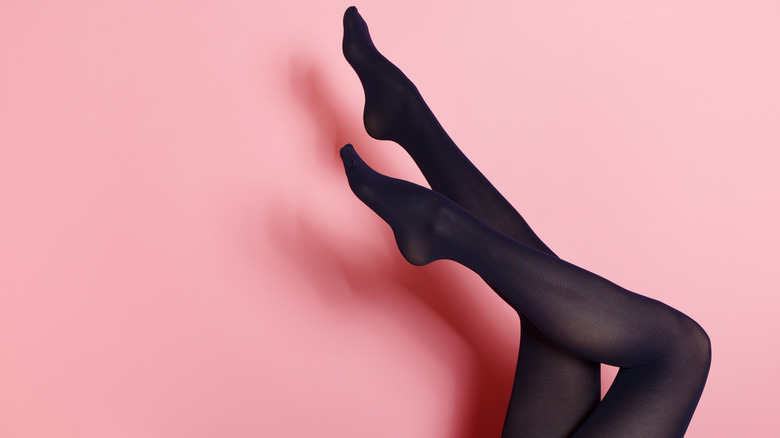 Aksakalko/Getty Images
Tights can be a great choice to add depth to any outfit no matter what season you find yourself in. However, wearing tights in the winter can be a bit more challenging, as finding the right clothes to look great and stay toasty can prove to be difficult at times. According to Stitch Fix, there are some great ways to pair tights with your winter wardrobe, including adding them to any warm, heavier fabrics like a knitted sweater, then rocking a pair of knee-high boots to go with it. If you're looking to add a pop of color to a dull and dreary day, boldly colored tights could be the perfect way to spice up a plain dress. The outlet suggests wearing a pair of shoes that match your tights to make your legs appear longer.
Per Byrdie, you can wear your tights under a miniskirt and add a trench coat to combat cooler temperatures. Wearing a long, sweater dress will also help you stay warm if you're wearing tights. Pairing these with high boots will also keep those legs warm.
Of course, during the winter months, it is very important to choose tights made from warmer fabric that will also help you stay warm despite the cold air.
Staying warm in tights isn't had difficult as you might think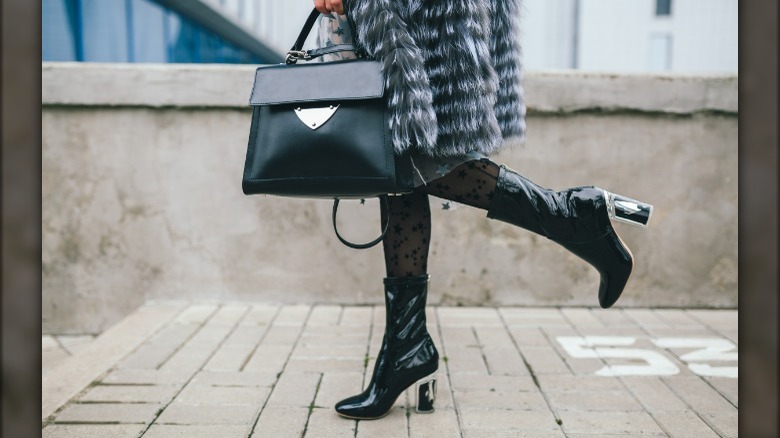 Maria Markevich/Shutterstock
If you're looking to step out in a pair of tights during the winter, it will be vital that you choose the correct fabric to keep you toasty. Shopping for some wool tights may be key as they're much thicker and will help keep the freezing cold temperatures from reaching your skin, per Nylon. Picking the proper footwear is also essential when dressing for the winter months, and the higher the shoe comes up on your legs, the more coverage you'll have. Seattle Spectator also reveals that wearing sweater tights could keep you warmer than traditional pants. In addition, adding socks of any length will also add extra heat to your body in the winter while wearing tights.
According to Tyla, TikTok creator Elizabeth Fortmeyer shared a video that revealed she would place nude leggings underneath her tights to add a layer of warmth to her outfit on cold days. Fans were impressed by the trick, revealing that the leggings would help to keep the tights from falling and allow them to skip shaving their legs as well. Of course, if you find yourself freezing even with thicker pants on, adding tights underneath your slacks or jeans is an option to keep those legs warm while heading outdoors in the wintertime.
It's clear that tights are one of the most versatile pieces of clothing to own, and can be styled in many different ways, even in cold weather.