The Affordable Skin Care Product Kate Middleton Swears By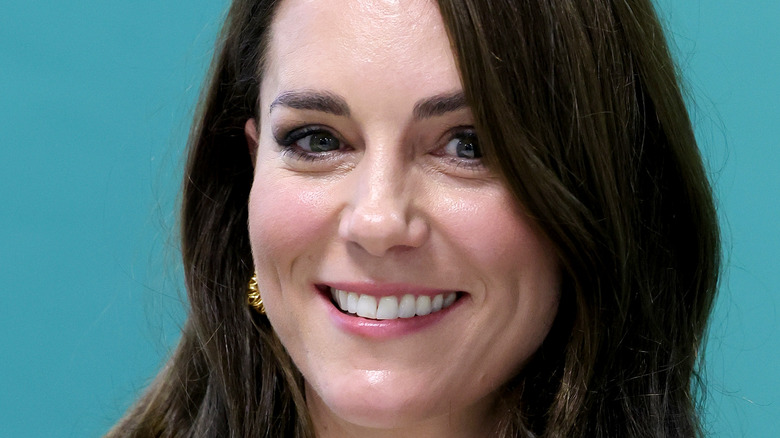 Chris Jackson/Getty Images
Whenever she makes a royal appearance, fans keep a close eye on Catherine, Princess of Wales' style. Known as the "Kate effect," brands worn by the princess have been known to sell out as fans emulate her chic selections, per Marie Claire. Besides having a lucrative impact on the British fashion industry, Kate Middleton's makeup and skincare choices make headlines as well.
After spending over a decade in the public eye as a senior royal, 41-year-old Kate continues to impress with her flawless skin. Speaking to Express, skincare experts speculated on the crucial ingredients Kate uses in her beauty routine. They noted that the princess' choices help her look 10 years younger, and likely include products with antioxidants, collagen, and vitamin C. "Kate definitely keeps the dreaded dehydration lines at bay by keeping her skin healthy, hydrated and moisturized," Diane Ackers, beauty expert for Doctors Formula Cosmeceuticals, told the outlet.
According to Town & Country, the princess is a fan of multiple moisturizing products, including Beuti Skincare Organic Beauty Sleep Elixir and Karin Herzog products. Kate likes Beuti's formula so much that she reportedly keeps three bottles of it on hand at a time, per People. While this product has a bit of a hefty price tag — $70 for a 1 oz. bottle — one of Kate's other moisturizing favorites that she swears by is more affordable.
Kate Middleton is a fan of Trilogy Certified Organic Rosehip Oil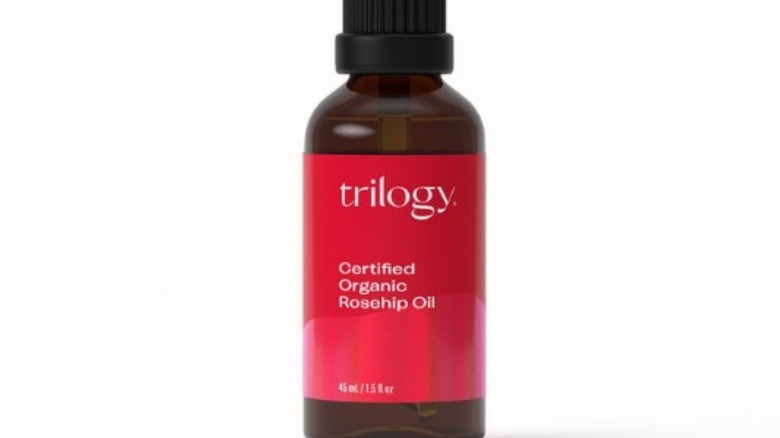 Trilogy
As reported by the Mirror, one of Kate Middleton's favorite skincare products was recommended to her by her mom, Carole Middleton. The Princess of Wales reportedly likes Trilogy Certified Organic Rosehip Oil, a product she is believed to have begun using in 2015. The oil comes in a variety of sizes from .68 – 1.5 oz., and retails from $22.39 – $41.99. According to Trilogy's website, users only need 2 drops of the oil twice a day to reap its moisturizing benefits, so a little product goes a long way. It's also intended to help minimize scars, stretch marks, and fine lines.
Pressed from the seeds of roses, "Rose hip oil is rich in vitamins A, C, E and essential fatty acids," dermatologist Dr. Shilpi Khetarpal told the Cleveland Clinic. "These fatty acids are anti-inflammatory and can improve signs of aging, pigmentation and moisturize the skin." Kate is believed to have begun using the product during her second pregnancy, and Trilogy notes that this natural oil is safe for pregnancy skincare.
When Kate's love of this product first made news in 2015, sales dramatically increased, and Trilogy's stock got a boost as well. "Celebrity endorsements of this scale can be transformational for a company," Lisa Wilson, Trilogy's international communications manager, told Elle Australia at the time. The Kate-Trilogy connection was discussed two years later, in 2017, again impacting sales, with HuffPost noting that 3 bottles of the product were being sold every minute.
Face cloths are Kate's go-to choice for nighttime skincare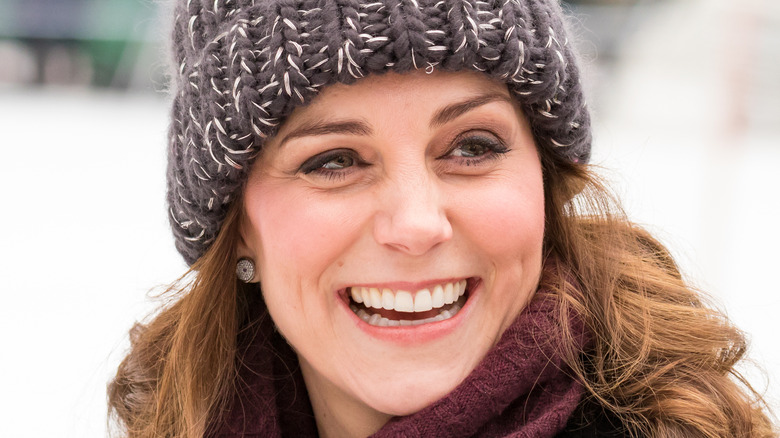 Per Grunditz/Shutterstock
Besides her emphasis of moisturizing products, Kate Middleton makes use of a super common, easy-to-find beauty tool to take gentle care of her skin — a face cloth. Known in the U.K. as a flannel, this strategy is recommended by Arabella Preston, Kate's wedding day makeup artist, and leads to cleaner, clearer skin, per Hello!
Speaking to Express, skincare expert Caroline Hirons echoed her approval of Kate's cleansing routine. Besides being a time-honored tool of generations of parents, she said, "They are more substantial than wipes or muslin, [and] are far more effective at removing dirt." While the cloths don't need to be expensive, she suggests using white ones so you get a good view of the dirt and makeup being removed.
As a co-founder of Votary, Preston sells her own line of cotton terry face cloths. She likes cloths for their ability to completely expunge makeup and sunscreen. Preston also notes, "The soothing mechanical action also means any dead or compacted skin is gently exfoliated away, adding to your skin's healthy glow." Preston also touted the environmental benefits of reusable face cloths. Like Hirons, she thinks flannels are better at exfoliating and gentler than muslin.
Kathleen Hou, beauty editor for The Cut, tested out Preston's technique and was impressed with the results. After two weeks, she noticed the flannel did a better job at removing makeup and left her with a clearer complexion.